Ever wondered what goes into making Singapore a Smart Nation? The Smart Nation City Scape exhibition is one allowing you to discover this Singapore's development journey right in the heart of the city at the URA center building. Let's explore what's on.
The exhibition grounds spans 3 floors in the URA gallery building. The establishment sits just beside the historical Maxwell food center along Tanjong Pagar Road. You start your journey entering the clean and green lobby of the URA building. Notably, it has spaces of greenery and full-sized trees co-existing with the large grey tiled floors.
Interestingly, going with the Smart Technology theme, an autonomous robotic sweeper was vacuuming and mopping the lobby during my visit. It is something a page out of modern building which URA is part of championing as a country-wide ambassador.
A history of Singapore's digitalisation
City scape is history and tech showcase of Singapore as a Smart city. Furthermore, I recommend starting your City scape tour from the third floor. Here, you walk through time via glass printed infographic boards.
It touches on notable milestones and scenes from Singapore developmental history. History here only covers about developments 50 years back since the 1960s. This is considering how young the city state country is in comparison to most mature countries.
Still, the efforts of Singapore fore fathers are commendable, from the launching of the economic development board to attract overseas investments and talents to create local jobs. Furthermore, the infographic teaches on how technology is embedded into our infrastructure benefits citizens and businesses. Also, the digitalisation effort also helps attract technology companies and talent to Singapore. It aims to secure Singapore's as a thought leader on Smart City innovations recognised globally.
Moreover, the third-floor gallery follows through a maze of micro exhibitions. It covers heritage building conservation, urban design and planning for the future. There is even a console for you to design your own street.
The display follows on downstairs to the highlight and largest area of the exhibition. Here you can find a scale model mock-up of the Singapore marina bay, CBD and downtown district.
Massive CBD build model
Furthermore, on the second floor, taking center stage is a large model of Singapore Central Business District. The model is more than 20 years old. Also, the vast model is constructed and maintained by a team of in-house modellers. Some models were also obtained from developers and the Housing Development Board (HDB).
Moreover, being a URA exhibition, you can't shy far from developments of the Singapore urban landscape, with drastic improvements in urban development, especially the marina bay region. Also, you can use various iPad tablets dotted around the exhibit which doubles as an augmented reality device.
Additionally, as a small country with little or no geographic depth, human resource is Singapore's main pillar of economic contribution. Hence the emphasis of human capital in high tech industries.
Informatic Digital displays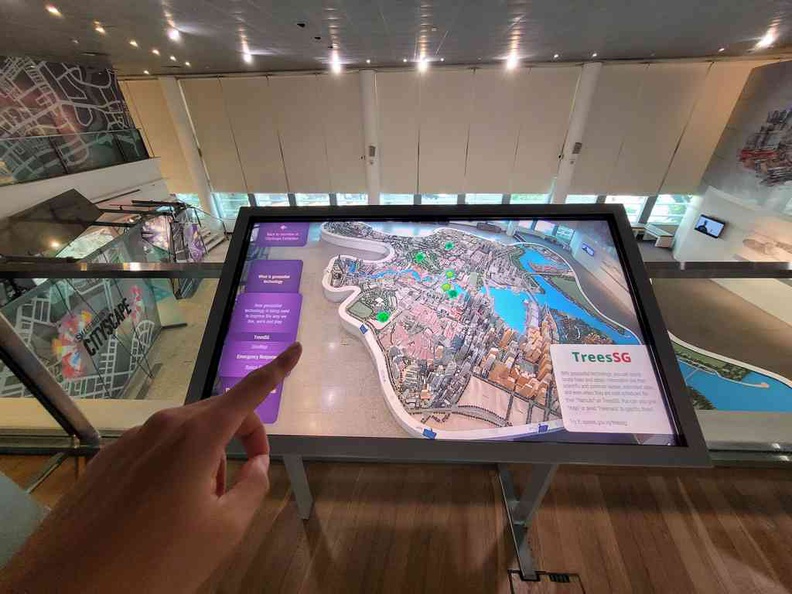 The info board walk you though a mix of print and interactive digital media takes you through a chronological walk through of what are key points in this said developmental history, with the content updated regularly.
Moreover, the Smart city initiative supports the planning of towns and amenities. Here you can also find several interactive animated informatics boards showing the various digital and smart initiatives adopted by various Singapore ministries. Also, notably, the CPF board was the first Singapore ministry operating an IBM mainframe supercomputer as part of early digitalisation efforts.
Additionally, examples include barrier less parking at Punggol North shore districts, touchless entry for wheelchair access in MRT stations, to video analytics to detect drowning in ActiveSG swimming pools. Wrapping up your visit is an input screen to pen your thoughts of the exhibition.
Mapping Singapore exhibition
Moreover, moving on are few smaller minor exhibitions within the URA building which complements the main City Scape gallery. Also, Mapping Singapore is one such gallery depicting the urban transformation through old Singapore maps since independence.
Also, the maps are arranged chronologically, laid over large glass backed displays. It allows you to check out the various small districts drawn on the map. Try to spot your district or learn what it was before.
To-gather exhibition
In addition, URA building atrium ground floor exhibition space is home to the To-gather temporary exhibition. Also, on display are 16 projects under the theme of "to gather" running till 6th July this year. The submission concepts are impressions of the build environment and depicts the architecture of relationship and digital technology powering our city and daily lives in our city state.
Interesting displays include a Lego model of Haw Par Villa's and garden sculptures. The now defunct villa was built in 1937 by businessman and philanthropist Aw Boon Haw. Today, the villa is a park home to depictions of Chinese mythology and philosophical stories.
Wrapping up, there is also a HDB flat cross section model as well as model colonial house, all presented on Hawker style round tables. Generally, it imagines a future of buildings built with more sustainable materials. Also, notably, the 16 projects exhibition presented by the URA and Design Singapore Council. The works were featured last year at the 17th International Architecture Exhibition at Venice Italy. Wrapping up, taking center stage on the ground floor gallery is a large projection city model.
All in all, you are good at City Scape permanent galleries for about 1-2 hours tops. Entry to the City Scape exhibition building is free and open to the public 8.30am to 5pm. Do check out for opening timings on their website as the galleries might have certain crowd control and capacity Covid-19 restrictions.