Today, let's take an exploration of the Enabling village at Lengkok Bahru, one of Singapore's newest integrated community space located at the southern Singapore. Enabling village is run by a collective of individuals and organisations. They serve and support people with diverse and special abilities.
A community and a space
Moreover, at first glance, the compound is home to a number of commercial offices and private schools. Notably, it sits on the premise of an old school ground repurposed for this need. It comprises of an assortment of single floored huts which gives the place a rather rustic village feel. Also, notably, there is also a Fairprice supermarket tucked in there, albeit a rather small neighbourhood one.
Additionally, the front drive porch and drop off point is the Enabling village main building. Here, an air-conditioned interior with a wooden tunnel walkway greets you at the entrance, leading into the establishment's store/shop. Also, here, you can find boards listing the various events held by the community, as well as appreciations to founding donors to the village.
Also, supporters include the Singapore Tote Board, Community Chest and the Lee Foundation. Moreover, commercial companies supporting the cause include Singapore Technologies Engineering, SingTel Ltd and UOB Bank to name a few.
A social business
Additionally, exploring the store, it houses and sells various common household items designed by the various special needs residents who are members of the enabling village. One such example of an on-going project is the Animal project. You can find animal-themed clothing, novelty items, dining plates and cutlery.
The items sold goes towards supporting the establishment as well as going to the creators themselves. Hence, do expect the items here to cost a slight premium. To make up for the price, items sold and prints are of rather high quality. Also, you can find some curated sale items, such as a set of cushion covers priced at $40 for a set of two instead of $40 each.
Furthermore, the Enabling Village single-floored building and tall ceiling has an industrial warehouse feel to it. This gives the interior a rather impressive amount of space great to house a store, café and events area all under one roof.
A small café decked with upside down umbrellas hanging from the roof top. Also, drink prices are typical that of premium coffee outlets. They are cheaper and tastes better than those you can find at Starbucks.
An inclusive space
In addition, the Enabling Village touts to bring forward fresh approaches to social businesses and community building, realised through the fusion of retail, lifestyle and training. The village is dedicated to disabled members of the community under one roof in an all-accessible public space. Also, the grounds are home to several social businesses that balance and blend commercial and business needs with the social imperative of inclusivity.
Behind the café is an art gallery showcasing a myriad of framed art pieces done by the various visiting resident artists of the village. There is also an open activity area where guests can come and use the facilities.  Also, the Enabling Village aims to be an inclusive place where people with different abilities can spend their time in and move independently. The compound is entirely wheelchair accessible and is large, spacious.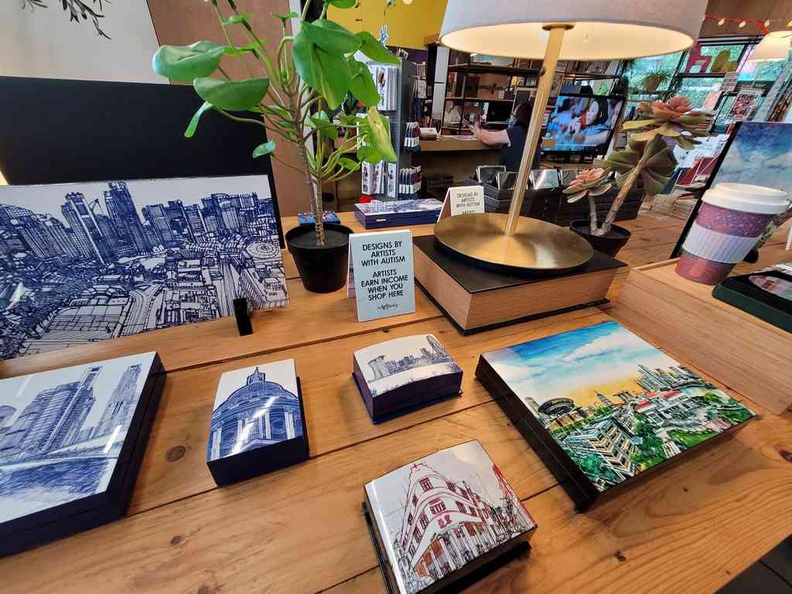 Notably staffed by both able-bodied and disabled individuals, adding to the inclusiveness. The Enabling village concept aims to demonstrate that people with disabilities can make lively, vital contributions to society. Here, they can feel accepted for who they are and valued for their individual contributions.
Arts showcase
Moving on, you can find these various works by the residents lined along the display walls here. Showcased are a myriad of varying art projects which ran throughout the establishment's activity calendar. Examples includes painting session, as well as portraits and clay figure pieces hand-crafted by the residents here themselves. Other items on display include plates, bowls, containers, figures and clothing.
All in all, the Enabling Village is both one dedicated to both social businesses and community building, especially for those with special needs. Do check them out when you are in town and support them for a cause or two. The establishment is located at 20 Lengkok Bahru, a 400m walk form Redhill MRT station. They are open from 7am to 10:30pm daily.