Don Don Donki Tampines at Tampines One is a spanking new outlet branch recently opened by the Japanese Fast retailer. It is located in the heart of Tampines Central on the second floor in Tampines One mall across 5 mall store units. Let's take a walkthrough of this newest branch in the east for its offerings.
The second Donki in the east
Moreover, Don Don Donki Tampines is the second Don Don Donki in the east following from the Downtown east branch we visited previously. You are forgiven if you had lost count of the number of Don Don Donki stores opened in Singapore.
Even myself at times would lose track keeping count since the brand started its relentless expansion into the Singapore market. The local market is one very in tune with Japanese culture and offerings. Notably, just like its Downtown east counterpart, the store saw with much fanfare with huge crowds gathered on opening day.
A familiar wall of (overpriced) gacha capsule machines greets you are the branch. I tied to find a unique selling proposition of this branch. Still, this Donki follows through a rather cookie-cutter approach to their stores. Duplicating their tried-and-tested formula tailored for the Japan-crazy Singapore market.
A tested Donki clone
Furthermore, the supermarket section greets you at the entrance on entry into the store, where it would subsequently branches off to other side sections such as dried food stuff, snacks and condiments.
You find staples like shabu shabu in the meat sections, and premium frozen Alaskan crab legs. Furthermore, interestingly, there is a walkway section dedicated to Japanese seasonal goods. Called the Jonetsu Kakaku, Don Quijote's original products brand.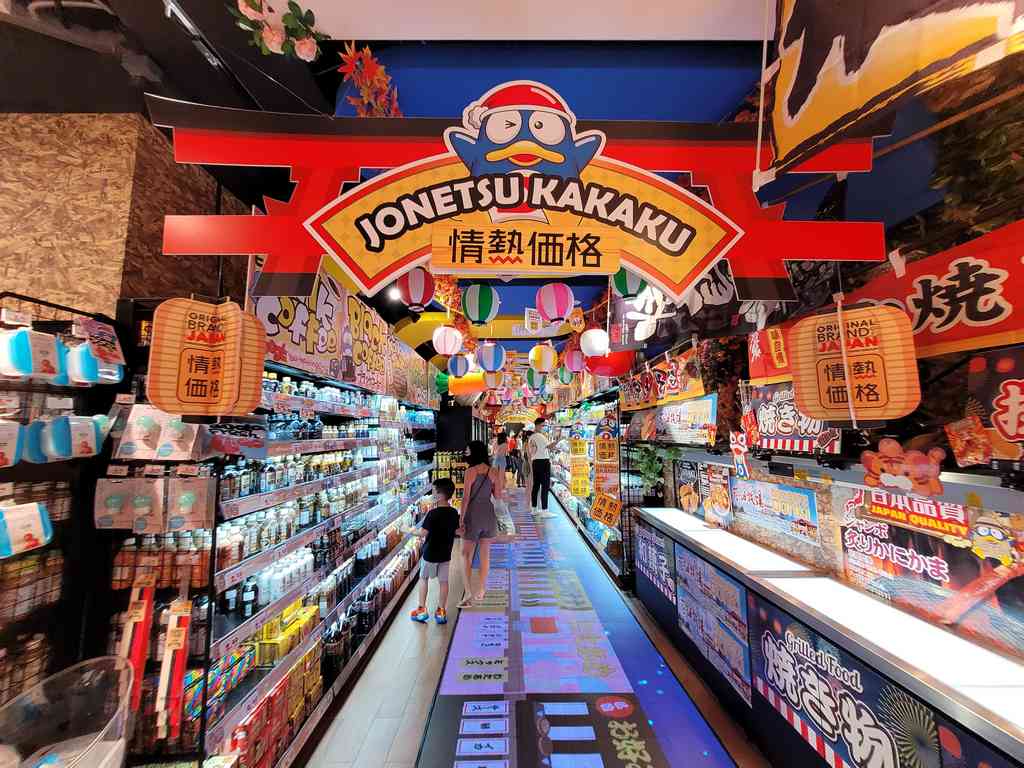 Additionally, the liquor section is at most, tiny. But still stocks a small variety of beers and Japanese Whisky. There is notably a lack of vintage Suntory here found in their flagship store.
Notably, this is unlike Don Don Donki stores we see beyond our shores. The store in the chain's country of origin in Japan is known more for their hyper mart offerings. Don Quijote typically sells large items such as even apparel, books, electronics and even air-conditioners, and even has a Ferris wheel!
Over the years Don Don Donki had gone drastic recalibration of their store offerings. Since we saw the blue penguin invading our sunny shores since we visited their first flagship store in Orchard gateway back in 2017.
5 Years of Donki in Singapore
In addition, you have to give credit to Donki into bringing what previously inaccessible good and snacks now readily imported and sold at great convenience here in their stores. Previously rare sauces, condiments and unusual KitKat flavours can be found locally now. It is now something not limited as gifts from a Japan trip now.
With a Don Don Donki store literally found in every corner of Singapore now, with plans to open a large aviation and travel themed store in Changi Jewel on 2023. And no I am not referring to their pop-up store at Changi Airport Terminal 3.
All in all, one would might ask if ever Donki had over-expanded, or whether it starts to loose it shine. But the crowds here speaks otherwise. Looking back, the entry of Donki was greet with much excitement for the chain to expand. Who knows 10 years down, which corner of Singapore would you not find a Donki in Singapore now.
Other Donki branches we explored