City sprout hub is a small private community garden located in Jalan Bukit Merah. It sits where the old Henderson Secondary school by the road of the same name. The urban farm comprises of a number of local growers and a community and dining area to boot. Let's take a walk through City Sprouts urban farm with an exploration today.
Moreover, established in 2020, you might remember City Sprout hub as the hipster dine in area we visited previously in 2020 before the pandemic. It is operated by GWS Living Art, who were awarded the government tender in 2019 to redevelop Henderson Secondary school into a site of urban greenery we see here today.
City sprout hub Farms
Furthermore, City sprouts at its heart is a community garden blending green technologies with sustainability and education. It's feature highlight are 36 allotment greenhouses, and a spacious dining canteen called City Sprouts open daily offering food stalls and a cafe. The cafe also serves a a rest area for gardeners and patrons alike. It is open daily from 11am to 8pm.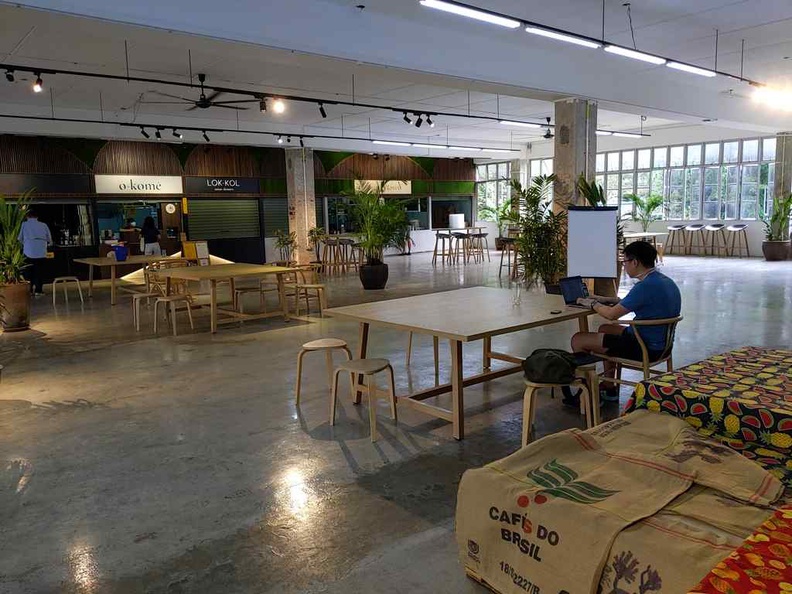 You enter the greenhouse compound via a small inconspicuous concrete passageway from the Sprout hub canteen carpark, where the main city sprouts building sits. Also, the main building used to be the main hall of the now defunct secondary school. It is home to the City sprouts eateries we covered on our last visit there. Also, it houses also the city sprout offices, a commercial vertical aeroponics and multi-purpose sports hall on the top second floor used for events and badminton courts. Out of the compound, the establishment is also co-located with a boarding school, nursing home and a preschool.
In addition, the garden walkways are paved in concrete, over previously of what was the main field of Henderson Secondary School. Peculiar items here include a central walkway with some small Halloween theming with the event being recent. Also within the compound is a small stage area. It looks like a make-shift outdoor Wayang-style open-air elevated center stage. Also, presumably used to house garden wide events or showcase.
Independent garden plots
Furthermore, each of these greenhouses have a floor plan about 5 by 3 meters. Most of the greenhouses houses and grow vegetables produce. Some farmers rear chickens, while others grow strawberries, papaya plants and medical mushrooms such as cordyceps and lingzhi. Moreover, each of these greenhouse owners also does tours, do check with them for more details.
Interestingly, the greenhouses here also employ a variety of smart agriculture elements. This includes connected smart irrigation timers and humidity and temperature sensors. Each greenhouse not only water piped in, but electricity power too. Some gardeners also converted some parts of the greenhouse into a make-shift offices. Some even has air conditioning units installed, presumably used to grow temperate plants. Also, the plots are shielded with walled netting, providing protection over insect pests.
Additionally, as part of going "zero waste", almost all waste are recycled on site. One such example is the aquaponics farm. Notably, aquaponic plants are grown with their roots exposed and suspended into the air without soil. Here, the plant roots are fed and watered by a nutrient-rich solution mist. Also, the waste produced by reared fish on-site supplies the nutrients for plants.
A self-sufficient garden
Notably, there is an irrigation pond and a couple of composting areas. Here, fertilizer are produced on-site from digested food and plant waste. Also, interestingly, some greenhouses do keep chickens. There are two housing a rooster and some with an assortment coop of 5-6 hens and a rooster, presumably used to cultivate in-house cycle of chicken droppings as fertilizers for the plants on-site.
Also, at time of writing there is a waiting list to rent a greenhouse. Rental for a 35sqm small size plot starts at S$300-350 per month, while a 70sqm large sized plot ranges from S$500-550 per month.
All in all, City sprout hub is a promising development. It brings about sustainable city produce which forms part of increasing Singapore's food self-sustainability for years to come. Opened daily, you can check the plots out at their address at 102 Henderson road.