Update: From Q2 2022, Fuhua Soya bean in Bukit Merah View had moved to the nearby Beo Crescent hawker center (38A Beo Crescent, Singapore 169982) Unit #01-87. Their second store at Ang Mo Kio is still operating.
Fuhua soya bean is a small family-run dessert and drink store selling a variety of soya bean based food. They have another branch in Cheng San Market, and this one we visiting today located in an NEA operated hawker center at Block 115 Bukit Merah View. Today, let's check them out as what I find one of the few budget-friendly small soya bean stores you can find in Singapore.
You may know Blk 115 as the notorious market which was one of Singapore first large COVID-19 clusters in Singapore. But don't let that deter you to their soya bean offerings. They are tucked in the far end of the Bukit Merah View hawker block at Unit #01-35.
Also, Fuhua operates another branch Ang Mo Kio Street 52, it sits at 588C in Cheng Cheng San Market & Cooked Food Centre. Notably, the AMK branch offers a slightly cheaper pricing than their Bukit Merah Branch.
Quality home-made soya bean
At its core, Fuhua soya bean is a small family-run hawker business specialising in soya desserts and drinks.
Also, in comparison of bigger soya bean franchises like Mr Bean and Jollybean, the soya bean here at Fu hua are all freshly made in-store. Interestingly, you can notice sacks of soya bean powder sitting just outside the store front.
Not watered down
Also, I am glad to report that unlike most hawker soya bean stalls, their soya bean drinks are not watered down neither overloaded with ice to rip your off like most hawkers do. Instead you get a notable rich and tasty soya bean. It is best experienced warm as its freshly made.
Moreover, servings with less or no added ice costs no additional fee. You have a choice of soya bean with a variety of several other quirky variations too. Additionally, on offer are several interesting options. This includes your soya bean mixed in local favourite flavours, options include gula melaka, fresh pearl bandung soya milk in pink, red bean, almond syrup or even diluted in peppermint in green.
Furthermore, on offer is a small dessert selection. Examples include grass jelly with longan and sea coconut, and attap seeds. Interestingly, the store sells Chendol bowls as "it-is" and hot glutinous rice ball desserts, though I did notice its not a really popular item. Most customers come here for their soya bean, which is what the store is known for.
Also, you get generous servings of gula meleka with freshly shaved ice in their chendol ($2 per bowl). Though it's not pretty to look at is loaded with generous servings of condiments at the bottom of the bowl.
You can't go wrong with regular soya bean
Still, you can't go wrong with just plain their Soya bean drink and beancurd, which is what I would recommend. Also, if you love bubble tea tapioca pearl fix, Fu hua got you covered. Also, you can have both your beancurd ($1.90) and soya bean drink ($1.60) served with pearls, at a highly desirable and attractive price point unseen in the soya bean scene today. In comparison, a base drink in most markets and those from the Mr Bean chain starts at $2.50 per cup of drink with pearls.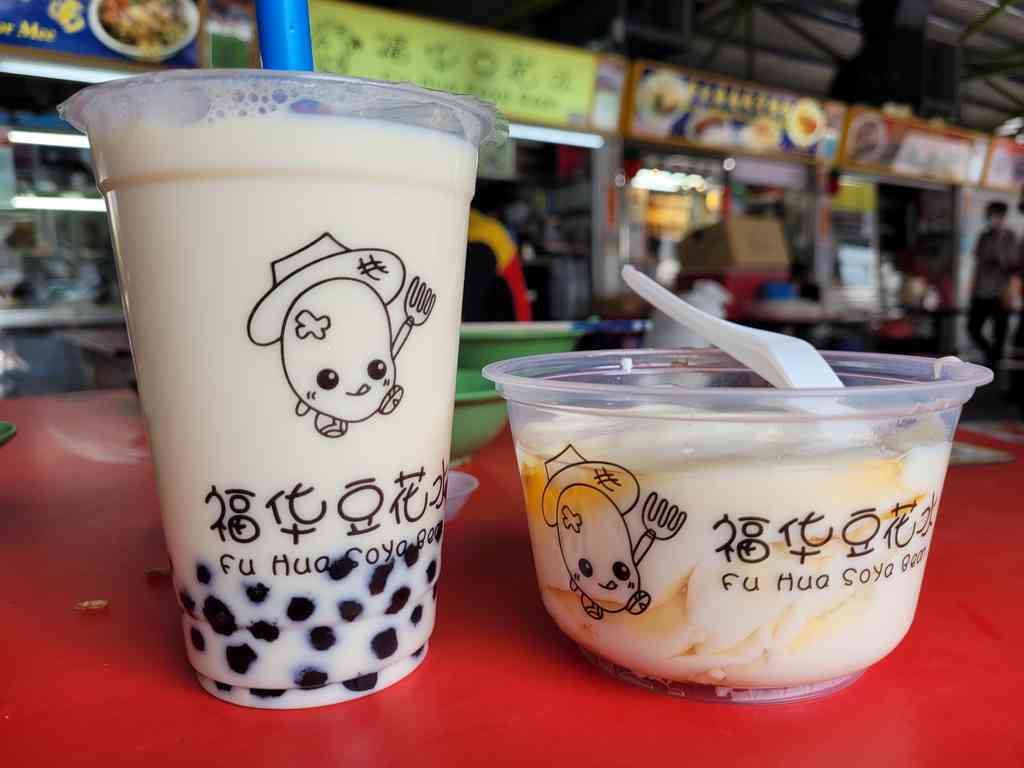 In addition, the store has an adorable soya bean mascot you can find on their store front as well as printed on their plastic cups and bowls.
All in all, Fuhua soyabean is one the small little gem of a dessert store still serving up great value soya bean and bean curd at a highly desirable and attractive price point. A selling point is their rich drink which are not watered down. Definitely a try when you are in the area.
Verdict:
Must Go! | Actually pretty Good | Worth Trying | Shortlist Optionally | Should Avoid
Fuhua soyabean Locality Map
Unit #01-35
Blk 115 Bukit Merah View Market & Hawker Centre,
Singapore 151115,
Opening Hours: 7am- 8pm
Closed on Tuesdays.