Changi Airport is a great place to chill with their selection of 24 hour dining and chill out areas. Following my last visit to the Changi Jewel on it's opening week, I had another chance to visit the establishment when things are not too busy. Let's check it out!
Being an Airport, undoubtedly though most of these 24 hour shops are located in the transit areas. The Changi jewel is operated by Capital Mall. It adds to the avenue another large selection of late shopping and dining options. The mall compound is open all day round, though most of the public-facing establishments are usually closed by 10-11pm. Not all stores here are open 24 hours a day.
HSBC rain vortex off at night
Moreover, it was this trip too where I discovered that the Jewel 40 meter tall man-made water fall does not operate 24 hours a day. In fact it turns off just before midnight. Interestingly, it allowed me to gather some rare photos of the waterfall not flowing and devoid of crowds in the building's central waterfall sanctuary area. Check out the view in the panorama below!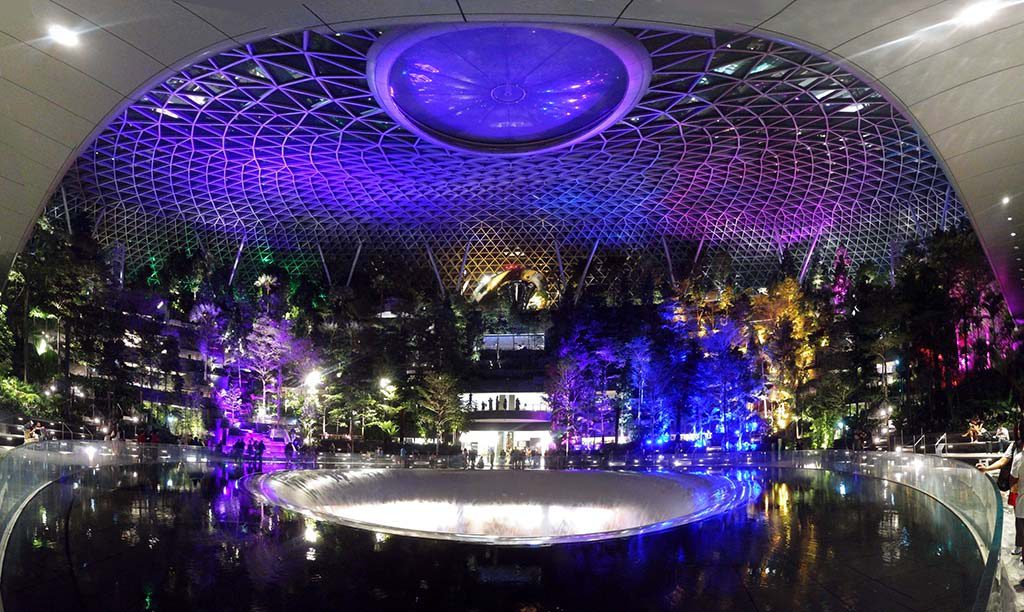 Furthermore, seeing the HSBC Rain Vortex waterfall turned off at night is indeed a pretty rare sight. The background mood lighting is still on throughout the night. This gives the area a chill and relaxing atmosphere, with the absence of the noise of the gushing waterfall.
Interestingly, with the fountain off, the large bowl funnel (or what some would call the 'toilet bowl') in the Jewel basement still continuously flowing with water. This creates a spill over which goes into the basement funnel below.
You can faintly see the basement F&B outlets through the clear acrylic walls from the top here. Moreover, notably, this massive funnel bowl is not lit with the main waterfall turned off.
Late night establishments
Interestingly, the Changi jewel past midnight was still surprisingly packed with a sizable crowd. It is not overly crowded, but you can easily find groups of people on every floor past midnight.
Notably, this is despite almost 80% of the stores in the Jewel mall and public transport closed for the day. However, you can find areas of night life in two areas here. This is namely, the basement and the rooftop garden.
You find a couple of pubs and restaurants on the top sky garden floor. Examples includes the Arteastiq Bistro, Aloha Poke, Burger and Lobster, and the Tiger beer garden operated by KEK zhi-char group. These establishments were seen to operate late past midnight. Most of them closing around the wee hours past 2am.
Basement foodcourt is still buzzing
Notably, F&B stores like A-one signature, Aunt Annie's and A&W restaurant were open 24 hours. This adds to the growing list of eateries you can check out past dark, or say after a late-night movie. However, other establishments such as Shake Shack and Starbucks were seen wrapping up and cleaning up for the day.
Interestingly, a small Starbucks kiosk outside the closed main store, as well as a KOI bubble tea cafe remains open even past midnight. Moreover, interestingly, A&W restaurant still has a queue on the basement, but it is noticeably only long on weekends. However, there is thankfully pretty much no more queues on weekdays.
Still, basement food variety selections are rather limited, with at least over half of the food stores here already closed or cleaning up at midnight. Still, you get better food supper options taking the 24 hour automated skytrain from terminal 1 over to terminal 3 basement Kopitiam food court.
All in all, Changi, though there isn't actually much to do here past 10pm. Not quite the all-day shopping experience I was expecting, but still a good addition to an otherwise much needed injection of stores in Changi Airport.
When you are here, do check out my main video coverage of the Changi Jewel. during my visit there on the public preview days.
Also, you can read up more on it on my write-up last week on the Jewel's key attractions, them being the HSBC Rain Vortex waterfall and extensive range of shopping and dining options, and the Rooftop Canopy Park.