Tenderbest Makcik Tuckshop is a halal-certified western fusion eatery with an emphasis on delivering good value for money meals at an affordable price. The outlet is tucked and located within an industrial estate in woodlands in the Mega @ Woodlands industrial building. It is located opposite Greenwood sanctuary admiralty.
Notably, the nearest parking spot is within the industrial estate itself. Also, the establishment uses EPS (electronic parking system) parking which you simply drive into the industrial building. Moreover, Tenderbest Makcik Tuckshop is a chain of food outlets operated under the Tenderfresh group. You may recognize their other outlets such as Sultan Burger, Hakwerman curated store and Tori Go chicken kiosks Moreover, this Tenderbest franchise has another branch with a similar name at 150 Pandan Gardens.
Furthermore, the outlet goes about a Halal food kiosk concept that offers a wide selection of Western food all under one roof. You can easily get a main course meal for under $10. Their price range is comparable and similar to other range of competing outlets such as iSteaks and Astons.
Notably, the establishment does gets pretty packed, especially on weekend dinner periods. Hence, do avoid peak 6-8pm periods. Still, crowds are fast moving and you can easily find a table in under 10-15 minutes. There is a combination of indoor and outdoor seating. Tenderbest opens late till 10pm and extended closing at 11pm on Fridays and Saturdays.
Nice chill dining ambience
Moreover, this Tenderbest restaurant is decked with a modern contemporary theme. Notably, there are several hipster elements in the store deco. Also, a long wall counter sitting at the heart of the eatery is where orders are made and collected.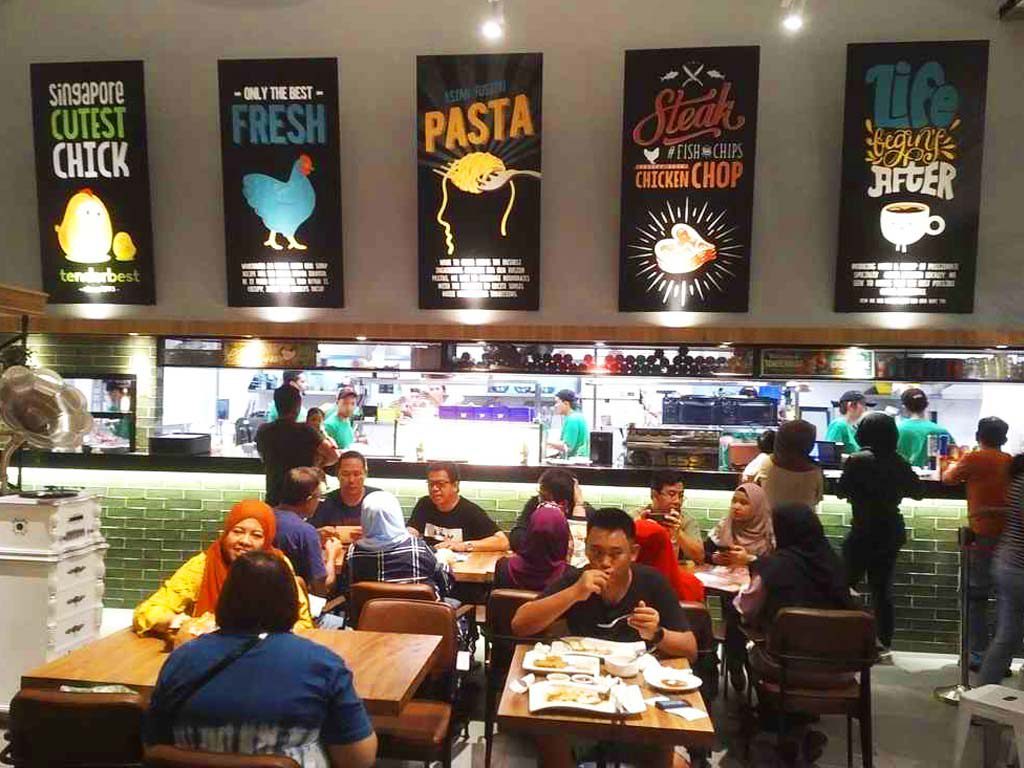 Moreover, you can see the kitchen behind the counters. It is packed with kitchen staff churning out plate after plate of meals during my peak dinner time visit. You be presented a buzzer with your order. All major credit cards including NETS and cash are accepted.
Commendably, the outlet is well staffed. On my weekend visit, there is a good number of service staff keeping the tables clean as well as kitchen staff churning out food when the crowds arrive.
The Chicken specialist
Being as part of the Tenderfresh group which Tenderbest is under, Tenderbest is a group which touts being specialists in chicken. It is also what Tenderbest is known largely for. Their entire menu offerings largely revolve around variants of Chicken dishes. On the offering are their speciality and signature fried and roasted chicken.
Also, their fried chicken is indeed really good. The prices are pretty affordable too. General staples cost under $10 for a main course, and under $20 a plate for more premium offerings.
Place for Roasted and Fried Chicken
Moreover, going on that, if you wish to try something more their speciality, their fried and roasted Ayam (Chicken) takes my pick. They are both tasty and juicy without being overwhelming. I recommend their Roasted Ayam. Also, menu choices start with small single Roasted chicken leg portions to an entire spring chicken. The spring chicken has enough portions to satisfy the really hungry.
Furthermore, this selection is mirrored on their fried chicken. Tenderbest fried chicken has a crispy outer with a central juicy inner. You could even pass off the fried chicken as steamed chicken from within. It is juicy, and a joy to have. I strongly recommend trying when dining here.
Moreover, their whole fried chicken will set you back $18.50 which is fairly reasonable for the size and quality. Each main course is served with a small heap of coleslaw, straight cut fries and toasted garlic bread. However, drinks are pricey; with standard soft drink offerings setting you back at least $3 a drink.
Chicken sets are great for sharing
In addition to personal main courses are fast food style chicken parts meals. If you demand more fix of fried chicken, I recommend Tenderbest 5 piece fried chicken. It starts at $15.90 for 5 pieces which is comparable to other mainstream fast food offerings like what you can find KFC restaurants. Moreover, these chicken sets are best served as a side for group-sharing in addition to your main course.
Moreover, other chicken offerings includes Teriyaki chicken chop. It is sliced chicken chop marinated in teriyaki. However, not every dish is as good as it sounds. Their crispy cutlet is underwhelming with more batter than chicken. Moreover, their chicken used in their cutlet and grilled chicken are rather thin and not as crispy as advertised.
Moreover, a thing I found quite underwhelming is their Crispy skin grilled chicken chop ($9.50). The crispy chicken steak was not as overwhelming and crispy as expected. It is essentially just a standard grilled chicken dish. There is nothing too fancy here. However, if you are undecided, you simply can't go wrong ordering their standard grilled chicken chop as the safest bet.
East meet west fusion
Additionally, besides chicken is a selection of pasta offerings. It is touted as a take on Asian fusion pasta. Here we have mushroom spaghetti at $8.90, Carbonara Turkey bacon ($9.90) and strangely with a local-twist, Sambal salmon at $11.50. Their pasta is mediocre and notably is observed to be not a popular dish here.
Moreover, other Malay-style dishes includes a local fusion and western take such as Pasta in Mee Goreng style with crispy chicken ($9.90) Tom yum roast leg with fries $9.90. Also, other non-chicken dishes are selections of beef and fish dishes. They are not quite what Tenderbest specializes in. Also, their fish and chips are not bad with a sizable fillet portion. I recommend staying away from their grilled Salmon. You do not get quite the value I am looking for the Salmon portions at $16.90 per main course.
On sides and appetizers, a nice offering is their Tenderfresh Fries with meat sauce and egg at $6.90 a bowl. Sides comprises of usual choices of fries, and various sharing platters. The selection is not great and revolves around different permutations of French fries. Notably filling areas includes an interesting Fries with meat, cheese and mayo dish.
All in all, Tenderbest Makcik Tuckshop is a go-to place for great fried chicken. It is the only thing you should dine at the establishment for. Their non-chicken dishes are adequate but not something to scream home about. It is a western fusion food place worthy of your shortlist to try.
Verdict:
Must Go! | Worth Trying | Shortlist Optionally | Should Avoid
Tenderbest Makcik Tuckshop
Mega @ Woodlands industrial building
No 39 Woodlands Close 01-68
Singapore 737856
Opens daily
Opening Hours: Sunday – Thurs : 11am-10pm
Extended hours on Fri- Sat: 11am-11pm