Lets check out the SINGAPO人 permanent exhibition showcasing Chinese culture at Singapore Chinese Cultural Centre (SCCC). It aims to showcase the highlights of Singapore unique localised Chinese culture. The galleries are located downtown on the second floor of the Singapore Chinese Cultural Centre which opened on 2015, a relatively new building. The exhibition begins with a small standee exhibition on the ground floor, which serves as an introduction to the main galleries.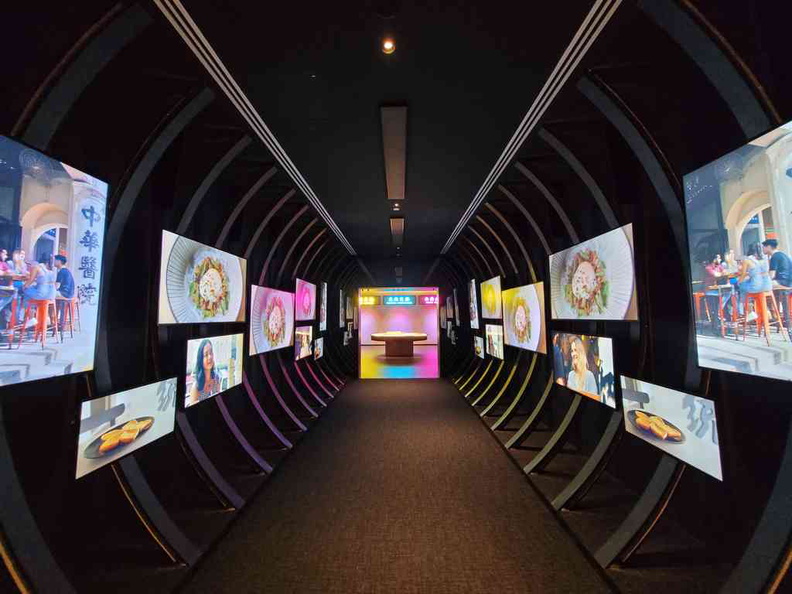 An escalator ride up to the second floor brings you to an air conditioned galleries. The staff at the center were friendly and helpful, providing me with RFID tags that allowed me to interact with various points of interest throughout the exhibition.
An interactive exhibition
Furthermore, through the exhibition, you will see several RFID point of interest tags which you can use to interact with. Whether is it to vote on polls, or to agree to an exhibit item. It is a rather interactive piece and a nice touch.
Also, these RFID tags were easy to use and added an interactive element to the experience. You do not need to provide too much personal info on the RFID tag registration besides your name, gender and age group range and you are good to go.
What is a Chinese Singaporean identity?
Moreover, the first zone, titled "What Makes Us, 'Us'," explores the five factors that have shaped Chinese Singaporean identity. In Singapore, the Chinese constitute the majority population, coexisting with a substantial number of non-Chinese residents.
Also, through years of intermingling with diverse cultures, fostered by geographical proximity and societal heterogeneity, a complex and ever-changing Chinese Singaporean identity has emerged. At the Singapore Chinese Cultural Centre, engage in dialogue and explore (or re-explore) the essence of being a Chinese Singaporean.
Additionally, the displays and information provided a fascinating insight into how Singapore's history as a port and a British colony, as well as its policies as an independent nation, have contributed to the unique Chinese Singaporean identity.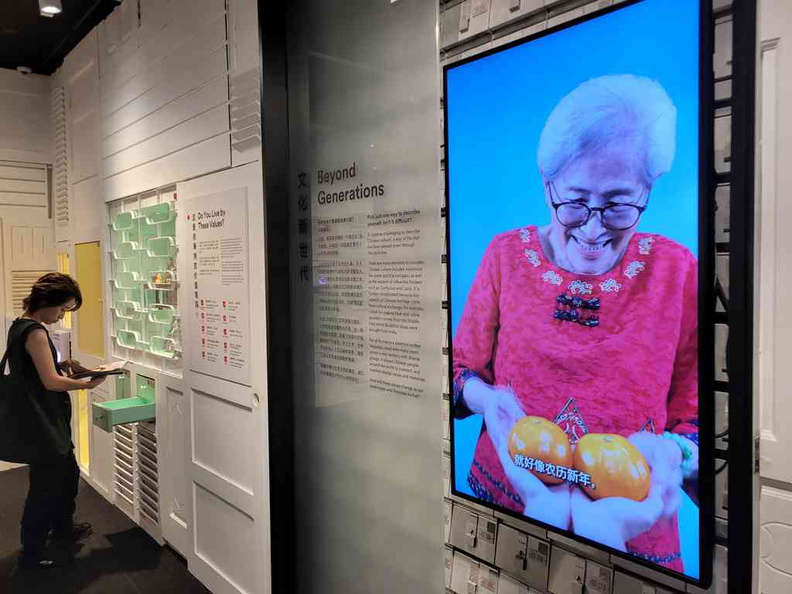 SINGAPO人 exhibition: Beyond Generations
Additionally, the galleries follow on and runs through in a linear fashion leading into the next Zone 2: "Beyond Generations," I discovered the rich traditions and customs that have been passed down through generations.
Also, the displays showcased various artifacts and videos that demonstrated how these traditions have evolved and endured over time. It was interesting to see how seemingly ordinary customs played significant role in shaping Chinese culture in Singapore.
Do you have a chou chou stuffed toy? Have you been caned before? You can indicate your votes using your RFID tag here. All you need to do is to hold your tag on the white disc to register your choice.
Furthermore, one unique aspect of the SINGAPO人 exhibition galleries is the inclusion of front iron grill gates and windows from old flats in Redhill Close and Bedok South estates. These added a touch of nostalgia of old Singapore and authenticity to the exhibition.
Additionally, there were displays featuring ancient inventions like the compass and paper, as well as the wisdom of thinkers like Confucius, highlighting the enduring values and traditions of the Chinese culture.
A fusion of cultures
Furthermore, the next Zone 3 cover cultures, titled "When Cultures Meet", focused on the cultural exchanges that occurred when early Chinese migrants interacted with different dialect groups and non-Chinese residents.
Also, this led to the creation of Singaporean terms, local cuisine, and unique customs. This is showcased through various exhibits on-wall posters and an interactive table. It also highlights the creativity and open-mindedness of the Chinese Singaporean community.
Interactive games and installations
Interestingly here, you can engage with an interactive kopi-making game -, there is an interactive game here called the "Kopitiam Showdown". This is a two player game which you can play over a large animated table screen. Where you can challenge a friend to a thrilling game of speed in making traditional kopi or teh drinks at a coffee shop.
Also here, the taste of reinvention room is an interactive one with ceiling projections putting food on a table giving you a simulated food feast. You can get your RFID magic tags working here again by voting on the your favourite food of choice here too.
Moving on to Zone 4, "Made in Singapore," decked in pink walls. Here, I learned how exposure to diverse ideas, languages, and religions has shaped the unique perspectives of Chinese Singaporeans while still honouring their heritage.
Moreover, Chinese Singaporeans, like other ethnic groups in Singapore, have embraced multicultural worldviews, fostering creativity and open-mindedness. Here, you can witness the impact of these influences on food, art, and popular culture
The final gallery, Zone 5, titled "Making Our Mark," showcased how Chinese Singaporean food, culture, and products have gained global recognition. Also, the suspended objects hanging from the ceiling, resembling old messenger robots which used to operate in the Singapore general hospital and the Nobel idea train which we first saw in the Nobel museum in Stockholm.
Also, it added a futuristic touch. Also, this ceiling-mounted conveyor belt transports familiar brands and individuals, representing the global reach of Chinese Singaporean contributions. Some examples includes JJ Lin's songs being played in China, or Old Chang Kee operating in London, UK.
In conclusion
Wrapping up the SINGAPO人 exhibition is Zone T, titled "The Story So Far." This section allowed visitors to reflect on the Singapore journey from a rainforest-covered seaport to a bustling concrete jungle. An interactive digital timeline highlighted key milestones in Singapore's rich heritage, leaving you with a sense of the progress made and the potential for the future.
You end your journey with a check out kiosk where you can scan your RFID tag to profile an attribute to yourself from your voting and interactive choices throughout all the five galleries. It will fit a personality to. You can also print out your results here. From here, you can exit back to the start of the galleries where you can make a second round, or drop off your RFID tags in return boxes when you exit the galleries.
All in all, the SINGAPO人 exhibition at the Singapore Chinese Cultural Centre provides a comprehensive and interactive exploration of Singapore Chinese culture. From the factors that shaped Chinese Singaporean identity to the traditions, cultural exchanges, and global recognition, the exhibition offers a captivating journey through history and heritage. Whether you're a local or a visitor, this exhibition offers valuable insights into the essence of being a Chinese Singaporean and the contributions of this vibrant community to the multicultural fabric of Singapore.