Today we take a look at Redhill Gardens, an old rustic HDB estate in Redhill Close. This series is part of our Remembering Singapore series where we explore lost and forgotten sights of old Singapore.
Redhill Close, a historical estate
Redhill Gardens at Redhill Close has a rich history. It is a public housing estate located in the Bukit Merah, in southern Singapore. It was built in 1955 (68-year ago) pre-independence, and one of the first estates to be built under the government's public housing program, making it one of the oldest public housing estates in Singapore.
Also, it was built in the aftermath of World War II, when Singapore was struggling with a severe housing shortage. The government launched a massive public housing program by the Singapore Improvement Trust (SIT) to address this issue. More on SIT later in this article.
An SIT early housing model
Additionally, Redhill Gardens was one of the first SIT estates to be built under this program. At the time, Redhill Close was considered a model estate, with its modern amenities and spacious green areas. It was also strategically located with may close amenities, such as with easy access to major transportation hubs, shopping centers and favorite hawker food at Bukit Merah central.
Moreover, the estate is named after the nearby Redhill Hill, for its reddish iron-rich soil. These flats were designed and built by the Singapore Improvement Trust, which was founded by the British post war to look into the development efforts for Singapore.
Following the successful 1930s development of the now-conserved Tiong Bahru estate, SIT set their sight in developing Redhill. This entire estate comprises of 21 blocks of 7-storey residential blocks. These are numbered blocks number 1 to 3 and 5 to 22, with a total of 2,654 units. They are spaced about a large square kilometre ground in the red hill area between Bukit Merah central and Redhill MRT station. Interestingly, Bukit Merah also means Redhill in Malay, but the same are used as if they are different spots in the same region.
A 68 year old HDB estate
Over the years from the nineties to the 2000s, Redhill Gardens has undergone several estate rejuvenation and repainting to keep the estate lively. This is seen many changes. In the 1990s, the estate underwent a major upgrading program.
The program was aimed at improving residents living conditions, ensuring the estate remained a desirable place to live. This involved upgrading the lifts with modern ones, as well as sanitary facilities such as sitting toilets. An exterior arch façade is also added on the front to act as a sun-shade, though it blocks the view out for many. Also, some units were upgraded with an additional kitchen room based on a resident vote.
Also, despite its age being one of Singapore's oldest estates at 68 years old today, the estate has remained well-maintained. It is still considered one of the most desirable public housing estates in Singapore given its central location near town. These are prime land and re-developments in this area are restricted to re-housing and en-bloc movements for both public and private housing. i.e. HDB en-bloc at Queenstown, Tanglin Halt to Dawson.
A rustic quiet estate
Walking through the grounds, the gardens has a strong kampung feel to it. It has several playgrounds, senior activity areas, badminton courts spread about the sprawling estate. A central sheltered walkway connects segments of the estate. The blocks in the estate are laid in an orthogonally order in neat rows, with gardens. Topped with sloping roof covered with tiles- a rare sight in Singapore.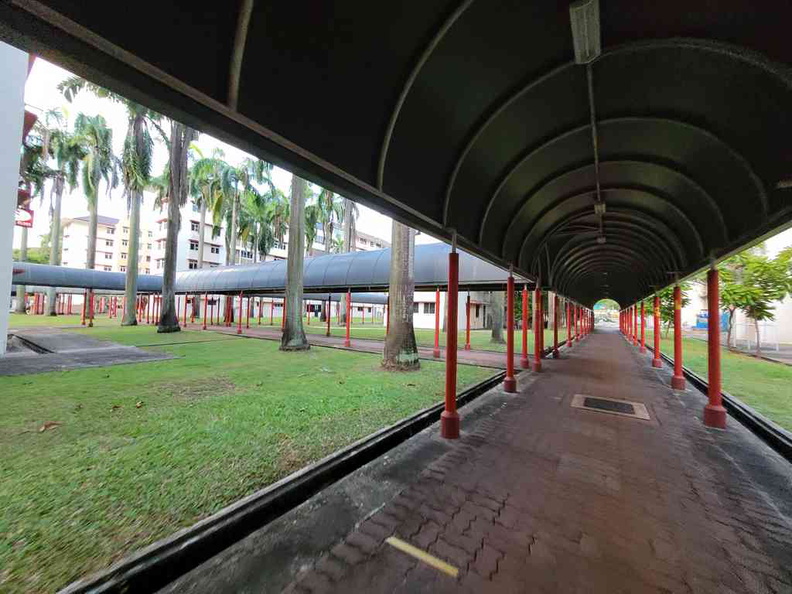 Interestingly, the Nation's National day celebration on 1975 was held at the estate. Then, marching contingents gathered on open fields in the estate to mark the occasion. Also, the estate served as residences from its completion in 1955. Also, the estate was pretty much left vacant in place following resident occupants vacating the entire estate in 2019. Since then, the estate also served the nation during the Covid-19 pandemic as temporary homes for foreign workers.
Homes built by Samsui Women
The 1950s estate has its humble beginnings as a classic gem of Singapore public housing back in the day, built by Samsui women. Each block and brick wall were all laid manually by hand. You might know the Samsui women with their iconic red headscarf and dark clothes. They were mainstay construction labourers who mostly originated from China in-droves during the 1930s. They mainly worked at Singapore construction sites until the 1980s, where they were replaced with machinery.
Also, Samsui women are often depicted in popular culture as thrifty and resilient individuals who helped to build up the country's infrastructure. Notably, one of the only two remaining Samsui women in Singapore- Ng Moey Chye, who is in her 80s on 2014 lives within Redhill Close too.
A quirky block design
Interestingly, if you were to run through the block numbers and you would notice that block 4 is notably missing. This missing block used to be row of shophouses which now a carpark resides. It houses sundry shops, as well as a small public bus terminal for bus rides out of the estate.
Moreover, each block has three common stair wells per block running from the ground floor and one elevator per block. Interestingly, the elevators are actually located in the block's middle at the half floor mark from the ground floor. This means the elevator's "ground level" is actually half floor up. Not too great for accessibility by today's standards.
Also, this unique design and the proximity of the blocks along Jalan Bukit Merah main road makes it difficult to install external elevators serving all floors. Also, upstairs, access to the elevators are not stairs-free and the lifts stops at only 2 floors in the block- the 3rd and 5th floors. The blocks have an interesting take on common corridors, with a walkway on the 3rd, 5th and 7th floors.
A homogeneous estate
Interestingly, from interior floorplan records, all the flats in the estate have a similar 3 room layout with 1 large living room, two bedrooms and a combined dining-kitchen. Some units have a combination kitchen-dining area and a toilet comprising of separate toilets and bathroom. The entire house shares one common toilet and separate bathroom. The kitchen and dining area have a balcony area which also serves as a washing area.
Also, the bedrooms are large by today's standard. It has 5 by 5 meter square rooms with a total floor area of about 62.5 square meters. It is comparably larger than typical 3 room flats today. Unlike modern flats today with a mix of 1-3 bedrooms options, this common layout is the same across all the 21 blocks in the estate, with 42 units per 7-floor block.
Before HDB, there was the Singapore Improvement Trust
A bit of history, the Singapore Improvement Trust (SIT) was a government agency established in 1927 by the British to address the severe housing shortage in Singapore. It was during a time when Singapore was a British colony. Then rapid population growth and influx of migrants had led to a housing crisis. Hence, SIT was tasked in building affordable public housing for the masses.
In its early years, SIT focused on building low-cost rental flats in the city center. Examples includes walk up apartments like the walk-up apartments at Tiong Bahru Estate and SIT's first brick public flats along Pickering Street. This is where the Parkroyal Pickering hotel now resides. These flats were simple, bare-bones units that provided basic living spaces for families.
SIT's housing program was a massive success. It quickly became one of the largest public housing providers, providing for significant improvement over the squalid and overcrowded living conditions of the past. By the 1950s, it had built more than 23,000 flats across Singapore, and its efforts had transformed Singapore's skyline.
Birth of the HDB in the 1960s
However, as Singapore gained independence in 1965 and the government's priorities shifted, SIT was eventually replaced by the Housing and Development Board (HDB) in 1960. Henceforth, the HDB took over SIT's role as the primary provider of public housing in Singapore. The HDB till today, continued to build on SIT's legacy by developing new towns and going beyond improving the living conditions of residents to becoming Singapore's largest housing developer.
Today, all public housing in Singapore is still provided by the Ministry of National Development's HDB. To date, HDB has continued to innovate and improve its housing programs, ensuring that Singapore's public housing remains affordable, of high-quality, and accessible to Singaporeans.
Demolition of a history
Sadly, with each part in history, the old has to make way for the new. Currently, a handful of 7-8 blocks in the estate are slated for demolition, with the whole estate expected to be flattened by 3rd quarter 2024. This is presumably on basis for redevelopment and for more efficient use of the vast piece of freed up land.
Also, Redhill Gardens estate buildings are not particularly unique architecturally or interesting. It has an architecture style for more function than aesthetics. Sadly, just like how pretty animals gets conserved and saved from extinction, only the pretty buildings in Singapore get noticed and conserved while the rest sliently fades away.
While demolishing Redhill Gardens estate will free up land of high redevelopment potential, it be good to balance this with conservation. This preservation of 1 or 2 blocks of these last SIT-built blocks is a good idea the authorities can consider as part of preserving National Identity of an era forgone and lost by Singapore's relentless rapid urban development.
All in all, that wraps up our explorations of Redhill Close. It is a historic public housing estate that has played an important role in Singapore's pre-independence housing development. As we bid farewell to the old, who knows what comes ahead here at Redhill for generations to come.