Handle Bar biker pub is a themed pub, bar and restaurant in a pretty cool biker setting at Gillman barracks just off Depot road. They serve a selection of western main courses on top of pub booze. Let's check them out with a dine-in.
Notably, Handle bar used to operate here at lock road. They used to be at 1 lock road before momentarily moving to the Sembawang area just off Sembawang park, where they used to be sited quite remotely beside an aquatic Sembawang Water-Venture center along Jalan Mempurong, just past the Masjid Petempatan Melayu Sembawang along Jlm Inggu.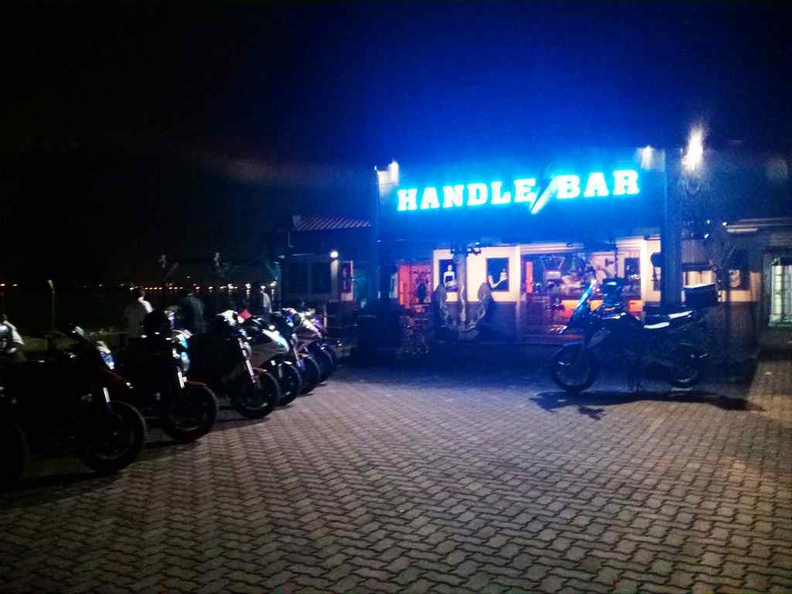 Back then, getting to handle bar involves notably passing by Woodys Cafe, a cozy restaurant we visited previously in the neighbourhood. Today handle bar had moved back here to a more southern location at 10 lock road in Gillman barracks. Hence the name, Handle bar "Original". This hipster and art gallery. It is situated by the Singapore southern ridges forest walk and Hort park.
A western menu
At its core handle bar is a drinks pub and bar. Hot meal options are rather limited. It is a typical run of the mill western grill which is more bar than restaurant. However, they do offer a commendable full-fledged dining menu comprising of steaks, ribs, pork chops and southern fried chicken. They are typically priced around the premium $30 to $45 price segment, which is tad on the upper end of the affordable segment.
Furthermore, more affordable options include their fish and chicken dishes, such as fish and chips ($16), their southern field chicken $22 and beer butt chicken $25. Also, their BBQ ribs sits in a middle price point at $28 to $34. Their ribs are nothing to scream home about. Their portions are tad smaller than Morgan fields, though similarly priced. All mains are served with potatoes sides and greens.
Burger and pizzas
Moreover, their burgers are something worth mentioning. Their cheeseburgers starts at $12 for a single party and $18 for a double. Also, their ace burger ($16) is their trademarked Angus tenderloin beef burger and is quite a hearty meal as a double. There are also minor selections such as chicken, fish and hotdogs at $12 a pop. All are similarly served with a side of fries.
Drinks wise, you have options of regular house pours, craft beer by the bottles and cocktails and mixes. Additionally, the bar also serves a variety of bar food, these are typically of western. Also, topping up their menu choices are minor dishes such as Chilli bowls ($12) and Beef stews ($16).
Moreover, interestingly, there is a special mix item called the Motorised Marietta ($55) which used to be a special menu item which serves 4 where a staff member will come out to your table with a gasoline powered blender. Today it can be found as a "Vroom for more option". The contraption is tad more like a modified leaf blower turn blender or sort, where they would mix your drink with. It is tad of a noisy spectacle.
A biker theme
Furthermore, dining seating are mostly open air outdoor with slide in shelter tents on rollers. Notably the bar is popular with biker groups, with groups of bikes often seen gathering in groups in the lots near the bar.
Too bad the Gillman barracks establishment does not offer free parking like what they used to offer at Sembawang. Though their Gillman barracks outlet is more highly accessible, I found it loses it rustic feel and cosiness with the new location, besides being much smaller in size.
Still, the place is nicely decked out. Moreover, the indoor area is a tightly packed area with an extensive motorbike workshop theming. The place is decked with fancy wall murals with automotive references. Interestingly, even the toilets are well decorated and themed. You can tell that whoever running this place is truly a motorbike fan.
All in all, Handle bar is a pretty neat western grill and biker bar suited in the heart of town.
Verdict:
Must Go! | Actually pretty Good | Worth Trying | Shortlist Optionally | Should Avoid
Handle bar Locality Map
10 Lock Rd, Singapore 108938
Gillman barracks
Opening hours: 12:00 pm – 11:30pm
Closed on Mondays.