Collins is a household brand in Singapore when it comes to offering good western grille at a matching good price. The brand has now expanded into a more premium market with dine-in restaurant setting. You can remember Collins from the last time I wrote about my dining experiences to their coffee shop western grille stores. They can be found in several heartland central areas and are known for their value for money western food grille and Japanese Bento Sets.
Tapping on a bigger market
I can see the chain's decision to expand into the already crowded western food segment. Notable competitors in the scene include Astons, iSteaks and Char-Grill to name afew. They saw their founding after the popularity from the now defunct Botak Jones western outlets. Moreover, you might remember Botak Jones as one of the pioneers in the premium coffeeshop western food, with their trademark Cajun fries.
Hence, it would be logical for Collins to cast their net to expand into a greener market. A Collins with a restaurant setting (or what I would like to call the "Atas Collins") can truly diversify their product line as well as command a more premium price on their selections.
Restaurant ambience
Their restaurants have a modern yet casual style concept, with a mix of table and booth-style seating. Furthermore, given the restaurant setting, you get waitered service and the ability to pay with all major credit cards. This expands on the cash or NETS payment options only available at all the other Collins coffeeshop outlets. Moreover, this will be good for rebate junkies looking to maximise your credit card returns with Collins.
Additionally, Collins membership scheme is also applicable to all Atas Collins restaurants. Their outlets are typically located in central city areas So far I had dined at their branches in Marina Square mall, as well as their newest outlet in the basement of Cineleisure orchard. Other branches includes Northpoint city, Jubilee Square and Shaw Plaza.
Similarly, these range of sit-in restaurant are run and managed behind by the brains who brought you the largely prevalent Collins western shops. They are founded by Mr Collin Ho, a culinary veteran, where all the restaurant bears his first name.
After dining in their Marina Square and Cineleisure outlets, I am pleased that Collins still stuck to what is tried and tested. Offering an affordably cheap, (or I would say value for money) casual dining experience for the mainstream diner without being too expensive. Lets us see what's on offer.
Mains and Grille Choices
Moreover, you get more premium offerings in this Atas Collins. A differentiating area between the coffee shop variant of Collins and that of the restaurant Collins is the provision of several premium menu items. Never seen before dishes includes Duck Confit going at $15.90. This offers a more exquisite finer side of dining at Collins.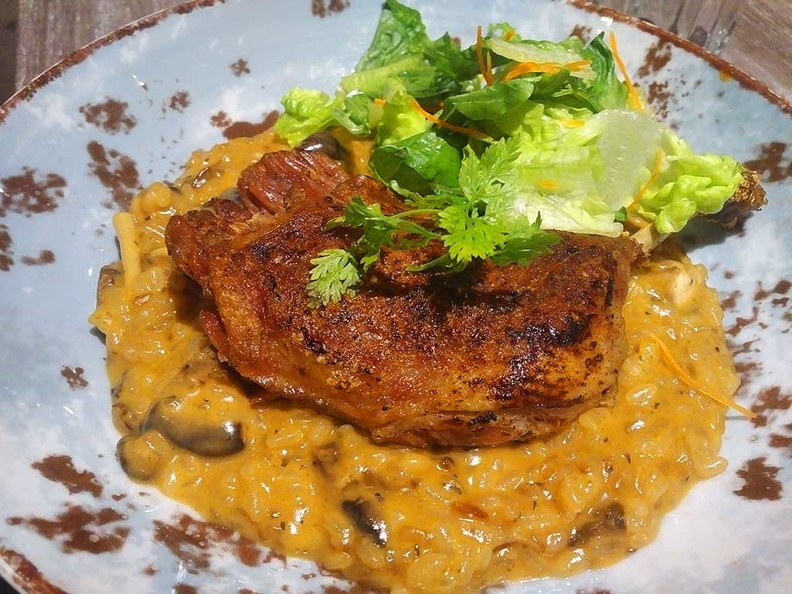 Moreover, other notable premium options includes the Wagyu Beef selections. You can have a go at the US Mishima Wagya Ribeye Steak (250g) it has a marbling score of 5. It is served with Beer battered potato sidewinders, seasonal vegetables and topped with a corn on cob, setting you back $35.90.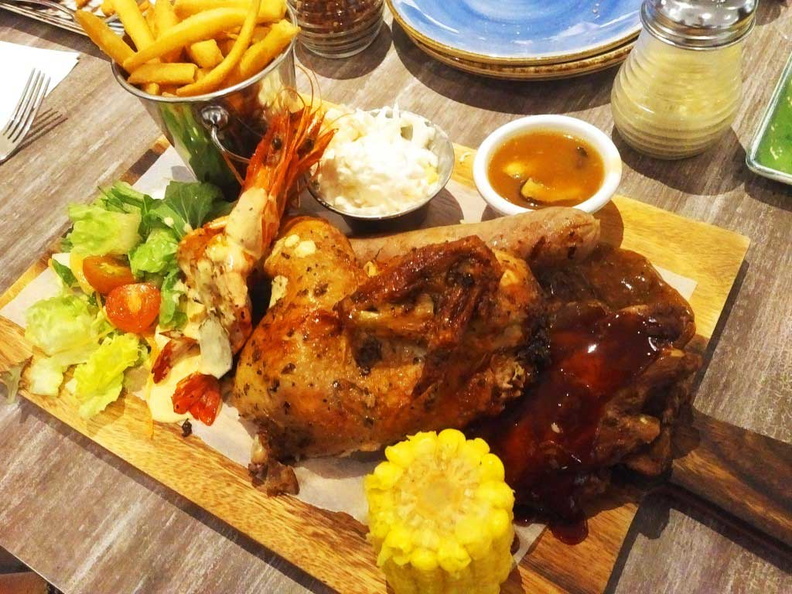 Also, if that is not it, there is the mixed combo set. This massive combo, at $30.90 gets you behemoth serving of food comprising of a 1/2 roasted chicken, 1/4 BBQ pork ribs, 1/4 St Louis style pepper ribs, tiger prawns, bratwurst sausage, fries and corn on cob with salad. Now that is quite a mouthful!
If you wish to tone it down a little, there is of course the traditional Mixed-grille options. Allowing to savor bit of every type of meats Collins have to offer.
These selections, together with dishes such as Scallop and crab croquettes with tossed spaghetti with chili crab sauce are items you can't find in your regular Collins for now. They are not bad for the price, with the market competition usually going for $5 to $6 more per serving. Who knows, maybe these dishes might be brought into their mainstream coffee shop menus. I'd really like their Duck Confit to be available.
Same, but new old
Commendably, if you are in for the usual line of Collin staples, you still get your usual selection of Collins favorites. Usual offerings includes Rib eye steak (200g) at $19.50. Moreover, their Quarter roast chicken and half St Louis pork ribs are also available on the menu at the same good price at $19.50.
Moreover, in the restaurant setting, the dishes are served on much better presented on more premium-looking ceramic plates, rather than plastic ones in the coffee shops. Furthermore, returning icons includes their trademark grilled chicken chop with spaghetti. This favorite is similarly served with corn and a salad side. I found it pleasing that Collins kept to their tried and tested menu and expanded it with interesting options.
Additionally, seafood and fish offerings includes ocean Haddock fish and tempura. French herbs breaded haddock fish and tempura fried squid with sweet potato fires, coleslaw, corn cob and tartar sauce.
Adding to the mix I found the breaded haddock fish very nicely cooked. The fish is well done without being overly soft. It is well-seasoned with french herbs which brings the flavor in the meats. To complete it as a meal, the dish is topped with tempura fried squid with sweet potato fries.
Moreover, I particularly like how their outlets open past late. With some opening up to midnight. It makes it an ideal supper place to-go after say, a late movie or a musical play or even after a long day of overtime work.
An extensive Pizza and Pasta selection
You can get Pasta and baked rice dishes as a main instead of as a side here too. Notable options includes a larger selection of pasta choices such as Tagliatelle, Penne and even Potation Gnocchi. The restaurant prides themselves using quality Brailla Pasta in all their dishes. Staples like Prawn Penne, Aglio Oli, Carbonara or Beef Bolognese will set you back under $13- $16 a serving.
I recommend trying their 12″ stone fired oven baked pizzas as a side to share with your main course. They go excellent in groups and can be served upfront first before your mains. Only a standard size is available with 16 different thin-crust varieties. I recommend their Shroom pizza. It is is light a goes well with the light thin-crust without being too filling.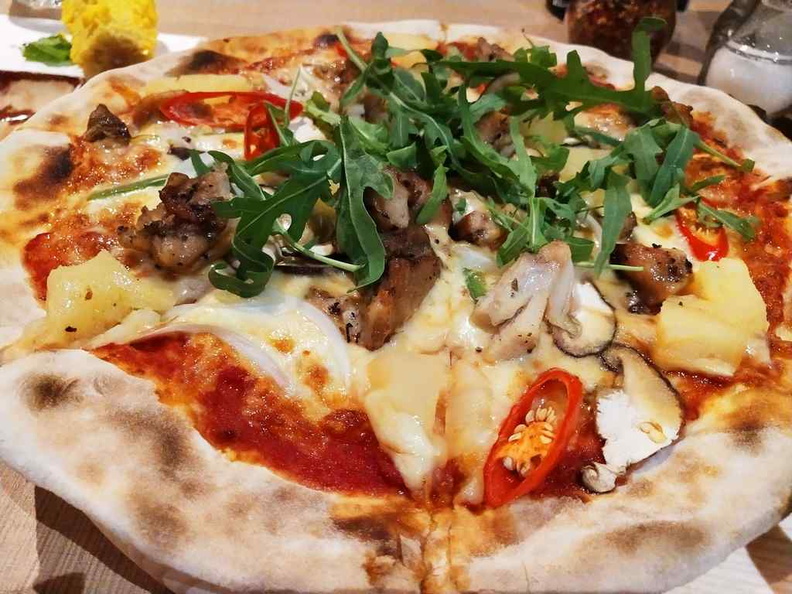 Furthermore, adding to the mix is an assortment of Milkshake and smoothies to go with your western grille. I recommend their Avocado shake at $5.90 Shakes. Their premium Ice Earl Grey Tea at $3.50 a cup is not something I fancy, especially worth the money as it is all loaded with Ice. I did advise to go for their plain water. It comes served with flavored mint leaves and strawberries.
Value for money for the mainstream
I found their menu selections are priced to suit all budgets and the hungry. They are affordable, but don't leave you thinking you had been ripped off. You can't go wrong coming in and finding something you will like. Moreover, Collins pride themselves in using only quality produce in their dishes.
Examples includes use of Sadia chicken for the poultry dishes and Barilla pasta. In context, I would say the dishes, using an airline seating context sits and appeals more to the mass market "economy premium" customers rather than Business class.
Going on that, if you wish to bring your dining to "premium economy", Wines by the bottle are also available via their restaurant bar. Average prices range about $60 a bottle originating from Australia, Chile or France.
All in all, I found Collins premium restaurants a fine addition into the array. It is a good attempt to diversify their already popular coffee shop outlets into the restaurant market. The benefits we see are a greater variety of dishes and with more quality selections offered in a more comfortable upmarket setting. At a price hard to beat too. It gets my pick as one of my top go-to places in town for Western grille.
Collins premium restaurants
At various locations around Singapore.
Check their website for full franchise list around Singapore.
Collins Atas Restaurants typical opens daily: 10:00am – 12:00am