Hamburg Steak Keisuke is a small Japanese dine-in restaurant in Tanjong Pagar region. It offers good quality Japanese patty steaks at a fair price in a setting hard to beat. It is located at Peck Seah Street just in front of Gucco/ Tanjong Pagar Centre in front of Tanjong Pagar MRT station. You might remember it being a stone throw away from Amoy Street, home to sliced fish soup delicacy I covered previously.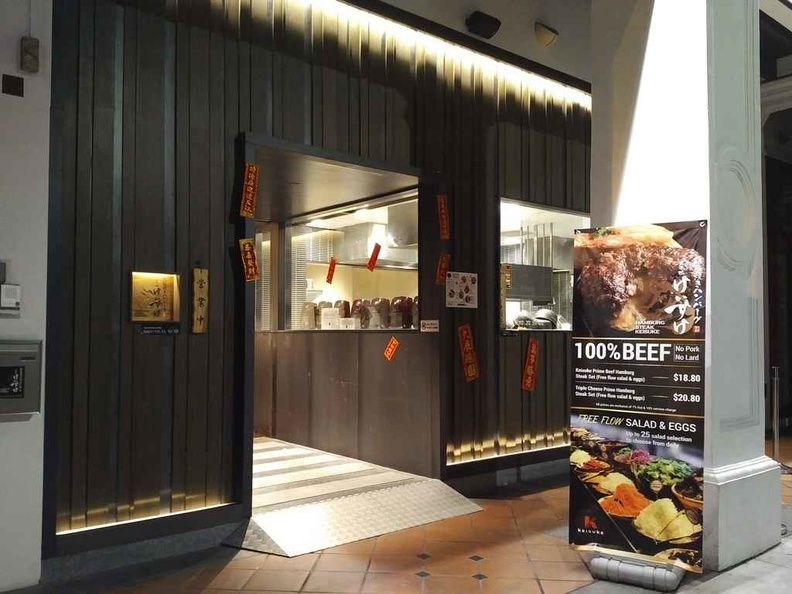 Hamburg (Hamburger) steak is essentially a patty of ground beef. It originated from Germany. Also, it bears a very close resemblance to the Salisbury steak, largely popularized by migrating Germans worldwide. It comprised of cooked ground minced beef flavored with marinate spices. Also, it is not until the start of the nineteenth century where people start to take notice, with it becoming a global mainstream dish.
The rest is history, Hamburg steaks took Japan by storm. It became quite a hit that the Japanese are larger fans of what previously known as a European "Budget dish". Multiple franchises started overflowing out from Japan, into the region and into Singapore shores.
Tucked in the Tanjong Pagar Business District
Notably, the restaurant is popular with lunch office goers in the commercial Tanjong Pagar area. It is open daily at two time slots per day starting at 11.30am to 2.30pm for lunch, and 5.30pm to 10pm for the dinner session after an afternoon break. The place can get rather packed on weekday lunch hours and even on weekend dinners with snaking queues.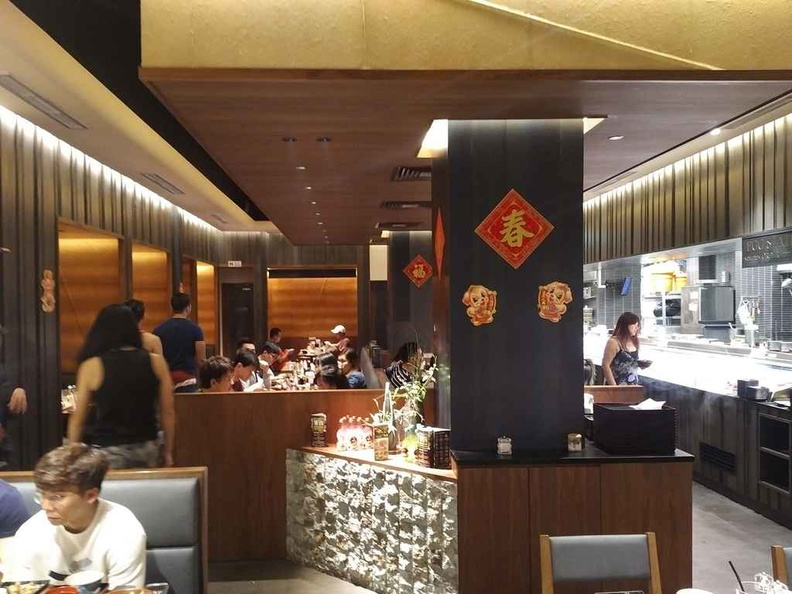 The restaurant ambience is chill and compliments the combination of light and dark wood interior of the dining area. The restaurant has an open concept kitchen too, with the working area visible behind a salad bar counter.
At times you can see staff members busily preparing meals or cooking eggs on an open grill. Moreover, Keisuke is laid out with central open seating and private dining booths around the edges of the restaurant with privacy curtains if need be.
Keisuke menus choices are really simple. You won't have much of any difficulty choosing what to order on the menu here at Hamburg Steak. Ordering from the menu here is a very simple affair. It is simply just the beef steak patty with or without the cheese fillings.
Quality Beef Patties
The Japanese-style Beef Hamburg Steak patty is served on a hot plate over a bed of bean sprouts. It comes with a side serving of tempura, bean curd, rice and miso soup. It is a pretty hearty meal by itself. Moreover, wait times are short. The food comes out pretty quickly, greatly aided by a highly simplified and streamlined menu choice. The portions are just right.
The Hamburg steak patty is pretty sizable, it is well cooked and wholesome. On a hind side it does look like an oversized burger beef patty. However, it has a much better smoother texture than their processed meat-counterparts you tend to see in fast food burgers. The cheese variant has cheese infused into its centre core. It deliciously oozes out once you cut into it.
Though one can argue that Hamburg steaks are no Wagyu patties, and what you are essentially paying for could be overpriced beef patties. However, you don't seem to see that here. The meat is soft, and juicy. It feels like the patties were minced from quality chosen cuts of beef, rather than packed together using cheap reprocessed meats. Furthermore Keisuke touts that their hamburger steaks are made of 100% beef with no pork and no lard.
Salad Buffet Fest
With every main course, you are entitled to full access of the restaurant buffet salad bar. This further adds to value you get from the already competitively priced Hamburg steak. The salad bar counter runs along the length of the outlet. It is visible from all areas of the restaurant being a center piece.
Salad choices are rather wholesome and well stocked. It touts up to 25 salad selections. You get soba noodles, pasta on top of your usual salad selection of mixed greens. Hence, it offers a sizable selection of sides and salads which you can access for your pre-meal appetizers, as well as desserts and fillers. No one will leave the restaurant hungry.
Egg buffet anyone?
Additionally, beside the salad bar is the egg frying section. The name "egg buffet" does sound odd at first, but it is exactly what it says on the tin. Also, they are all freshly cooked in batches and put up for collection.
You have a choice of 4 ways in which you eggs which are prepared. They are range from mainstream western to traditional Japanese styles. Examples include fried sunny side up, scrambled eggs, or traditional Tamagoyaki style, in which the omelette is pan fried and rolled.
In addition, the salad bar also houses a sauce section to go with your salad picks. here, you can find selections such as Keisuke special dressing, such as Keisuke original, with French, soya bean. In addition there are also Spicy, Ao Shiso, Honey Miso Ginger and Sesame dressing choices.
Well Priced for the offerings
Keisuke Prime Beef Hamburg Steak set with free flow of salad and eggs starts at $18.80. If you wish to up the ante, their Triple Cheese prime Hamburg steak set similarly with free flow of salad and eggs starts at $20.80. Do note that only cash or nets is accepted, so won't expect to chalk up credit cards rebates here. There are no time limits to how long you can stay in the restaurant.
All in all, I found my visit to Hamburg Steak Keisuke an enjoyable one. Though it could get rather crowded at times, especially before 9pm on weekends. However, this is made up for by the value and quality of food offered. The restaurant gets my recommendation for offering both a mix of quality, price and accessibility. it is definitely worthy of a visit if you are in town.
Hamburg Steak Keisuke
72 Peck Seah Street
Singapore 079329
11.30am to 2.30pm and 5.30pm to 10pm
Open daily
Makan Place Locality Map