Let's check out The Ship Restaurant and Bar Serangoon Nex with a dinner dine-in. It is one of the few remaining rustic steakhouses still operating in Singapore.
At its core, the Ship Restaurant at its heart is a steak and western cuisine house serving a western grill palate with beef steak and lobsters being their core dishes. Also, the interior of the restaurant is chill and decorated in maritime livery with dark shades of wood. It tads reminds me and reminiscent of the old cozy Jacks place restaurant before their makeover. It had a typical dark candle-lit dining ambience.
Moreover, your mains are typically served on sizzling hot plates with sides of carrots, broccoli and a jacket potato. These are side-topped with parsley and bacon bits. You have this option for their Steak menus.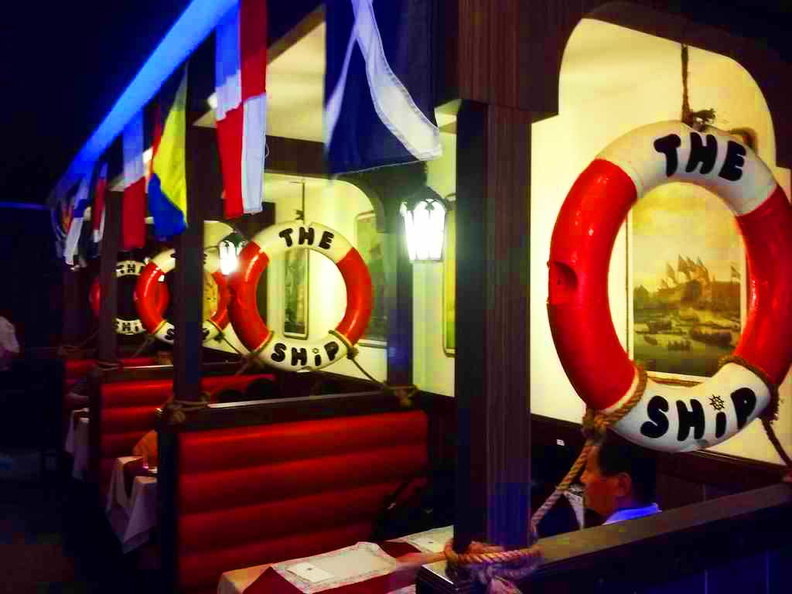 In addition, to start your meal, recommended appetisers includes Oysters starting at a rather affordable $8 for half dozen up to $21.90 for baked scallops. They are lightly baked with Chablis garlic butter served on a tiny platter. Also, soup starts at about $5.90 for the soup of the day, which you could do without. If you desire something a little more premium, there is their favourite lobster bisque going at $15.20 a pop. It is great but probably something I would try once for the taste for it.
The place for Steaks
Furthermore, the highlight of the offerings here at the Ship would be none other than their steaks. Recommendations includes their New Zealand Black Pepper Steak ($28.90). They are served with black pepper cream brandy-flavoured brown sauce. The steaks are prepared to your choosing with recommendations of Medium-rare.
Also, the meats are juicy and well marinated within. More premium offerings includes their Rib Eye Steak ($38.90), which the Ship touts to be grilled to tender perfection. Similarly it is served with sides of butter sauce, served with country vegetables.
The biggest baddest steak on the house is the King Steak ($38.90). It is a tender fillet steak served with 1/2 lobster thermidor. It is similarly served with grilled potatoes and seasonal vegetables comprising of broccoli with potato wedges and carrots.
Also, the King Steak sits as the most pricey offerings ahead of the Ship's U.S Striploin house steak, the Ship Steak ($36.90). It is served with rich black and white mushroom sauce, baked potato. It is flambed with brandy, which puts up quite a spectacle when served when it is lit by the serving staff.
A grille place at heart
The mains are what you should be here for. Staples includes Fish and chips ($15.90), Pork Chops ($18.90) and Chicken Maryland ($16.90). It is fried southern style chicken with bacon, fried banana and corn fritters. It is tad a more premium offering than the variant we tried previously at Collins steak place. Interestingly they also offer Fried chicken wings at $2.00 a piece.
It has the homely vibe similarly seen at the Mariner's corner we visited a couple of years back. Furthermore, their Oxtail Stew ($26.90) is something similarly offered here. Also, notably, the most premium offering here would be their Lobster Thermidor ($65). You get an entire lobster here topped with melted parmesans cheese. Also, baby lobsters are offered as an alternative with your steaks, similarly nicely baked with melted cheese covering each half of the baby lobster. The food served is really wholesome and hearty for the price.
Additionally, if you are here during lunchtime, the establishment also offers a variety of budget set lunches. Prices range from $13 to $26 a pop complete with 3 course desserts, coffee, tea or a soft drink.
All in all, if you appreciate a good affordable steak place which does not break the bank in a chill and cozy dining environment, The Ship Restaurant and Bar is the place to go for. It is one of the last few gems of a cozy steakhouse left in Singapore.
Verdict:
Must Go! | Actually pretty Good | Worth Trying | Shortlist Optionally | Should Avoid
The Ship Restaurant and Bar Locality Map
23 Serangoon Central,
#01-61/62 NEX Shopping Mall,
Singapore 556083
Daily opening hours: 10am- 9pm