Tenkaichi Japanese BBQ at Marina Square, Singapore, is a delightful dining destination for those seeking a Japanese buffet experience. Tucked away in a third floor corner of Marina Square mall, this restaurant offers both indoor and outdoor seating.
The outdoor seating section provides a picturesque view of Marina Bay, the Esplanade, and the CBD skyline, with the iconic Marina Bay Sands towers in the background. Despite the lack of table ventilation, the restaurant manages to maintain a smoke-free environment, leaving your clothes free from any lasting BBQ odours.
A value Japanese table BBQ at heart
One of the highlights of Tenkaichi Japanese BBQ is the quality-to-price of the raw meat selections. The menu includes a variety of options, such as pork bacon, beef slices, and chicken chunks. Furthermore, the meats are particularly noteworthy, with recommended items like the chicken in soy or spicy mala-like flavors and thinly sliced marinated beef shabu cut. The restaurant also offers chicken or pork cheese sausages, which you can lightly grill on your hotplate.
Also, for a flavorful twist, try grilling the meats with onion slices and a bit of butter on the hotplate. If you're a cheese lover, don't forget to add the cheese fondue for an extra burst of taste. The table is equipped with sauces, including soy and chili sambal, to further enhance your dining experience.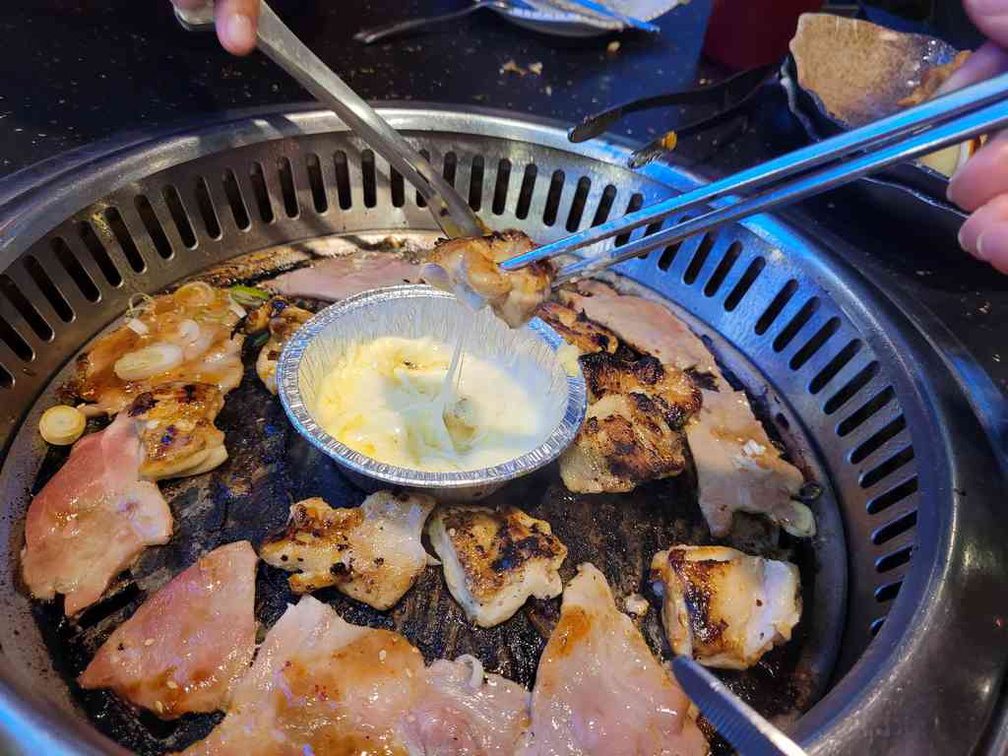 The meats are served in black plastic trays, reminiscent of Sukiya Sukiyaki shabu shabu buffets, albeit with a slightly smaller selection. Nevertheless, the quality of the meats is on par with sukiya, providing a similar offering for shabu-shabu lovers. However, Tenkaichi lacks the a free flow self-help buffet and salad counters, focusing mainly on al-la-carte buffet offering for the meats.
Complementing the meats, Tenkaichi offers a menu selection of vegetables. This includes various mushrooms such as straw and shiitake mushrooms, corn, and sliced carrots. For those who prefer leafy greens, a salad dish is also available.
A value Japanese buffet
Tenkaichi offers three levels of buffets: standard, deluxe, and premium. The standard buffet is recommended for those on a budget, with weekday lunch and weekend rates ranging from $26.02 to $35.52. Dinner prices are $39.09 per head from Mondays to Thursdays and $41.46 for Fridays and weekends. Also, the deluxe and premium options are much pricier, reaching up to $71.16 for peak dinner and up to $113.93 for the premium buffet, which is comparable to hotel buffet prices.
I remembered Tenkaichi being always crowded when they first opened many years back, though the crowds had thinned down. Still, it is still a relatively popular dining spot, despite the buffet since being more crowded now. During a weekday dinner visit, the restaurant was around 2/3 full. At the $41 price point, including GST, the restaurant provides excellent value, especially considering the competitive landscape with other Japanese buffet places like Sukiya.
Accompanying your BBQ meats are staples like Japanese sticky white rice (Gohan steamed rice), Furikake Gohan Japanese fried rice, garlic fried rice, and miso soup. The fried rice is a particular standout and pairs perfectly with the BBQ meats. A basic steamed chawanmushi is also available, making for a great starting dish.
For deluxe and premium buffet options, fresh sashimi is included, similar to offerings at more premium Japanese buffet restaurants like the one we had at Irodori 4 points recently. To streamline the ordering process, Tenkaichi employs a efficient and user-friendly digital menu QR POS system. It allows you to select their a-la-carte buffet items before submitting them to the kitchen, where you dishes be served typically within 5-10 minutes. You settle your bill at the checkout counter once you're done with your meal.
Try their chicken Karaage
In addition to the meats, Tenkaichi offers delicious fried dishes, with the chicken karaage being a standout choice. Each batch of karaage is served hot and juicy, and it's not overly oily. You can also complement your karaage with fresh hot potato wedges and Tako balls.
Also, the sushi offerings are relatively modest, with options like tamago slices and hand-made Maki hand rolls served on-plate. Moreover, the buffet includes a free flow of hot or cold tea and lemonade, allowing you to choose the beverage that best suits your palate. The cold drinks are refreshing, while the hot green tea is perfect for washing down the oily BBQ meats.
Wrapping up, Tenkaichi Japanese BBQ prides itself on its excellent service. The staff are friendly and promptly serves your ordered dishes, which take about 2-3 minutes to prepare and serve after using the QR code POS system. The food arrives quickly, ensuring a seamless dining experience. Additionally, the staff ensures that the frying oil sheet on your induction cooker is changed at regular intervals to prevent charring.
In conclusion, Tenkaichi Japanese BBQ at Marina Square offers a satisfying Japanese buffet experience with a focus on high-quality meats and efficient service. Whether you opt for the standard buffet or the more premium offerings, you're in for a delicious and memorable dining experience with stunning views of Marina Bay. The competitive pricing and variety of dishes make it a worthy contender in the Japanese buffet scene in Singapore, particularly if you're looking for a meat-centric dining experience.
Verdict:
Must Go! | Actually pretty Good | Worth Trying | Shortlist Optionally | Should Avoid
Makan Place Locality Map
Tenkaichi Japanese BBQ, Marina Square
6 Raffles Blvd, #03-129 Shopping Mall, Marina Square, Singapore 039594
Opening Hours: 11:30 am–2:30 pm, 5:30–10 pm daily, (Split shift)