Let's take a dine in at Malaysia Boleh with their Penang Claypot Chicken Rice. It is an esteemed signature Asian dish that graces the food court of numerous branches across Singapore.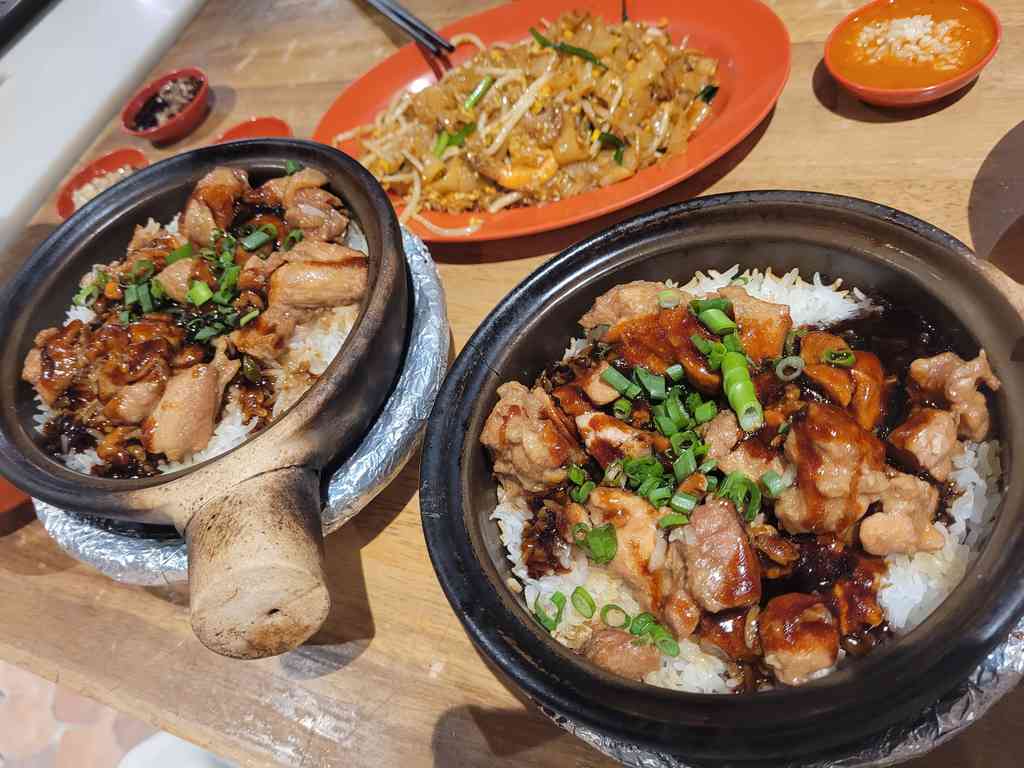 Furthermore, the dish is a tribute to the culinary heritage of Malaysia, this dish has earned its place as a much-loved staple in the hearts of locals and visitors alike. Also, the distinct allure of the Petaling Street Claypot Chicken Rice lies in its traditional preparation within a clay pot, which imparts an earthy aroma to the dish. Also, the amalgamation of flavors within this dish is achieved through the skillful incorporation of dark soy sauce and sesame oil. It harmoniously binds together the essence of the rice and accompanying ingredients.
Chicken claypot in one-serve portions
Served in individual portions, the dish is a masterpiece of culinary craftsmanship. Fragrant rice forms the foundation, crowned with marinated chicken chunks, Chinese sausage, and a tantalizing touch of salted fish. A final flourish of freshly chopped spring onions adds a burst of color and freshness. The hallmark of a well-executed claypot rice is the delightful crispy layer that graces the bottom of the pot. The rice is crispy and usually a delight for diners.
Malaysia Boleh stands as a household brand, a curated chain of Asian-style food courts that find their homes within bustling shopping malls. From a key food court tenant in Clementi Mall to the heart of Ang Mo Kio Hub, these culinary havens beckon with their diverse offerings. It draws crowds seeking authentic flavors and satisfying meals.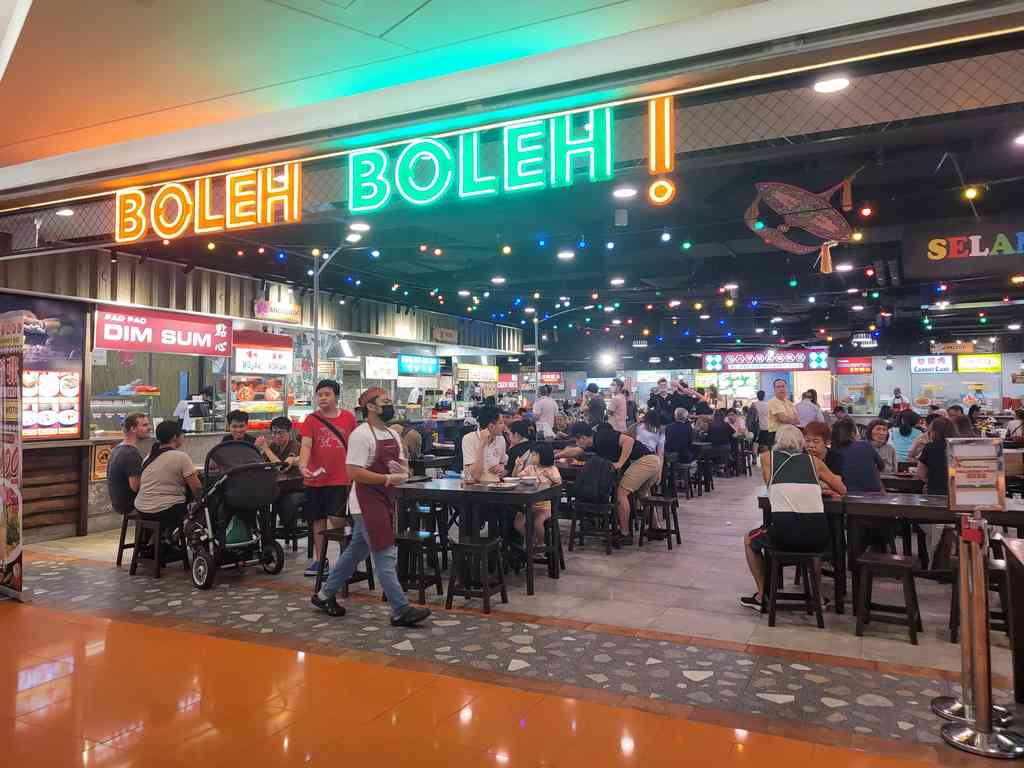 Moreover, unlike conventional claypot eateries that often cater to multiple diners, the offerings at Malaysia Boleh have more individualised portions. Portion sizes are attuned to the desires of solo diners, ensuring a deeply personal dining experience.
As your claypot arrives, the steam wafts forth, carrying with it a symphony of flavors. Also, the dish is prepared and served in a claypot. Here, each morsel infused with the essence of Chinese sausages, tender vegetables, and the nuanced touch of salted fish, which elevates the overall flavor profile.
A flavourful dish
Furthermore, for those who treasure the art of a perfect claypot chicken rice, the ideal rendition features succulent boneless chicken chunks accompanied by vegetables, Chinese sausage, and the gentle hint of salted fish. Also, these ingredients intertwine with steamed rice that maintains a delicate balance, neither excessively moist nor overly dry. Malaysia Boleh's Penang Claypot Chicken Rice emerges as a fitting embodiment of this culinary ideal.
Consistency is a commendable virtue at Malaysia Boleh. Across various branches, the quality remains steadfast, a testament to the establishment's dedication to maintaining uniformity in taste and presentation. Also, you might also know Malaysia Boleh! as their sister brand Malaysia Chiak! also operated by the Fei Siong food group.
Also, one noteworthy attribute is the boneless and tender chicken meat. It is a delightful inclusion that could perhaps be juicier to truly elevate the dish. As you explore further, you may discover that the rice possesses a tendency to stick to the bowl bottom. However, if your palate craves the robust flavors of crisped and charred claypot rice, you will find this rendition quite to your liking.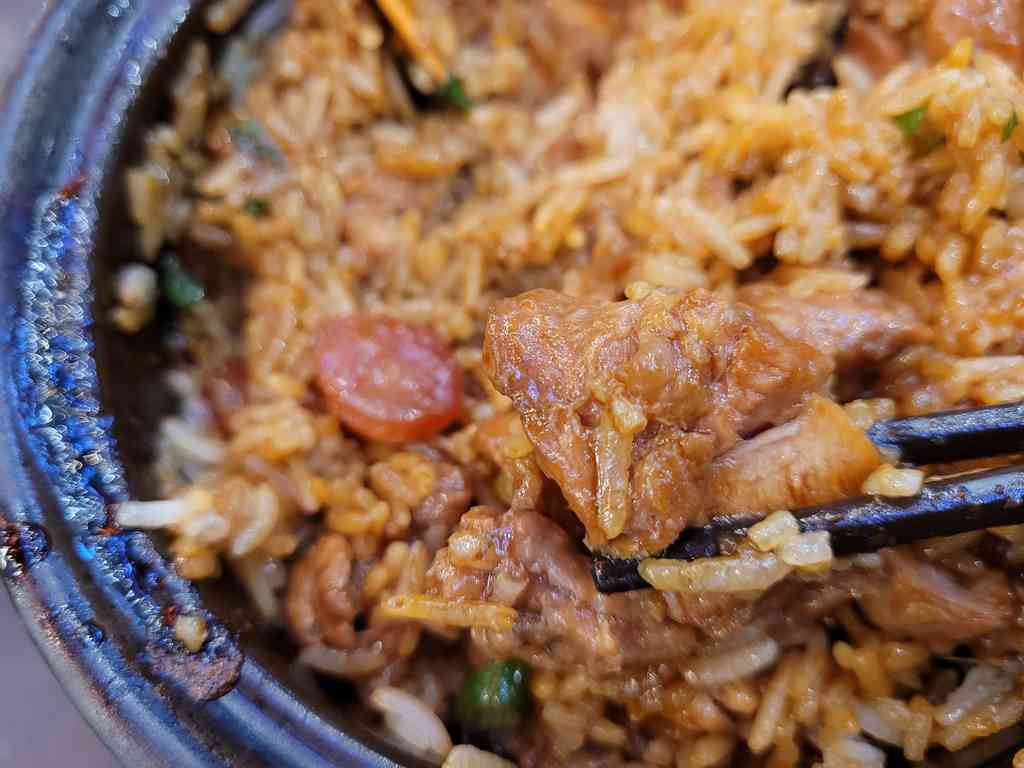 Each individual claypot arrives at your table, heated by gas-fired stoves and capped with their lids to preserve the integrity of the flavors. The personal-sized claypot dishes ensure a satisfying and filling meal for one, embracing the essence of solitary dining.
Wrapping up with other claypot dishes
Additionally, besides claypot chicken rice, Malaysia Boleh extends its offerings to claypot e-mian noodles. This dish can serve as a standalone meal or be shared within a group. Remarkably, the consistency that characterizes the claypot dishes is maintained across the array of culinary delights.
Also, while tradition meets modernity in the preparation process, it's important to note that the rice is not pre-cooked before entering the claypot. Also, unlike Charcoal-fired claypot rice like the one we had at New Lucky Claypot rice, the use of gas-fired stoves yields a cleaner, less smoky flavor profile. Still, it allows the true essence of the ingredients to shine. This choice also aligns with the indoor, air-conditioned environments where Malaysia Boleh's food courts thrive.
A minor observation is the lack of greens within the dish. Also, the incorporation of small servings of xiao bai chye or leafy greens could contribute to a more wholesome and balanced meal, complementing the boneless chicken chunks with vibrant freshness. Opting for a lighter approach, the meats and dish display a noticeable lack of excessive oiliness. The dish arrives with the lid removed. It reveals the rice that has developed a crisp texture at the bottom of the claypot. Proper mixing, aided by a drizzle of black sauce, ensures an even distribution of flavors without the risk of sticking.
Moreover, the claypot, with its excellent heat-holding capabilities, guarantees a warm and delightful dining experience. Amid the rustic charm of an old hawker-themed store front, each Malaysia Boleh outlet offers a curated menu brimming with Malaysian favorites, making the claypot dish a staple amidst the culinary array. Also, despite its more upscale setting within an air-conditioned food court, the dish maintains an affordable price point. With a modest price tag of $5-6 per bowl, the value is evident, making it an appealing option for a satisfying meal tailored to solo diners.
In summary, a visit to Malaysia Boleh's Claypot Chicken Rice promises a gratifying experience for enthusiasts of traditional Penang-style culinary offerings. The meticulous preparation, thoughtful presentation, and dedication to maintaining consistency make this establishment a beacon of culinary excellence. So, if you find yourself yearning for the hearty embrace of a flavorful claypot creation, look no further than Malaysia Boleh's inviting tables.
Verdict:
Must Go! | Actually pretty Good | Worth Trying | Shortlist Optionally | Should Avoid
Makan Place Locality Map
Malaysia Boleh Penang Claypot rice
(Various places, including Great World Mall)
1 Kim Seng Promenade,
Unit #B1-102/103 Great World,
Singapore 237994
Opening Hours: 9:30 am–8:30 pm daily