Sushiro Sushi is a premium conveyor sushi joint located in the heartland of the Tiong Bahru neighbourhood in Tiong Bahru plaza. They serve a variety of quality Sushi and Nigiri at reasonable rates. Let's see what's up with a dine-in.
Affordable premium sushi in Tiong Bahru Plaza
At first impressions, Sushiro Sushi layout and setting is typical of what you can find in a typical conveyor belt Sushi restaurant. Here, you get rows of long tabled side by side seating with the conveyor belt in you to grab your meal items.
Also, if you are in a group, there are also rows of tabled booth seating on the far end of the restaurant. These booths can seat 4 at a go. Those sections are usually closed-off on off-peak periods, or when the restaurant is less busy and lesser-staffed.
Premium heartland sushi
Furthermore, Sushiro opened this first branch in Tiong Bahru plaza a couple of months back. The draw and selling point of Sushiro over other long time conveyor belt sushi chains in Singapore, such as Sushi express and Genki Sushi, is bringing a variety of premium sushi which the Japanese chain is known for in their homeland, right here on our sunny shores.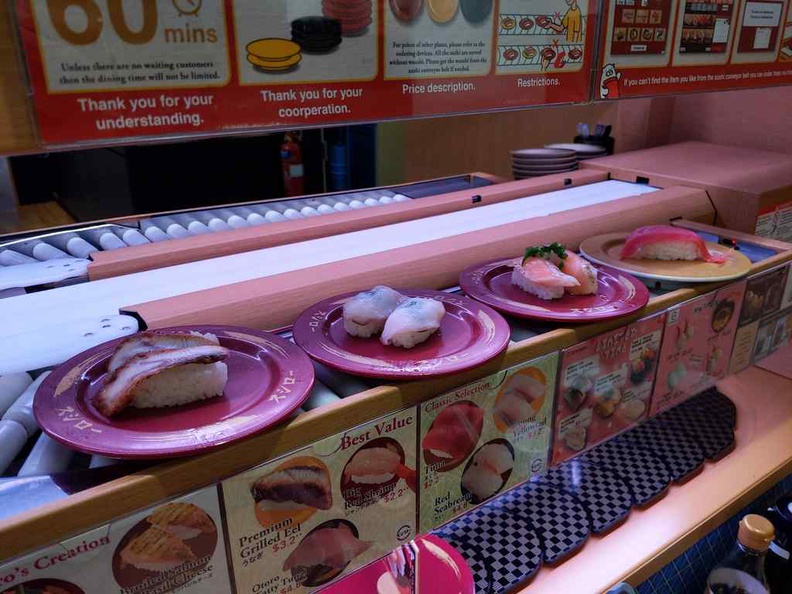 Moreover, your Sushi are delivered to you in two ways, by the conventional conveyor belt system or via an ad-hoc food train cart system. In the latter, your sushi arrives with an audible chime, informing you that your food is ready.
Really fresh Sushi
Sushiro splits their offerings as value, classic and premium selections. Mainstream conveyor belt sushi items include staples such as 2 pieces of Tuna nigiri or big shrimp ($2.20), almost every dish with a dark red plate is priced at $2.20 per plate. On pricing, this regular red plates cost $2.20 a plate, $3.20 for a gold coloured plate and $4.80 their most premium black plates.
For example, Young Yellowtail items cost a gold plate pricing ($3.20) as well as their grilled Premium Eel (1 piece), costing $3.20 a plate for 2 pieces. It get more pricey up the range with their Red Seabream setting you back $4.80 each. For instance,
Moreover, other recommendations includes Sea urchin sushi, they are really fresh takes, not to mention one of the rarer sushi to try here.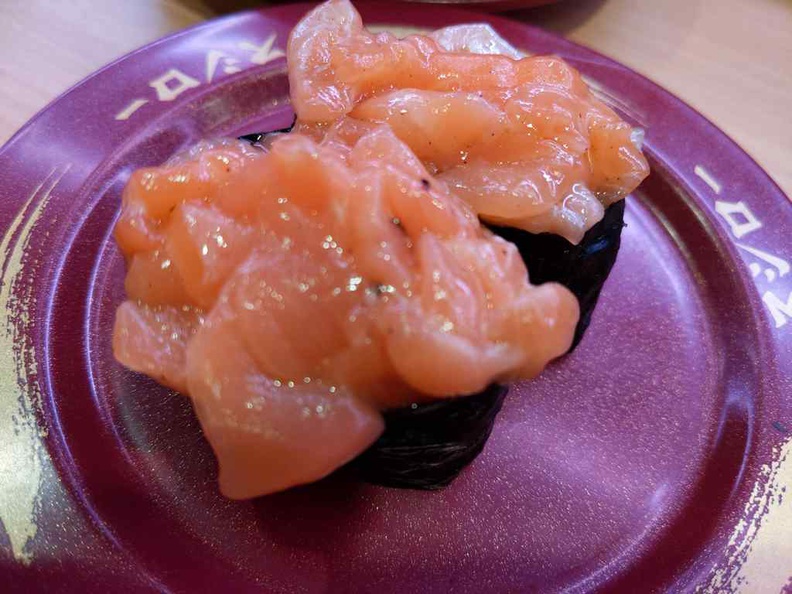 I however, wasn't able to find an exotic items such as blow fish (puffer fish). Notably, unlike the raw variant, cooked blowfish is safe to eat. On top of that you get your usual selections of standard sushi and maki.
Try their tuna and steak sushi
Additional must-try items I feel should be their premium Fatty Tuna ($4.80) and Steak sushi. They are premium wonder and literally melt in your mouth.
Also, the steak sushi latter is not a common item in most sushi places. I once had a taste of beef sushi in Japan and I can say, it's the real deal. Though, interestingly, dollar for dollar, you do pay a slight premium dining here, as say in Sushiro's restaurants in Japan.
In addition, peculiar items includes their crab claw-like looking surf clam ($2.20). Topping up the menu selections include scallops, mackerel sushi and Albacore Tuna.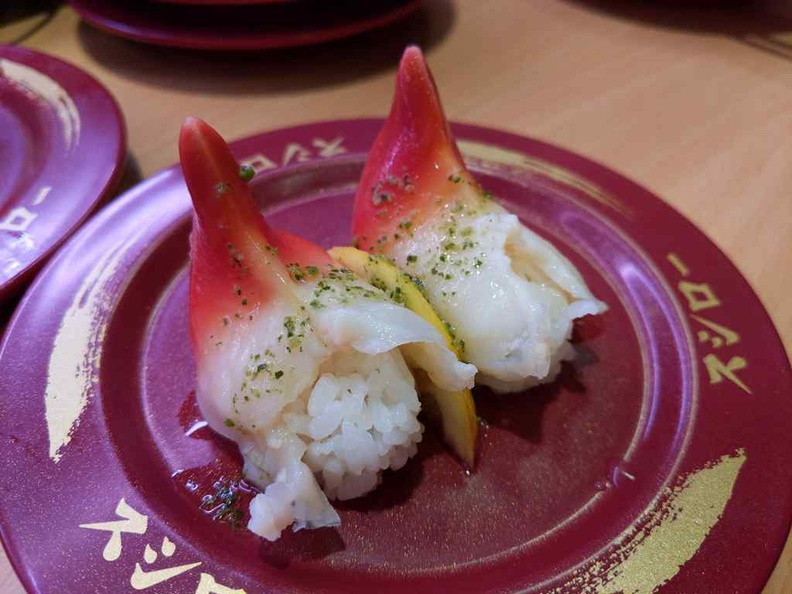 Moreover, you can specially order any of the menu items to be specially made for you. This is at no additional cost if you are not able to find it on the conveyor belt. Additionally, too top it up, Sushiro also offers a curated set of desserts such as Hattendo puddings for $4.30 each.
It can expensive quickly
However, dining here can get rather pricey, especially if you go liberal on the premium items. This includes their Fatty tuna and Steak sushi, which can cost in the range of $5 a plate. On my lunch, the cost per person came up to about $40 per person with about 10 plates per person, which is not exactly cheap for a lunch.
Generally when dining I recommend most of your selections to be based on the base red plates to keep the overall price low. Also, be wise on your selections on the more expensive gold and black coloured plates. Also, do avoid Sushiro on weekends as the queues can grow up to 2 hours long on regular peak periods.
All in all, it is one of the few Japanese casual dining places in Singapore where you can find premium items typically found in high-end sushi restaurants. Just go easy on the choice of premium items, and the gold and black plates and you can find dining at Sushiro a Sushi place of both quality and affordability too
Verdict:
Must Go! | Actually pretty Good | Worth Trying | Shortlist Optionally | Should Avoid
Sushiro Sushi Locality Map
Tiong Bahru Plaza
302 Tiong Bahru Rd, #02-118,
Singapore 168732
Opens daily: 11:30am- 10pm