Nanbantei is a cosy little Japanese restaurant offering you an Authentic slice of Japanese Yakitori culture with a wide selection of skewered meats, seafood, and vegetables. My visit today is at their dine-in outlet branch located on the second floor of Chinatown Point in the heart of the Singapore Chinatown district. Let's see whats on!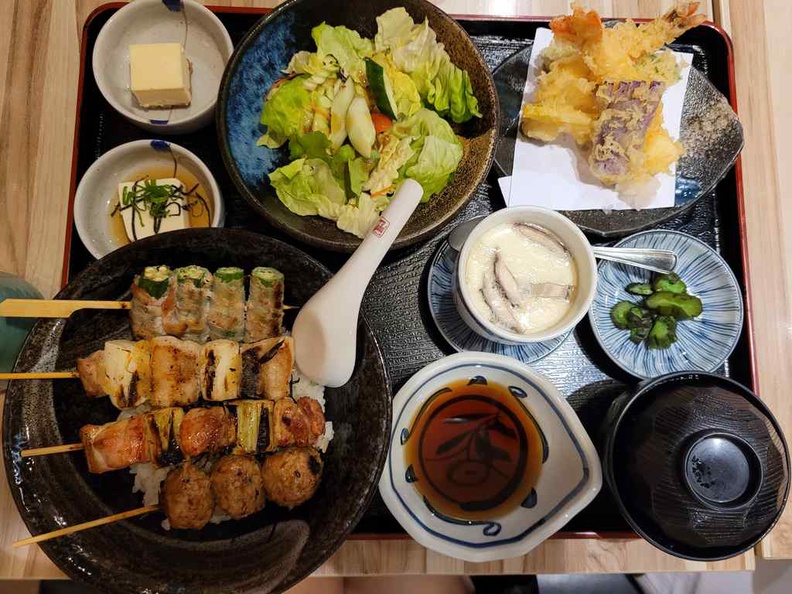 Moreover, the restaurant is decked in Japanese style light wood with tables seating. On entering the restaurant, you won't miss the large yakitori BBQ pit sitting at the center of the establishment. Also, here you can see a chef hard at work grilling and assortment on this open grill. It is not smoky in the air-conditioned restaurant either, not like some Korean BBQ places we been before.
A yakitori place
Nanbantei has a more authentic feel than the &joy Japanese food court we visited previously at Jurong Point with less of a mass market feel. Also, the restaurant has a cozy feel seen in traditional Japanese eateries. It is not surprising to see even Japanese patrons dining here.
At its core, Nanbantei is a yakitori place which I would cover more in detail on this visit. Yakitori meaning grilled meats on a stick, but there are also vegetables selections to order from their al-la-carte menu. Additionally, you can order them by the stick or what them to go with an assortment of their traditional Japanese dishes, such as rice "Don's". Also, their skewer meats are well marinated. The vegetables between are cooked well enough being too dry or charred.
Hence, this leaves their yakitori without having too much of a burnt after-taste. It goes well with warm green tea which I strongly recommend to pair with your meal too.
Try their set meals
Additionally, on offer in their menu are a range of reasonably priced Japanese Don set meals which is great for a self-sufficient meal for 1 pax. These mains of Japanese sticky rice dons topped with sides of your choice.
Also, I would recommend their unagi (eel) dons (Unadon Tempura), a Japanese favourite staple. Here, their Eel is lightly grill with a soft inner and a chewy other which is flavorful and infused with a top glazing.
Moreover, another set of choice would be their Yakitori don ($27). Here you get 4 skewers topped on sticky rice don bowls. Moreover, your set is served with a bowl of miso soup, tempura (and accompanying tempura dip).
Also, you get a hilariously tiny cheesecake cube as your dessert, and Charmushi (steamed egg) is available at an affordable extra $1 which can be paired with your meal.
Also, it is hard to fault their set meal. Their Tempura is done right, crispy with a selection of prawns, lady's finger and paired well their clear dipping sauce. You also get small servings of Wasabi and pickled salads complete your meal without being too filling.
Moreover, their grilled salmon set ($18.80) is something worth mention too. The miso soup served is tasty without being too salty. Also, the price range for the quality of food is pretty value for money.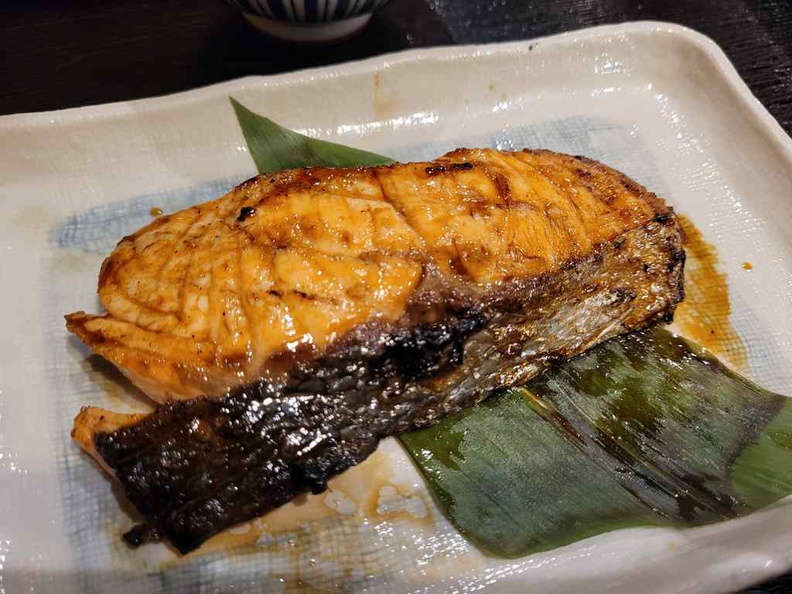 Lastly, free flow of tea is offered at an affordable $1.50 per cup. Also, the local restaurant staff are friendly, prompt and attentive. Your meal is served within a quick 10 minutes after ordering.
All in all, Nanbantei offers a pretty affordable proposition of value for money Japanese dinner sets and Yakitori, coupled with a good assortment of meats and vegetable yakitori.
Verdict:
Must Go! | Actually pretty Good | Worth Trying | Shortlist Optionally | Should Avoid
Nanbantei Yakitori Chinatown Point Locality Map
Unit #02-40 New Bridge Rd,
Chinatown Point,
Singapore 059413
Opening Hours: 11:45am–2:30pm, 5:45–10pm (Split shift)