Little Caesars Pizza is an American dine-in and takeaway pizza restaurant. They have a branch located at the ground floor of Funan the IT mall. I had heard a fair bit of their trademarked cheesy pizza to pop down for a try. Let's see what's on offer.
Apparently the first little Caesar opened in Garden little Michigan on 1959, before becoming and international; chain in 1969. Also, the pizza scene since then had gotten a fair bit more crowded, with Dominos and Pizza hut being the main players and Canadian 2 for 1 being a household staple for full-on-the-cheap. Hence Little Caesars have plenty to differentiate themselves from the competition.
A cozy pizza joint
Being a pizza joint. The outlet offers both dine-in and takeaway options. A typical dine-in at Little Caesars Pizza Funan is usually involves packing into a rather small dining area, which is made smaller given the covid-19 safe-distancing measures. Still it does not put a dent on the demand for pizzas here.
In addition, Little Caesars touts that their 12 inch pizzas are made with 100% mozzarella and muenster cheese topped with sauce form vine-ripened tomatoes. Also, their pizza dough is made in-house everyday. Also, 12 inch is a good size and enough for at least 2 pax for a filling dinner.
Additionally, a large pizza starts from $7, and up to $13 each for a regular premium topping range, such as Meat treat (like meat lovers), Supreme, Hawaiian and veggie. Their $7 range comprises of tried and tested pepperoni and cheese basic pizza. Also, adding $4.50 makes and regular pizza into a stuffed crust. Notably, this puts Little Casears at a price range about half that Canadian and Dominos pizzas, which typically has 2 pizzas in the $20 range. This reduces the competition's 2-for-1 selling point.
I had a go at their Caesar's Duo meal, which could feed about 3-4 pax a go. It comprises of two large pizzas and cheese bread side. There is also an alternative option for drinks and bread sticks instead of cheese bread. Cheese bread served in a small side box. It is tad like a basic pizza without any added toppings.
Thick, chewy, cheesy
Moreover, I found their take on the traditional Hawaiian pizza is a rather good one. The crust is thick, chewy and fluffy. A delight if chewy thick crusts are much to your liking. Their pizzas are loaded with cheese.
Additionally, menu selections include Party packs at $65 for groups over 6 pax and Pair meals starting from $20 to $35. Their duo combo set you back $20 with a large specialty Pizza, and a large Classic pizza, wrapping it up with a choice of sides (e.g. drumlets or garlic bread) and 1.5l drink. Also, peculiar are square pizzas and their slices and stix, which is technically a hybrid Frankenstein pizza with multiple flavour parts in one.
Moreover, it is interesting to note that Funan is not their only branch here. The joint has 5 branches all about Singapore with this including outlets at Holland village, Junction nine, Singpost center at Tampiness and Thompson, with commendably free island wide delivery.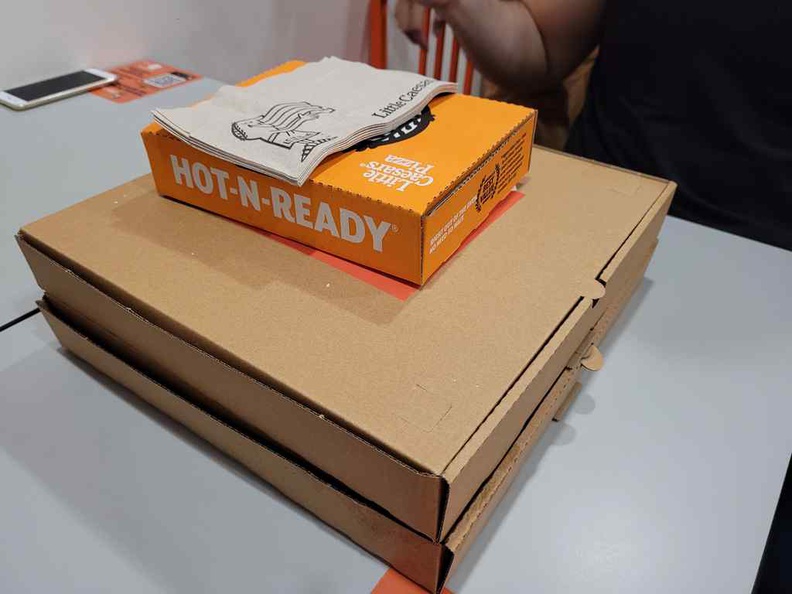 All in all, Little Caesars Pizza branch at Funan IT mall is a good refreshing welcome in the rather crowded pizza market. It is refreshing in its own way. Good value and great tasting freshly-made large pizzas which is definitely able to fill anyone up in a jiffy, American-style.
Verdict:
Must Go! | Actually pretty Good | Worth Trying | Shortlist Optionally | Should Avoid
Little Caesars Pizza Funan Locality Map
Funan Mall, 107 North Bridge Rd, #01-18,
Singapore 179105
Opening Hours: 11am– 10pm daily