The eatery I shall be touching on today is not a stranger to Foodies in Singapore. Tian Tian Hainanese Chicken Rice has long been a household name for anyone who desires one of the best home growth local dishes right in central Singapore. The stall is located at Maxwell food center off Tanjong Pagar (Maxwell road). It is within walking distance from Chinatown (along South bridge road).
The name Tian Tian, translated into "Everyday", or crudely (and wrongly) "Sky sky" in mandarin. They are best well known for their authentic Hainanese chicken rice- a Singaporean food staple synonymous to Char Kway Teow or Laska. The stall unit itself is located on the side away from the South Bridge main road. The stall number is 10. You won't miss the stall with it's long snaking queues by the store's twin unit. The unit is topped with bright blue signs board.
Adding to the store's popularity, the store also had prominent publicity from Anthony Bourdain, having included the store in his wishlist for his new street food hall in New York.
Expect long queues
On a typical day, it is not uncommon to see locals and tourists alike (from foodie reviews) flocking to the store to try what is touted as Singapore's best chicken rice store.
Queues can get pretty long, especially during lunchtimes. However, it is very fast moving queue. A 20 person odd long queue line in my visit was served in less than 10 minutes. Unlike most hawker stores, here, you will be greeted with a point-of-sale cashier tilt at the first stall where you make your order and pay- very commercial indeed. Thereafter, you proceed to collect your order food down the queue towards the other store's 2nd unit.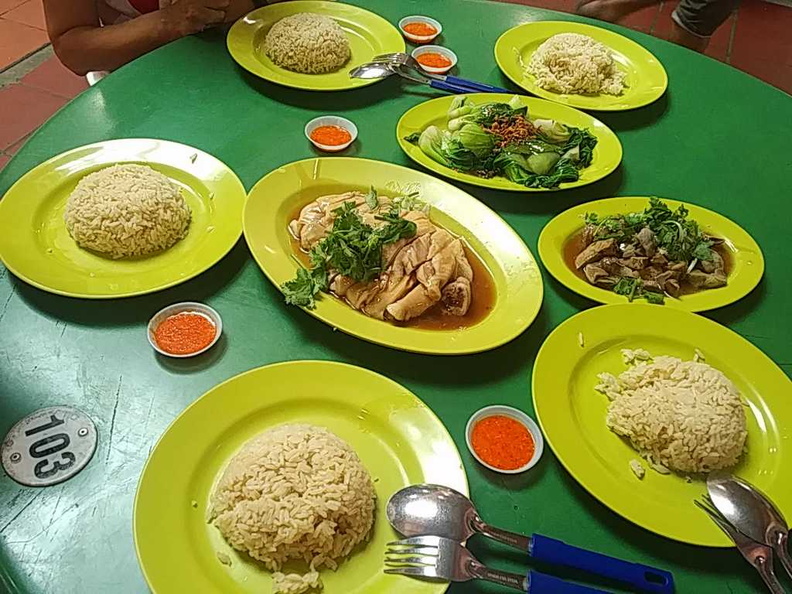 Chicken rice is known for their infused flavors, cooked with Pandan and stock of chicken. The rice is topped with your chicken, served with slices of cucumber and a bowl of chicken stock soup. The rice is oily, but not overwhelmingly salty from the infused chicken stock. It gives the rice it's primary flavor. The rice has a distinctive yellow-brown colour. It is derived from added butter and a trademark of Hainanese-style chicken rice. It is also reminiscent of the Hainanese Chinese rice on my visit to Thien Kee Steamboat at Golden Mile.
Juicy and tender chicken
Tian Tian are known mostly for their "Bai ji" white chicken rice. The other variant being "Shao ji" (Roasted chicken). You can distinguish them from the colour of the skin. The roasted variant spots dark brown crispy skin. The white variant having pale off-white skin. The chicken are served with chicken oil, topped with green parsley.
Moreover, depending on the cuts offered, your chicken could served cut with bones. It is all similarly garnished with parsley with gravy served on their trademarked light green plates. The gravy oil, infused chicken stock may be over powering and tad saltish to some people. Though it's meant to provide the meat with flavor.
If you want to have the best of both worlds, have a go at mixing both types of chicken on your platter. The combination is called "Black & white", where both the plain and roasted chicken are served together. Their contrasting dark and white skins.
On food quality, Tian Tian chicken rice does impress. The chicken meat is soft, juicy and tender. The rice is fragrant, the gravy source is flavorful with chicken stock. If you wish to have the most authentic chicken rice experience. The white skin option is the dish of choice, it is also healthier too.
Tian Tian's Chicken are prepared using traditional Haninanese methods. Here, the chicken are stewed using their traditional recipe. And blanched in cold water to give the chicken it's uniquely cold and jelly like outer skin. On my visit, the chicken is cooked to the right tenderness. The chicken skin is soft and almost jelly-like. It has the texture of jelly with no visible fat layers under the skin. Moreover, what amazes me more is how Tian Tian managed to perfectly mass-produce this level of quality in all their dishes nearly everyday.
A thing not to forget is their complimentary Chicken rice chili. The dipping is meant to go with your chicken, though it is not uncommon to lace their entire plate with it together with sweet black sauce. The chili is full with garlic. The bright orange chili mix is flavorful but not overly spicy in small amounts. It's tameness is good for patrons new into the scene, like for Tourists who wish to try a slice of Singapore's hawker cuisine without the horror of Asian spiciness.
Pricing
The portions served are alright. Not too much or too little. It is reasonably priced too, though prices can quickly escalate when you start to add options such as green vegetables (xiao bai chai) or chicken gizzard sides. Prices for a standard chicken rice start at $3.50 for a small plate, $5 for a medium plate and $7.80 for the largest plate. This is not exactly what you call affordable.
Moreover, $4.30 gets you a small dish with premium meats cuts such as Drumstick meat. In addition to their main standard plate staples, Tian Tian also serves sides. Sides includes chicken gizzard starting at $3 a plate, and vegetables at $4 fried in oyster sauce. For a single meal, will be generally fine with the smallest option as you won't want to be too full from just your Chicken rice. Considering you might want to save some stomach capacity given Maxwell market home to plenty of other food delicacies too.
If you have meal group of at least 2-3 pax, it will be recommended to order a Half-chicken instead which will set you back $12 excluding rice. It is more value for money. A full chicken costs $24. Additional chicken rice served by the plate costs 80 cents each.
All in all, Tian Tian is a good introduction to the Singapore chicken rice scene, especially for tourists visiting the Chinatown area. For locals, it is not something I would eat everyday, given cheaper and not necessarily inferior choices all around Singapore.
Also, Tian Tian, with it's high popular and rather commercialized way of running the store does somewhat robs away of what is typical of a traditional Chicken rice hawker store. It does loses quite abit of the traditional old hawker feel. However, if it is quality, Tian Tian does gets a recommendation on what a proper Hainanese chicken rice dish has to offer.
It truly lives up to it's name as one of the best chicken rices stores in Singapore.
Tian Tian Hainanese Chicken Rice
Stall 10, Maxwell Food Centre (1 Kadayanallur St.)
Singapore 069184
Opening hours daily: 10am – 8:00pm
(Closed Mondays)
Makan Place Locality Map