Shashlik Restaurant is one serving Russian cuisine. It is inconspicuously tucked on the upper 6th floor of Far East shopping center. It is not to be confused with another mall of a similar name by Far East plaza.
Also, the mall has a throwback oldie feel typical of malls in Orchard road in the 70s and 80s, pretty much stuck in time. Due to the unfriendly Escalator layout, Elevators are the recommended way up to the mall 6th floor.
Moreover, at its heart Shashlik Restaurant is a steak house. It is one with a Hainanese flair too. One which the restaurant is proud of in showcasing on their menu introduction. Also, Shashlik Restaurant had been round for a good over decade, with the restaurant undertaken by a new family management a couple of years back as shared by the friendly service staff. Speaking hainanese helps too to break the ice.
Steaks to your liking
You get tabled waitered with friendly service. Shashlik steaks are available in a variety of styles. I would recommend their house steak, the Shashlik of Beef ($38) done medium-rare. It is named after the establishment.
Also, their steaks, like their Tenderloin Steaks ($36-45) are soft and juicy enough to be consumed by itself, but yet not overly bloody. For taste, it is best paired with a side of sauce. The quality sits on-par with Mariner's corner and better than the offerings of The Ship.
Furthermore, in typical Russian fashion, your steaks are served with sides of pickled vegetables. These are served on a side plate separate from your hot plate main. Also, you can't get any more Russian then having your meal with Borshch soup as well.
It is a meat and vegetable staple in European, particularly Russian cuisine. In addition to steaks, non-steak dishes includes Fish, Chicken kiev, Fish en Papillotte ($28) and Vegetarian Mushroom Delight. Though vegetarian options are very limited at a steakhouse.
Their Chicken à la Kiev ($28) is a breaded chicken dish. And a European classic. You get Chicken breast stuffed with parsley garlic butter and fried to a golden glory.
Try their Oxtail stew
Another recommendation includes their Oxtail stew. It is a Hainanese western classic. However, despite bones taking up almost half of your dish, you still get generous serving chunks of the oxtail, which is really tender and flavourful. It is served with a toast bread and broccoli sides.
Additionally, A full selection of wines are also available on request, served by the glass or bottle, if need be.
Flaming Desserts
Desserts are quite a spectacle here at Shashlik Restaurant. Their Baked Alaska ($18-$28) is a flaming flambéed with dark rum. It is served on a bed of wellington of ice cream and sponge cake, covered with meringue.
Moving on the flaming desserts includes their Cherry Jubilee ($26) too. You get flame lit cherries over ice cream. It has a spectacle over an otherwise simple dessert.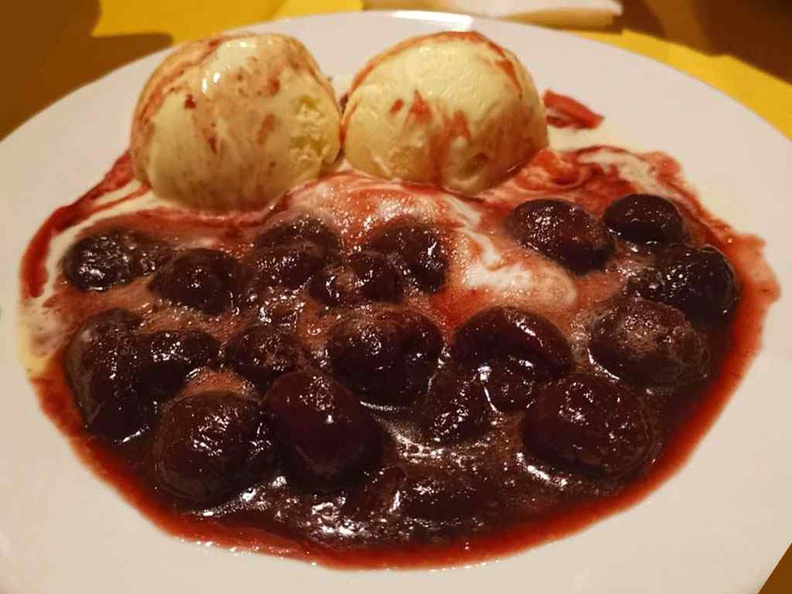 Additionally, you could make out that a couple of the old timers here had been working for the establishment. The senior staff are quick to tell you the history of the restaurant they had been with for most part of their service carriers. This includes refurbishments to change of owners.
Furthermore, during COVID-19 circuit breaker restrictions, reservations are required for every dine-in. Also, during festive periods, a booking fee is required to secure you table.
Wrapping up, Shashlik Restaurant still maintains much of its cozy and rustic flair. It is dimly lit and lined with wood wall panels. Also, it is tad neither than what I recalled before they renovated. It does bare a close resemblance to other family-run Hainanese steakhouses like the Mariner's Corner steakhouse and The Ship steak house we explored previously.
All in all, Shashlik Restaurant is quite a gem of a restaurant located in the heart of the Orchard district. If you love an old school dining experience with reasonably quality food, with friendly and great service to boot, Shashlik Restaurant is definitely one for your shortlist.
Verdict:
Must Go! | Actually pretty Good | Worth Trying | Shortlist Optionally | Should Avoid
Shashlik Restaurant Locality Map
Far East Shopping Centre
Address: 545 Orchard Road,
#06-19 Far East Shopping Centre,
Singapore 238882
Opening Hours: 12–2pm, 6–9pm (Split shift)
Closed on Mondays