sand The establishment of interest today is Fuxiang Claypot. It is tucked in the quiet top-most floor of the Harbour front center in a Food Junction food court franchise. The Claypot store is situated in the middle of the food court facing the drinks store, away from the buzzing lower floors and crowds at Vivocity.
In my food hunts, I often share interesting food places offering unbiased non-sponsored reviews as a paying patron. I usually don't do food reviews of food court outlets, as they usually hawk mostly run-of-the-mill food items and nothing much out of the ordinary franchised-based food outlet.
However, I recently accidentally came across this one store at Harbour front center Food court while shortlisting a place to have my dinner. What they serve is quite of the ordinary, therefore the motivation of this food find write-up.
The stall came very much of a surprise as it is hotel-level quality Claypot dish. It is not your typical run-of-the-mill Claypot rice with meager portions, and a tendency to be overcooked, with burnt rice on the edges. You can tell I am not really a fan of charred rice. Despite the fact that there are people I know who adore charred crispy claypot rice.
The Claypot rice served comes in your traditional fire-heated hot claypot bowl sitting in a conductive aluminum basket. The cooked rice are only lightly burnt on the edges. The rice is not too oily and crispy, which is much to my liking.
I personally prefer to have the chicken of my Claypot rice boneless. In contrary to some popular claypot favorites in Singapore where eating is often a boney (and often messy affair). For example, like Yew Chuan Claypot Rice at beach food, who had good marks by Maka Sutra who labeled them a Claypot Rice Master. I tend to appreciate the Fuxiang style of prep I do not appreciate their oily and burnt rice as well their critics do.
Recommended Claypot Selections
Fuxiang kitchen claypot rice is similarly traditionally stove fired. The dish is flavored with small chunks of salted fish scattered throughout the rice. In addition, the rice is mostly unburnt, yet well evenly cooked throughout with no cold or uncooked spots. The rice is infused with black sauce which are already pre-mixed into the batter. However, you have the option to add more sauce if required and goes well with chopped red chills.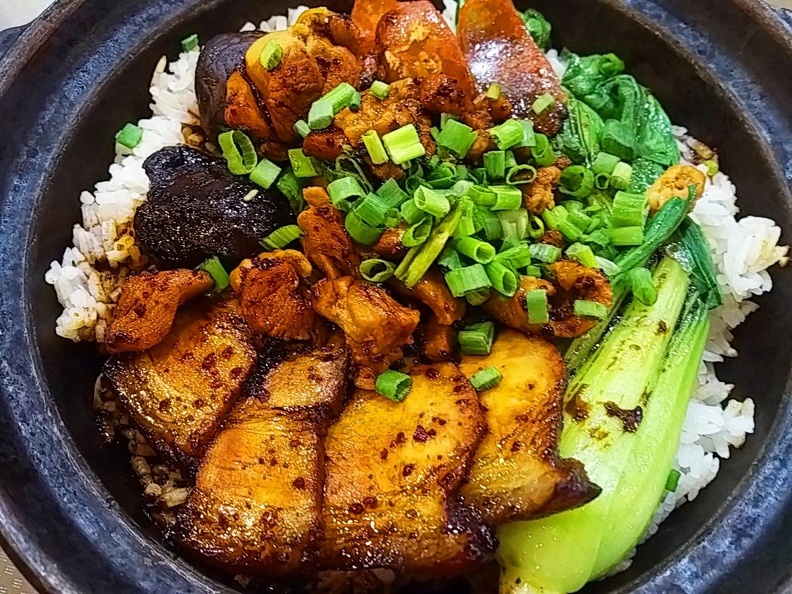 The recommended Claypot dishes here will be their Claypot chicken rice and their signature mixed Claypot rice, offering an assortment of various ingredients, but at a higher cost.
The store was running a promotion during my visit. They were offering two chicken Claypot rice at $11 over their regular price of $5.90 each. Their signature Claypot rice costs a more pricey $8.90, but makes up for it with a larger offering of ingredients, such as sliced pork. All claypot dishes are served with a small bowl of soup.
My Claypot dinner was prepared by a middle-aged chef who knows how to cook a proper Claypot rice dish. The chicken Claypot is reminiscent and tastes surprisingly similar to the one offered at hotel restaurants, particularly one variant I love served at YMCA Steven's road (Also previously known as Metro-Y coffee house). The YMCA claypot rice is personal favorite of mine, having grew up eating it since I was a kid, but the one here at Fuxiang costs significantly less at half the price at the same quantity. Definitely a Claypot rice dish of nostalgia!
All variants of the Claypot rice are served with small slices of Taiwanese sausages and leafy vegetables. Ingredients served are distinctive to the dish you had ordered. For example large chunks of chicken meat for the chicken claypot for instance, pork belly for the pork variant and so on. These are topped and placed on top of the dish upon serving.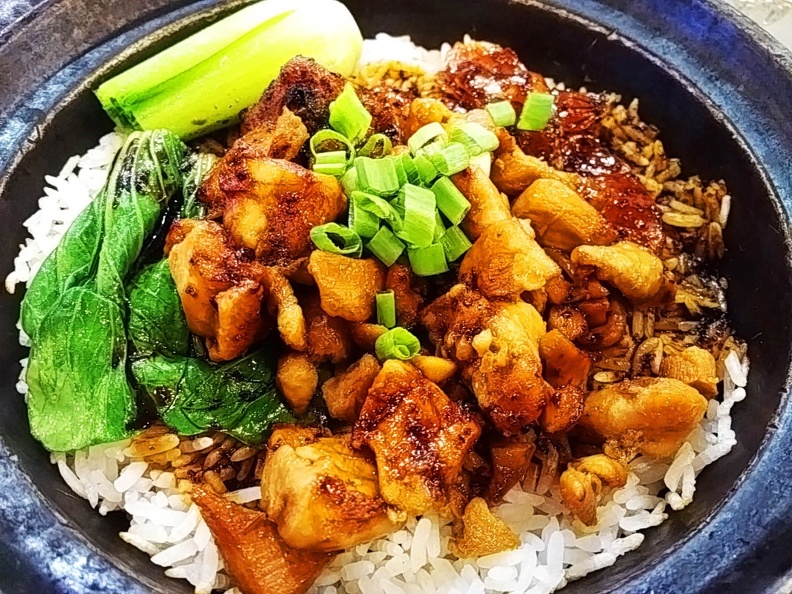 The Claypot chicken rice is well cooked. Black sauce had already been pre-added into the dish, so all you need to do is to simply mix up the ingredients. This is also to ensure that the rice does not stick up to the side of the Claypot. The chicken meat are served in small pre-cut to cubes which are easy to consume. They are tender and boneless, making the meal as hassle-free as possible.
Besides their Claypot rice selections, the store also offers a choice of curry dishes, such as Claypot curry chicken. The quality is descent, but is not part of their main core specialty. You could request for a small bowl of their curry to try if need be, the counter staff will be more than willing to oblige.
In all, Fuxiang gets my recommendation for an out-of-the-blue discovery turning out to be a gem indeed. They are open daily with opening hours tied to the food court opening hours (usually from 9am to about 9pm). Their dishes are definitely well-worth a savor.
Fuxiang Claypot Rice
Food junction, Harbourfront center
1 Maritime Square, 099255
Makan Place Locality Map