Carnivals are ablaze this Lunar new year holidays. The Marina Bay Spring Carnival 2023 run form 13 to 29 Jan this year at the Bayfront Event Space grounds at Bayfront Avenue. Let's take a walkabout of the carnival grounds.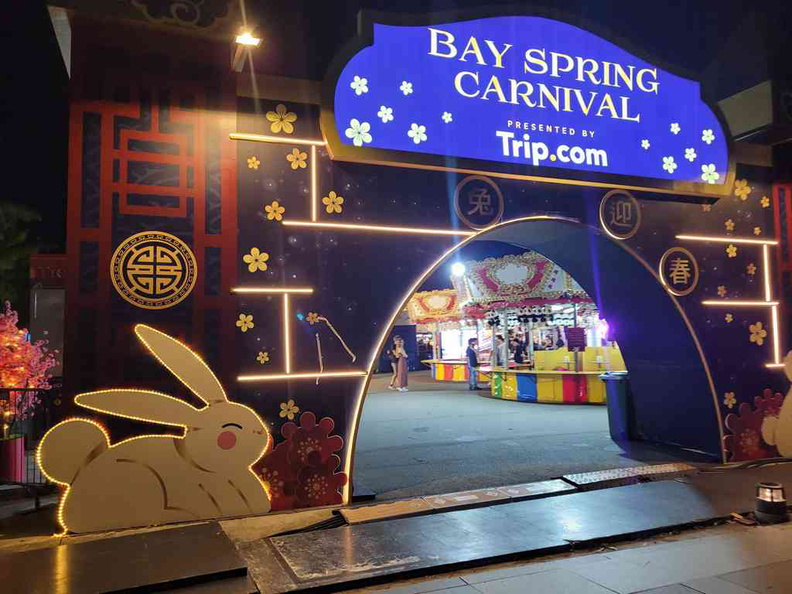 The fair sits adjacent to the Marina Bay Sands shops, beside the Red dot museum, with the entrance facing the Marina bay reservoir broad walk. You could remember it near the South entrance of Marina bay sands and the Black Tap burger and shakes establishment we check out previously.
Furthermore, the carnival is brought to you by trip.com, with a curation of fair, games, food and entertainment options within the walls. Also, the fair is open from 4:00pm to 10:30pm daily, though it appears it has extended opening hours weekends till from 1pm to 1am.
Uncle Ringo carnival rides
Moreover, carnival style game booths and rides greets you at the entrance. These are operated by Uncle Ringo amusement.  You might remember uncle Ringo as a staple in heartland open field fairs in the 90s.
Here, you can find game booths of Ring toss, basketball hoops being popular game stalls. This is especially if you are gunning for wins. Also, the carnival takes an open format with attraction points of interests dotted around the carnival grounds bordered by a bounding fence. Entry to the carnival grounds is free.
A nostalgic carnival
Notable rides here include a mini a Dumbo flyer, hot air balloon carrousel and a Viking ship. The mini Viking ship is tad reminiscent of the one which used to operate at Parkway Parade mall. Occasionally, you can find a free roaming train circling the path grounds of the carnival.
Moreover, to inject some thrills into the park, there is a notable thrill ride to cater for the grown ups, such as a centrifuge spinner. A nice touch.
Also, favorite rides here includes Bumper cars, dumbo flyer and train rides, notably, most of the rides here a family themed, there are limited thrill rides
You load you value up on a card with $50 value of credits available for $45. The carnival here has a different take on a carnival, not just focused on rides alone, but an all one package comprising of multiple vendors in one area including a performance tent.
However, the carnival rides are pretty expensive, priced from $8 up to $12 for thrill rides. Bumper cards for instance, cost $12 per care to ride. The prices are somewhat similar to the Prudential marina bay carnival we visited here a couple years back.
Food stores
Additionally, the carnival has several interesting food themed attractions too. The notable being a Haidilao pop-up restaurant called Ice Magic serving hot pot in winter temperatures at $248 for 2 pax.
Moreover, you can find a sheltered beer garden with bench outdoor and indoor seating. Also, the dining grounds are decorated with cheery blossom plants and giant inflatable bunnies placed at spots through the carnival grounds.
On the rabbit theme, Hao Mart has a container pop-up store hawking rabbit candy goods and merchandise at the entrance of the carnival, much in line with the year of the rabbit festive. Notably, the crowds are pretty thin during my visit near to the closing time.
All in all, you are good here at the Marina Bay Spring carnival 2023 here at the Bayfront Event Space for about an hour tops. It is also pleasant to see old timer Uncle Ringo still in the amusement business, providing for good times indulging in some fun and games. The carnival runs from 13 to 29 Jan 2023.