AnimeJapan 2021 online touts itself to be one of the biggest anime events in the world. They are back this year again with a digital format. Given venue and travelling restrictions with the coronavirus affect global travel, the event this year is online. The event is held over the weekend from March 27 (Sat) to March 28 (Sun) 2021
The event comprises of showcase of anime works, stage shows, and anime news presented by the exhibitors online. Notably, in place of a physical event, AnimeJapan 2021 has gone global as an online event this year, broadcasted via video streams to seven countries and regions. This includes US, Korea, Thailand, Singapore, Taiwan, Hong Kong, and Macau. Moreover, this is the first time the event is streamed and made available outside of Japan.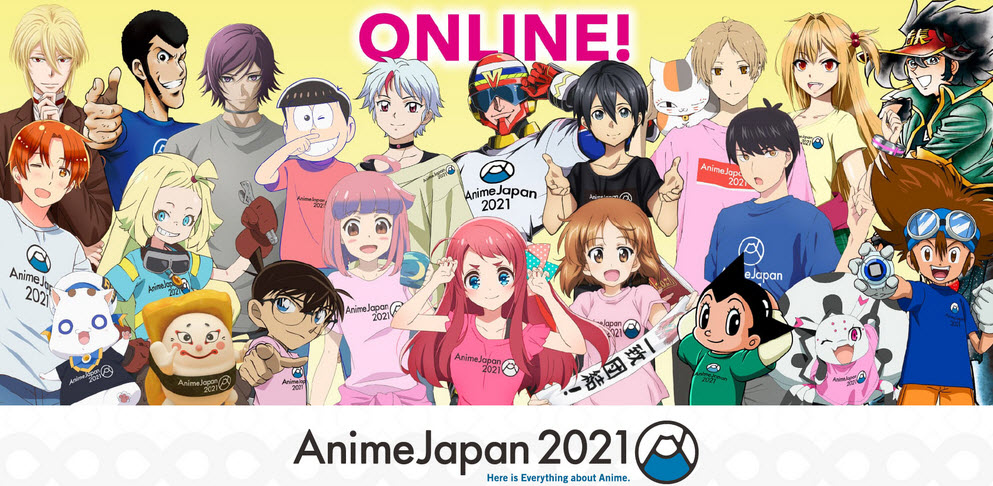 Whats on offer in AnimeJapan 2021
Moreover, AnimeJapan official ambassador for this year's event is Japanese musician, and actor Takanori Nishikawa. The show have on offer are online live streaming on 45 programs of the latest anime information from AJ Stages/AJ Studio.
Also, this year's AnimeJapan is an online event over 2 full days from 9am to 6pm (Japan time). Additionally, the event shows are delivered directly via the internet to your location at your own time. Moreover, on-demand streaming is also available, with special English commentary channels introducing programs from AJ Stages live!
Do note that being a Japanese event, some shows are only in Japanese. English translation and subtitles might not be available on some shows.
How to attend
Attending is via online registration to purchase online tickets. The tickets will be available on AnimeJapan's official website from 13:00 JST, March 1 (Mon), 2021. Single day tickets on  27th or 28th March (Sat or Sunday) costs 3,200 JPY. A 2 Days Ticket cost 6,100 JPY in total.
Moreover, you can catch the scheduled 45 programs streamed from AJ Stages & AJ Studio. Also, you can also have access to additional streams from the exhibitor booths and other online contents. Also, do check back the site on latest updates and schedules on coverage of one of the world's biggest anime events in Japan.