Dessert bowl is a dedicated dessert store serving up premium selections in Serangoon gardens. As the name suggests it is a dessert place, little do you know is that they are known for their trademarked durian desserts. Let's see what's on offer.
It is situated on the second floor of a shop house unit, across the Village mall where the Simple burgers joint we visited previously. When entering the store for the first time, you be treated to an assortment of model murals. Moreover, the entrance of the store is decked with dioramas of Hong Kong streets, with focus on hawker trade.
One can guess that this is part of a hobby collection which the store owners wishes to proudly display in his store. Also, it is worth noting that the only relation these dioramas have with the establishment is possibly to that of the hawker trade.
Durian Mousse staple
The scent of Durian permeates through the air. It tad a welcome to what beckons ahead. The store offers a choice of ice-based desserts. They thing to go for here would be their Durian Mousse ($5), which comes topped with a scoop of real durian flesh.
Moreover, the durian dessert is available all year round. The fresh fruit is harvested and then chilled or frozen, depending on the season, which ensures Dessert Bowl is never without a constant supply of D24 durian flesh all year round. If you crave durian and ice cream as a post-meal dessert, it is as good as it can get.
Furthermore, your dessert is typically served on a bed of finely crushed ice. It is not "bingsu fine" but the ice offered still finer than that offered by your typical run-of-the-mill dessert place made with crude ice grinder machines.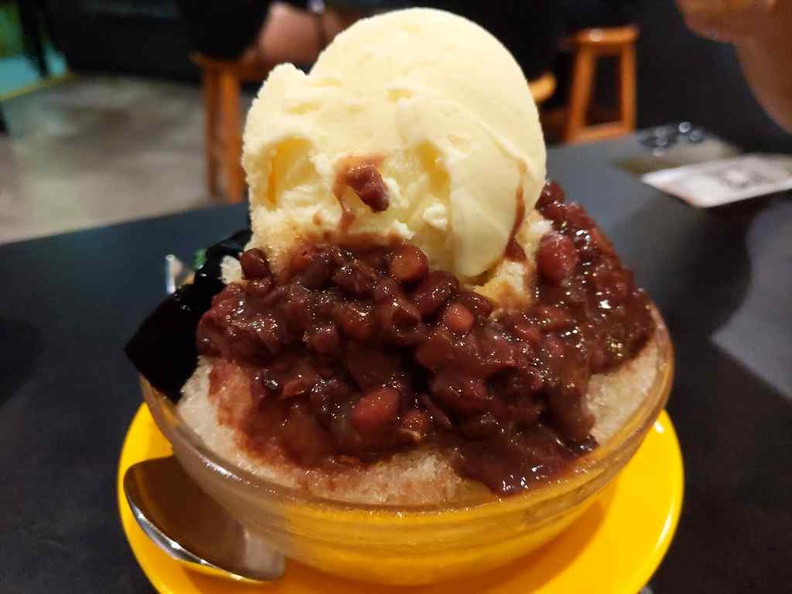 Other nice selections includes their Dessert Bowl's Mango with ice. Also, the strong Durian Mousse does make any other dessert you have pretty much tasteless. Hence it is advisable to try any other sweet desserts before you go for the durians.
Avoid Dessert bowl on peak supper periods
Moreover, interestingly the store durian pudding is what always draws patrons to the outlet. It is notably always rather crowded late nights especially during supper time when diners are typically done with dinner. Here, queues can snake upwards of an hour wait for a dine in. Which is quite alot to ask for just for desserts.
After all, the establishment at its core is a post-meal dessert place serving a variety of chilled ice deserts. However, at their Serangoon outlet, long queues are often a let-down and the store will start turning dine-in away half an hour into closing time. Crowds are exceptionally bad during Fridays and weekends from 9pm onwards. So it is recommended to head there earlier or in the afternoons.
All in all, I would recommend to shortlist Dessert bowl. Their concept and quality of their desserts are fine at an affordable price point. But I find it is let down by large crowds and bad crowd management which diminishes the dining experience or queuing up over an hour just for desserts.
Verdict:
Must Go! | Actually pretty Good | Worth Trying | Shortlist Optionally | Should Avoid
Dessert bowl Locality Map
80A Serangoon Garden Way,
Singapore 555976
Opening hours: 3pm – 10.30pm
Extended opening hours till 11.30pm on Friday to Sunday.