Hạ Long Bay is a UNESCO World Heritage Site and popular travel destination in Vietnam known for its breathtaking natural scenery. It comprises of thousands of tiny green-topped islands scattered over a large sea bay area. Administratively, the bay resides within Hạ Long City (Cẩm Phả town). It is a part of Vân Đồn District located in the Quảng Ninh Province, Vietnam.
Geographically, Hạ Long Bay is situated on the northern most part of Vietnam within close proximity to China. The bay is a heart of a larger zone of island bays including the Bái Tử Long Bay to the northeast, and Cát Bà Island to the southwest. It comprises of several island islets jutting out of the sea.
These larger zones share a similar geological, geographical, geomorphological, climate and cultural characters as that of their more popular sibling. You may recognize the islands being featured in shows such as the recent King Kong film skull island.
Getting to Ha Long Bay
The name Hạ Long is derived from the Sino-Vietnamese sia-long (called "下龍" in Chinese), meaning "descending dragon". Ha Long itself is about a 3 hour drive out of Hanoi city. You pass through the nearby Bãi Cháy City which overlooks the Bay. Finally, you cross a bridge into Tuan Chau Island where you can charter a boat into the bay from Tuần Châu Harbor (Nhà Ga Cảng Tàu Tuần Châu). For a payable extra with arrangements beforehand, you can enjoy a home-cooked seafood lunch served by your boat crew on-board as you cruise along the bay sights.
Ecosystem and Islets Rock formations
Hạ Long bay consists of a dense cluster of almost 2,000 limestone monolithic islands and isles in various shapes and sizes. Each island is topped with thick jungle vegetation, rising spectacularly from the sea (connected to the South China Sea). It covers an approximate area of around 1,553 square kilometers. The core of Hạ Long Bay is much smaller, with an area of 334 square kilometers, but with a high density of 775 islets.
Moreover, you can make out the various geographical features and layers of prehistoric compacted earth which makes up the bulk of the islet formations. Hạ Long Bay was listed by UNESCO as a World Heritage Site two times. Firstly, once in 1994 and a second time in 2000 according to the new UNESCO 2000 criterion.
The World Heritage Committee awarded the Heritage status for the site's representation of major stages of the Earth's history and for its original limestone geomorphologic features. It is located just across the bay from Bãi Cháy City. It is a built up city where most visitors reside when exploring Ha Long Bay.
Over 500 million years of orogeny, marine transgression and marine regression allowed Hạ Long Bay to exist in many states of submersion during the course of its lifespan. This comprise from a deep seabed to a shallow sea. From stone compositions, the bay told tales of the area existing as a deep sea area during the Ordovician and Silurian periods about 500 million years ago.
The Bay then transformed into a shallow bay at sea level during the Carboniferous and Permian periods. This was dated about 300 million years ago, before evolving into the open sea geological state it is today.
Panorama view of Ha Long Bay Dau Go harbor
Presently, Ha Long Bay hosts both a tropical rainforest ecosystem which is evergreen all year round. The region is home to an extensive marine and coastal ecosystem, given the large number of islets offering viable habitats.
As such, several endemic species call the bay their home. It comprises of a variety of native animals, such as bantams, antelopes, monkeys, and lizards that even live on some of the tiny islands. You can enjoy the vast tropical greenery from a vantage viewing point at Ha Long Bay at Dau Go harbor.
Ga Choi (Fighting cocks) and Cho Da (Stone Dog)
The Vietnamese locals enjoy naming familiar-looking rock formations to that of known animals they resemble. Some names include Voi Islet (elephant), Khi Islet (monkey), and Mai Nha Islet (roof). Notable ones here includes the Ga Choi (Fighting cocks) and Cho Da (Stone Dog) islet formations. To date, 989 of the islands have been given names.
Over 500 million years of orogeny, marine transgression and marine regression allowed Hạ Long Bay to exist in many states of submersion during the course of its lifespan from a deep seabed to a shallow sea.
The geo-diversity of the environment in the area had also created plant biodiversity. This includes the mentioned tropical evergreen biosystem, as well as an oceanic and sea shore biosystem. It is home to 14 endemic floral species and 60 endemic faunal species.
Caves of Ha Long Bay, Thien Cung cave
Several of Ha Long Bay islands are hollow, some containing enormous caves within. Two main caves with are easily accessible will be the Thien Cung Cave (Động Thiên Cung) and Dau Go Cave (Hang Đầu Gỗ), both situated on Dau Go Island.
The island itself has a large modern jetty able to take on a number of visiting boats at a go. It provides basic berthing areas for embarkation and disembarkation during your visit. The visitor center and jetty area is where you purchase tickets to enter the caves as well as hire guides if required.
Entry to the caves is via an uphill climb from visitor center and welcome point. You pass by amenities areas, such as touristy gift shops and viewing points overlooking the Dau Go harbor. The stairs will end into a hole-like rock surface of the hill, which is one of the entrances into the Thien Cung cave.
Thien Cung limestone grotto is also known as the Haven Palace. The cave itself is a sprawling natural grotto with intricate stalactite & stalagmite formations, all illuminated by man-made colorful lighting. Moreover, the cave itself is a compact cave comprising of several interlinking caverns. You can easily navigate through a series of well labeled one-way only paths. A couple of limestone features here are named after the figures they represent, such as a Dragon for instance.
Though the cave has a high and cavernous ceiling, much of the lower grounds are also covered with stalagmite formations. This limits the size of the trails in the cave, creating choke points especially when the extremely popular cave is crowded with Tourists. Hence, it will be advisable to not visit during the peak periods where you may spend more time waiting in line than actually exploring the cave.
Thien Cung Grotto Cave Interior Panorama
There are several water elements such as groundwater collecting in ponds in the cave, as well as a number of mini caves which are out of bounds. Another specific feature of Halong Bay is the abundance of lakes inside the limestone islands. For example, Dau Be island has six enclosed lakes as part of its extensive underground water system.
Dau Go cave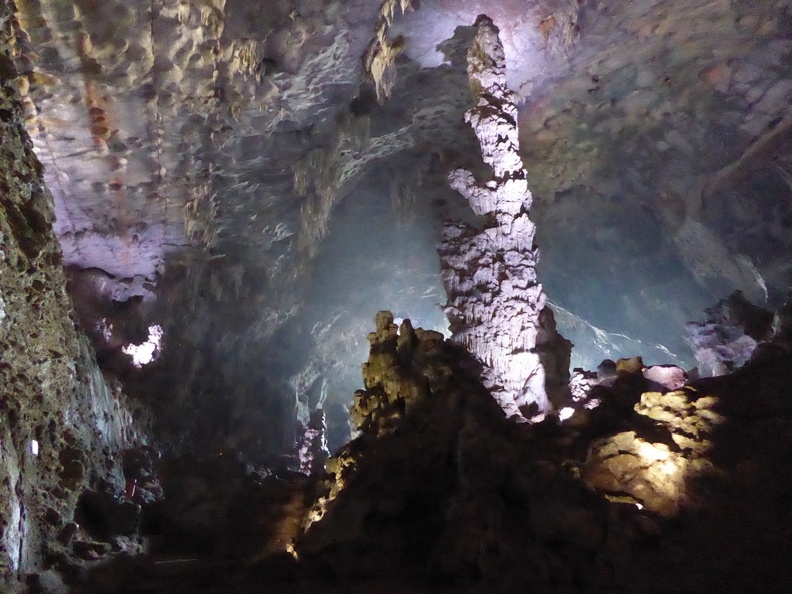 An adjacent connecting grotto in the Bay will be the Hang Đầu Gỗ, also known as the (Wooden stakes cave). It is a semi-enclosed grotto and is the largest in the Hạ Long area.
The Dau Go cave is made out of three large chambers, each home to a number of large stalactites and stalagmites formations. The open nature of this cave made it more susceptible to wind erosion from the open Ha Long Bay, giving the cave walls its unique wind- and wave-eroded patterns, is a vision of ethereal beauty.
Panorama view inside Dau Go Cave
The limestone in this bay and cave too has gone through 500 million years of formation in different conditions and environments. The evolution of the karst in this bay has taken 20 million years under the impact of the tropical wet climate.
The route in this cave first brings you through the mouth of the cave entrance following a set of stairs down into the bottom of the cave through a variety of wooden broadwalks which are sturdy and well-built, at times passing over small voids and ponds bodies of collected groundwater within the caves.
A large fault plateau can be seen on the far end of the cave, which is also a roosting spot for bats too. Just watch out for guano, they can be pretty nasty!
Life at Ha Long Bay
There are two bigger islands situated at Ha Long Bay itself which are main fishing grounds for fishermen in the region, namely the Tuần Châu and Cát Bà islands. Around 1,600 permanent inhabitants call these islands at the Bay their homes sprawled over four physical fishing villages here. These are namely called Cửa Vạn, Ba Heng, Cống Tàu and Vông Viêng villages in the Hùng Thắng Hạ Long city communes.
Most of the fisherman's houses in these fishing villages exist as floating "kelong" houses. This comprises of wooden houses suspended over the water using wooden slits or floating barrels. The fishermen families live on them, sustaining their livelihood through regional fishing and farming marine aquaculture. This includes marine biota, cultivating fish and mollusks. There are about 200 species of fish and 450 different kinds of mollusks cultivated and fished.
On these islands too are a number of tourist facilities, comprising of hotels. They are usually built near the scores of beautiful beaches found on these smaller islands.
Almost all these islands in this part of the bay looks like unreal, like a classic Chinese painting. The many slender "pointy" islands in the Bay popping up to 100m out of the sea as individual towers, like in a classic fenglin landscape.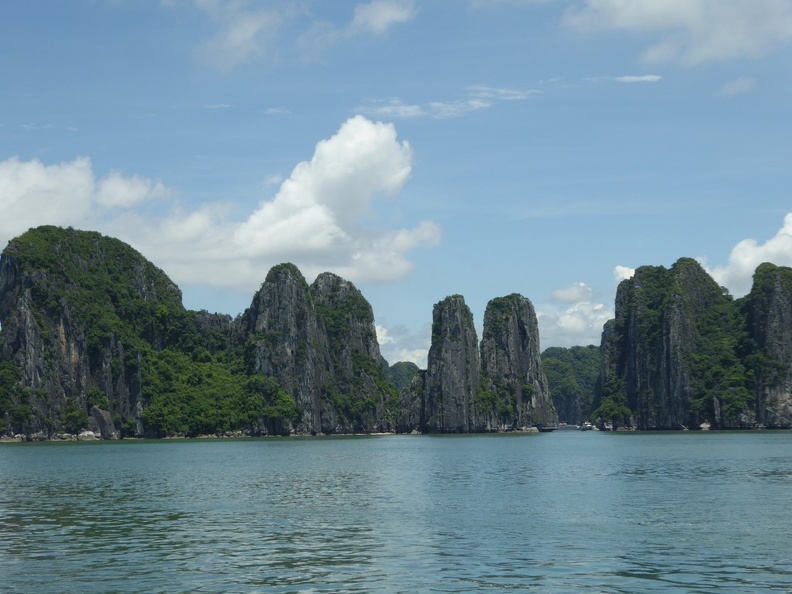 No wonder 500 years ago, Nguyễn Trãi praised the beauty of Hạ Long Bay in his verse Lộ nhập Vân Đồn. He called it the "rock wonder in the sky".
Lastly, view more photos at my Ha Long Bay photo gallery.