One of the best way to experience the rustic lifestyles of the Vietnamese people to go on a biking exploration trail in ancient Vietnamese villages- a fast disappearing early staple in the fast developing country. Phuoc Tich in the Thừa Thiên–Huế Province is one of such villages still preserved in a relatively pristine state and maintained by the Vietnamese tourism board today.
It is run by the local villages who call the ancient village their home, or in some cases, a vacation home at least.
The village was established in as early as 1470, but was only discovered and saved from urban redevelopment in April 2003.
The Phong Nha Farmstay is located 8km south of Phong Nha by the O Lau River, deep in the Vietnamese countryside overlooking rice paddies, and is situated to easily explore the area. A combination or gravel, sand and tarmac roads run throughout the village. The village roads are narrow, which are largely accessible by motorcycles and small vehicles, which makes cycling a very ideal method of getting around the village.
You can literally call this village a "life" theme park or sort. Most of the original buildings, roads and infrastructure kept as they were preserved set in time of a yester year.
Phuoc Tich is one of such villages still preserved in a relatively pristine state and maintained by the Vietnamese tourism board and run by the local villages who call the ancient village their home
However, one can't help but notice the lack of people actually staying within the village. Occasionally you get a vehicle or motorcycle passing through. A rustic kampong life you may say. But no one really resides here now given most villagers these days relocated to the city for more viable and higher playing jobs.
Hands on Pottery Session
For my first stop, I was first introduced to a pottery shop by the local guide. I had a go at making pottery items such as cups and vases. This was as taught by two elder ladies using manual hand-spun clay turn table. Here, I got to determine where to put my fingers to create symmetrical undercuts or protrusions like tooling an object on a lathe.
Besides the two ladies, there was a craftsman showing us the delicate method of hand-detailing pottery. Using a variety of sharp tools such as tweezers and long needles, he was able to etch various decorative shapes on the outer surfaces of the freshly shaped pots. This ranges from patterns of dots and waves onto the soft clay before setting them in for baking.
Also, the pots were then placed in an induction furnace to bake for about half a day before undergoing detailing. An old preserved by decommissioned brick-fired oven was at the site kept for historical purposes, but not in use.
You could tell that the pottery shop is no longer in active service. Much of the old shop grounds left in derelict ruins with the concrete walls faded and encrusted by dirt and neglect, only occupied whenever guests are visiting.
Moreover, you can pretty much tell that the pottery business here is pretty much a trade of the yester-year. Most of the residents here having day jobs elsewhere in the city or residing here in retirement. The pottery tryout demo here was made possible from the prior arrangements with our village representatives, so I was fortunate to experience this first hand.
Woodworking crafts
Subsequently, I visited a furniture craftsman workshop. This workshop is family run and employed a number of villagers who deals in manufacturing a variety of rare wood furniture in-house in their workplace backyard workshop. Their items on sale range from arm chairs, tables to even craved and lacquered signboards for temples. There is still good demand for such craftsmanship for furniture.
A short cycle away brought me to a statue woodworking workshop cum home of one of the few woodcraft masters in the village. Unlike the first furniture wood mill, this one specializes in handcrafted wooden statues, made out of a variety of wood pieces glued together. His creation works ranges from large statues of religious deities to small and detailed table-top wood cravings.
I got to meet the woodworking shop owner. He is a strong elderly man in his 60s and his son (who co-run the family business) showed us how he creates the large wood cravings. There was a Laughing Buddha and a Goddess of Mercy human figure made out of a composition of several different wood pieces. The larger and less-detailed body cravings craved from a single large piece of sand wood. Important details like faces are separately hand crafted and then glued or affixed onto the main body as a speaker finishing process.
His business is still largely a viable and relevant ones. The business owner himself shared about the backlog of wood craving jobs to keep him occupied for months to come. Glad to see such a hand craving trade still kept alive today.
Exploring Phuoc Tich on Bicycle
Thereafter, before lunch, our guide brought us on a bicycle exploration tour around the village. The route saw us through small unpaved kampong roads, which otherwise could not be experienced or inaccessible in a vehicle. We passed by a number of small plantations with aromas of ripe fruits as you go past.
In my cycle, I saw a number of temples, some over a couple of centuries old and a number of houses still occupied with a number of resident chickens free-roaming around the area. The village is a popular spot for retirees and tourists looking to rent a Bed and breakfast style home stay in an authentic Vietnamese village farm town.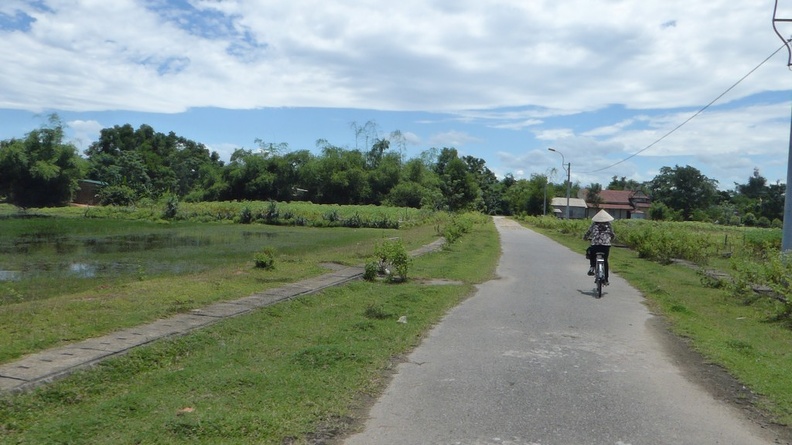 A peculiar and common architecture you see in the houses here is the presence of a large wall fronting the front of the front gates of all the homes and temples. As told by our guide, apparently the wall was constructed as a "feng shui" practice. This is to trap and prevent all the "qi" (or luck) from escaping your property too quickly. Otherwise, it will affect the luck of the dwellers.
Random sight musings includes hordes of water buffalos which can be seen by the road side grazing on roadside greens. There were a number of lily ponds and even a lone church along the cycling route. The tour ended with a cycle enjoying the various scenic sight so Phony Nha, and along the Ben Hai River.
Panorama of O Lau River
My guide brought us on a scenic route via the O Lau river. The spot offered great views of the scenery and greenery surrounding the vicinity, with mountains flanking the horizons, visible on the left of the Panorama above.
Ancient Village Farmstay
I got to stay in and have lunch at a house belonging to a retired school teacher. He lives in the house with his wife, kids and 3 dogs. Also, the home stay house I had lunch in is over a hundred years old too. With the living area is fronted by a large praying altar, worshiping the Goddess of Mercy.
The house is small, cozy and homely, though rather cramped for more than 6 guests in the house. The seasoned dark rosewood-like structural supports and slated folding doors providing cool shade from the hot afternoon sun despite not being air-conditioned.
Lastly, we were treated to a variety of home-cooked Vietnamese dishes, such as handmade spring rolls all served in authentic ceramic bowl and wooden cutlery. Even the jackfruit dessert after lunch was plucked from freshly grown fruits right in the village. After lunch, we bid our host and guide farewell as we proceed onto the next phrase of my Vietnam journey.
More photos of the Phuoc Tich ancient village here.