Seoul, the capital of South Korea, is a bustling city that offers a unique blend of traditional and modern culture. In recent years, Seoul has emerged as a hub for pop culture, with numerous shops and stores dedicated to anime and toys. Let's check out Seoul Pop culture Toy collector scene and the various hobby stores in the city.
While Seoul may not have a one-stop-shop for anime and toy lovers like Tokyo's Akihabara, it has several districts with clusters of shops that sell pop culture products. This article will take you through some of the top pop culture locations in Seoul, including Hongdae University town, Hongdae anime district, Gundam Base at Hongdae, Tamiya shop and Hobby zone at Ipark mall, and Changsindong Stationary and Toy street.
Hongdae Japanese anime district
Hongdae University town is a buzzing nightlife with lines of shops, entertainment and cheap food establishments catered for students. Also, the district is home to many toy and book stores that sells related anime and pop culture products. This includes manga as well as trinket collectables and toy figures.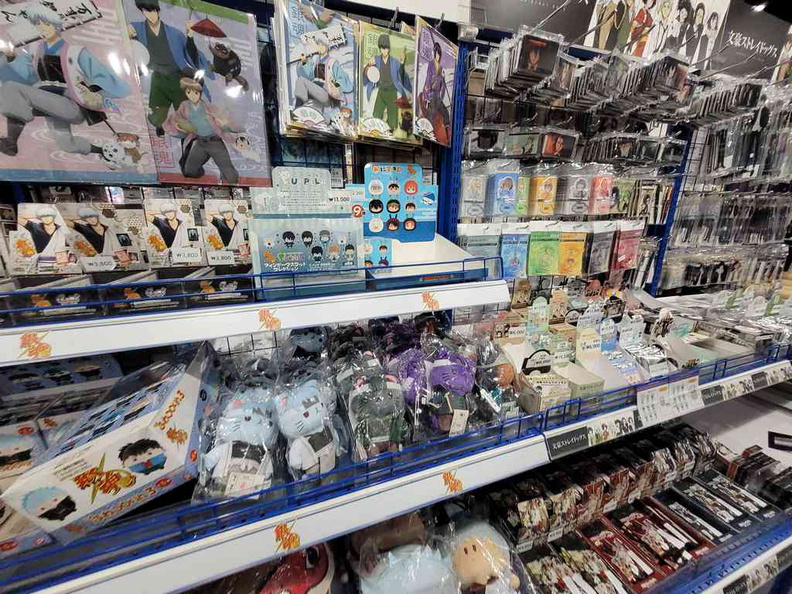 Example retail outlets includes stores by Animax and Aniplus. However, the okatu retail scene here in Seoul is much smaller in comparison to Japan. Hence, do not expect to find sprawling floors of anime goods and second-hand products here like what you can find in Tokyo Japan.
Furthermore, the selections here are more muted and geared towards big-name retail instead of small independent shops. Also, the stores mostly stock new items, such as badges, acrylic cut-outs, and an extensive selection of manga in the Korean language.
Also, the Delight square 2 mall here near walking distance from Hapjeong subway station is home to an Aniplus as well as a vast bookstore in the mall's basement. It is lifestyle mall at hear with a mix of modern Food & Beverage and lifestyle stores. links to Hongik University station about a kilometer away home to a store dedicated to One piece.
One Piece dedicated store at AK&2 shopping mall
One Piece is a long-running Japanese pirate-themed manga and anime franchise that has gained a massive following worldwide since its inception in 1997. The One-Piece store and café at AK&2 shopping mall at Hongdae, located on the 5th floor, is an all-in-one curation of One Piece toys, figurines, collectables and books.
In addition to the One-piece store Hongdae, AK&2 mall also has an anime-themed café operated by anime and manga store Animate. Also, these themed anime cafes are often revamped with new menu items to reflect the anime or manga of choice. This includes the stall re-theming such as wallpaper and standees too, often which each iteration running for a limited period with much fanfare.
Additionally, this massive store has anime trinkets, toys, and manga on sale. You can also find a couple of capsule stores as well as a wall of gacha coin-operated machines here too.
Also, notably, similarly, the comics all sold here are all published in Korean language, and sold mostly first-hand new with a selection comparable to Singapore comic stores (not large in size). If you are coming from Japan expectations, it is definitely not as extensive in Japan with a larger second-hand market offering.
However, more at times, these pop culture zones are a small part of a bigger mall. They are typically an entire floor or a small sector of the mall as part of a spread of stores which caters to a larger demographic audience. There are notably no entire malls dedicated to pop culture here in Seoul. Hence do not expect the depth and variety of goods here on display.
Gundam Base at iPark Mall
Next up for Gundam fans, the Gundam Base at iPark Mall in Yongsan is a must-visit location. This spot is about 6km away from Hongdae district, and is another Seoul pop culture hotspot worth checking out if you are into plastic kit-models, and Tamiya toys.
Moreover, sitting at the top floors of the electronics mall by SinYongsan subway station, the Gundam model kit collection here is pretty extensive for a Gundam base store outside of Japan. Here, you can find a good mix of high grade, master, and perfect grade models.
Additionally, you can also find the unicorn Gundam model in perfect grade. You might remember this Gundam variant when we checked out the life-sized version of the model at the Tokyo Teleport in Tokyo, Japan. Also, besides Gundam model kits in-store, you can also find a mix of other Bandai model kits from other franchises like those from the Pokémon line all under one roof.
Studio Ghibli and Marvel trinkets
The Hobby zone at iPark mall has a central mall area and a pop zone dedicated to pop culture toys. Additionally, the mall has a pop corner, tucked in adjacent to the main mall offerings. Interestingly, you have to walk through a small mystical forest entrance to get there, it is like bringing you to another world out of the mall's main retail spaces.
Here, in the mall, you can find a small curated section of Studio Ghibli trinkets, previously only thought sold at the studio's Japan museum. Also, going on the pop-culture scene in Seoul, the mall also has a massive Disney-endorsed Marvel store here, focusing on Disney's massive MCU franchise. Here, you can find pretty much of the run-of-the-mill Marvel merchandise like posters, artwork, and toy figurines.
Wrapping up this sector is a VR arcade zone with offerings of simulation rides for large and small groups, laser tag as well as VR-experience zones. There is a small alleyway arcade here as well as a capsule gacha wall.
Tamiya shop and Hobby zone at Ipark
Furthermore, the Tamiya store at iPark Mall is a massive store with a wide range of offerings. Tamiya is known for their trademarks 4WD racer cars, which runs off batteries and zip around fixed plastic race tracks. You can find quite an assortment here, including various rare designs, a parts wall and track sets not found in Singapore.
Additionally, besides the 4WD racers, you can also find sub-$350 remote control kits, cars, and military models, as well as an extensive selection of engineering pieces, like motorised walkers and gearboxes to bring out your inner engineer.
Additionally, you can find also find on sale giant boxes of assorted 4WD race tracks which you can assemble for slot racing with friends. Notably, these used to be popular in Singapore till the late 2000s.
In-addition, the military kits here include a mix of land warfare tanks as well as planes and huge detailed naval warfare ships like battleship Yamato. Also, being a hobby store, you can also find a small collection of kits from other brands, such as the Academy brand line. In addition to the Tamiya store, there is a Nintendo store selling games, accessories, and stuffed toys.
Toy street at Changsindong Stationary
Next, lets move onto another district known for toys, albeit one more geared to younger kids. The toy street at Changsindong Stationary and Toy Street near Seoul's Dongdaemun district is one to visit for children's toys. Moreover, the Toy Street at Changsindong has a history known as a hub for manufacturing toys, but over time, it evolved into a retail destination for toys and other stationary products.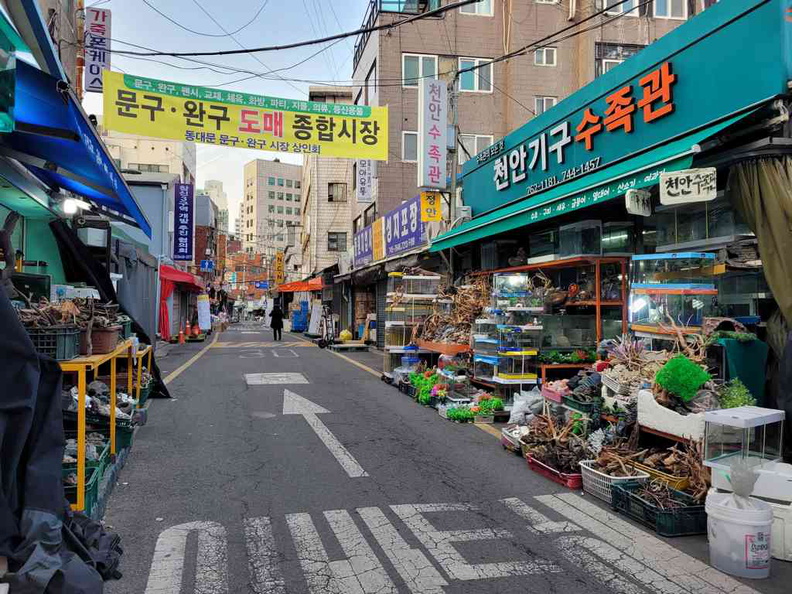 Notably, Changsindong street is located beside another popular market, and the largest wholesale clothing market in Korea, known as Jeilpyunghwa Market. It is located just a block away in it's own textile shopping mall.
Moreover, back to Changsindong, you will know you are at the street with its kiddy-stylised murals on the roads with cutesy buses. You will also find stores that specialize in other types of toys, including Lego sets, board games, and action figures.
Also, several of these stores offer rather competitive prices, making it a great place to pick up souvenirs or gifts for friends and family back home. Though most stores accept cards, do bring plenty of cash, not all stores do, especially street side stores.
See the animal statues
One of the most iconic features of the Toy Street is the giant animal statues comprising of a gorilla which stands almost 2 floors high. It sits in front of a toy store at a road crossroad between Jong-ro 52 street and 54 street. It adds a whimsical touch to the area. The store within is a large 2-floored unit, and one of the biggest here.
Within, you can find legit full Lego sets, even current editions, they are priced about 10-15% cheaper than the Lego sets in Singapore. Also, you can find items you can't find in Singapore, like BB guns and pellets. This is like those we saw in hobby stores in Taiwan too. Interestingly, the guns here come in a variety of form factors like as a handgun and rifles for instance.
Also, besides this store, there are several smaller minor shops selling a range of curated toys, such as plastic model kits, Sembo "Lego" block sets, and anime boxed figurines made by Bandai or Banpresto.
Moreover, the Toy street is also lined with colourful stores that sell a variety of toys, games, and stationary products. As you wander along Toy Street, you will notice that many of the stores display their wares outside their shop front, typically wrapped in plastic or cellophane to protect the items from dust and damage.
The many shops in a quiet chill street does adds to the overall aesthetic of the area. It's worth noting that some of the stores may not allow photography, so be sure to ask before taking any pictures.
Also a stationary street
Besides cheap plastic toys, the street here also known as a stationary street, with sorts and wholesalers hawking files, paper, office products on top of collections of stationary pens. Additionally, moving on from Changsindong Stationary street, you can walk further down Toy Street and explore some of the other shops that line the street.
Also, being a wholesale market, you can snag some pretty good deals if you buy items by the box-load in bulk. Discounts can range from at least 30-40% off of regular market prices in-stores. This includes a wide range of educational toys, games and educational activity books for children. They have everything from classic board games to STEM-focused construction sets and science kits.
Not just plasticky children toys
Additionally, the Toy Street isn't just for children fans. Furthermore, if you are a fan of anime and manga, then you will find plenty of stores on Toy Street that caters to your interests. Many stores stock a wide range of anime merchandise, including figures, posters, and cosplay costumes.
Also, some of the stores even have dedicated sections for popular anime franchises like Dragon Ball, Naruto, and Attack on Titan. On my visit, there were two such stores here hawking these pop-culture items, and they open till late (about 7pm), past the 5pm closing time of most stores here.
Another store worth visiting is called "Little Prince," which specializes in children's books and has a great selection of both Korean and international titles. The store has a cozy atmosphere with lots of nooks and crannies for kids to explore, and there are often storytime events and other activities taking place.
Moreover, if you need a break from shopping, there are plenty of cafes and restaurants on Toy Street where you can relax and grab a bite to eat. As you walk along Toy Street, you'll also notice lots of street vendors selling snacks and treats like cotton candy, popcorn, and ice cream.
Also, many of these establishments have themed decor that adds to the overall atmosphere of the area. For example, there are several cafes that are designed to look like old-fashioned toy shops, complete with vintage toys and games on display.
Wrapping up
Overall, that wraps up our Seoul Pop culture explorations of the city of Seoul. Hongdae and Yongsan are top picks for hobbyist. The Toy Street at Changsindong Stationary is a nice destination to check out if you have a spare day in the city, especially if you are toy collector.
All in all, the toy street has area has a unique charm that sets it apart from other shopping districts in Seoul, and you are sure to find plenty of treasures to take home with you. Whether you're looking for toys, books, or just a fun afternoon out, there's something for everyone to enjoy on this bustling toy street.