Seoul, the vibrant capital city of South Korea, is known for its history, shopping, attractions, culture and people. Lets take an explore of the buzzing metropolitan city of Kimchi and Bibimbap, checking out the shopping scene, night markets, history, museums and culture. Let's go!
I found the city safe and rather clean. Notably, even the toilets in public areas are clean, prim and proper. If you were to position Seoul in relative to regional major cities like Taipei Taiwan and Tokyo, Japan, Seoul would sit nicely in between them. It has the cleanliness, prim and proper and modern facilities as Tokyo, but fall short of the transport system efficiency and courtesy levels in Japanese Cities.
Seoul City Shopping and Night markets
Seoul's dynamic shopping scene that caters to a diverse range of interests and styles. The city offers a plethora of shopping districts, markets, and malls. It caters to those seeking high-end fashion, value in factory outlets, to unique local crafts.
From the bustling streets of Myeongdong to the trendy shops of Gangnam, Seoul city is a shopper's paradise that offers a blend of traditional and modern shopping experiences. With its mix of international brands and local designers, Seoul's shopping scene has something for everyone. In this article, we will explore some of the best places to shop in Seoul.
Shops and nightlife
Additionally, city stores and shops typically closes around the 9pm mark, very promptly, there is no "Japanese" hospitality here. Also, the street markets closes about 11pm. It has a vibe and offering similar to most Asian night markets in mainland China, as well as those we visited in Taipei, Taiwan.
It has more or less the same offerings in typical night markets. Notable night markets worth checking out includes the Insadong Night pedestrian street, as well as the Gwangjang/ Dongdaemun/ Kwangjang night market which you can visit all at a shot running east to west.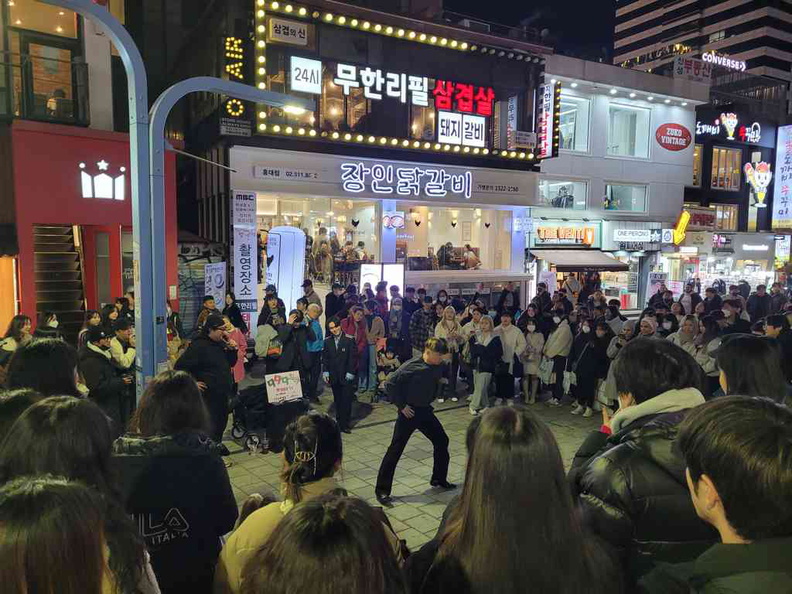 Also, the Hongdae university street is also a rather happening night spot. With markets and stores which opens till late. The street is also home to a series of Japanese pop-culture and anime stores.
Moreover, when you are there, you could make a trip to Gangnam. Also, the affluent spot in the city popularised by the viral Korean K-dance video by Psy, and check out the COEX mall and Bongeunsa Buddhist temple. More of this later in this post.
Visit the Gangnam district
Gangnam is famous for its luxury shopping, K-pop culture, and bustling nightlife. This makes it a must-visit destination for travelers looking for an exciting and vibrant experience. Moreover, I find Gangnam shopping offerings are tad synonymous with Ginza in Tokyo Japan. Here, you can find rows of upmarket stalls lined along the street.
Here, you can find rows of big brand American brand boutiques as well as luxury clothing and handbags brands here. This affluence is reflected in the modern buildings and skyscrapers which dot this district.
Furthermore, Gangnam is lively and vibrant year-round, with its trendy shops, cafes, and nightlife always buzzing. Furthermore, this trendy and upscale neighborhood is known for its glitz, glamour, and modernity, offering you a taste of the cosmopolitan side of Seoul City.
Starfield COEX Mall
If shopping is your thing, iconic Starfield COEX Mall here is one to visit. The mall is both a shopping and transport hub connecting several metro lines. It also has an impressive public library situated in one of the mall's glass-atrium. Picture a sky-lit area with tall book shelves reaching out into the skies.
One of the highlights of Gangnam is the famous Gangnam Style statue, which pays homage to the global hit song by Psy. You can take fun photos with this iconic statue and dance along to the catchy tune.
Additionally, for K-pop enthusiasts, Gangnam offers a variety of entertainment agencies, music studios, and K-pop merchandise shops, where you can immerse yourself in the world of K-pop culture. You can also visit K-star Road, a stretch of road adorned with colourful statues of famous K-pop stars.
Also, if the number of outlet malls in the Goyang region is not impressive enough, Gangnam is also home to some of Seoul's most luxurious and high-end shopping streets. Examples include Apgujeong Rodeo Street and Garosu-gil, where you can find designer boutiques, trendy fashion, and unique local brands. Interestingly, you can find Singaporean businesses like a Gordano and even Crystal jade Chinese restaurant here.
Korean food delicacies
Furthermore, the nightlife in Gangnam is also worth checking out. With rows of restaurants, eateries and Korean BBQ on the cheap. An all you can eat buffet here sets you back about 16000 won, or about S$16 per head including free flow of fried chicken. It is priced cheaper than K-buffet offerings Singapore despite being in an expensive Gangnam neighbourhood.
Everything is not all Kimchi here. If you are a Korean food fan, you are in luck. The food offerings here are similar to what you get in Singapore. From staples like bibimbap, stimmering hotplate roasted beef, pork with rice, Korean pancakes with accompaniment sides of Kimchi and picked Korean vegetables. You can find more less-seen adventurous dishes like Cheese buldak, Maangchi.
Mom's touch and No brand burger are notable chains operating in Seoul serving fast food not available in Singapore too. These outlets also typically operate till late, allowing for a post-dinner meal if need be.
Local Korean food can be Affordable
The great thing is that food is rather affordable too. Small family-run eateries which the locals frequent serve authentic and cheap food, which sets you back about under S$8 per head. At times, even going under 3500 won (S$3.50) per meal.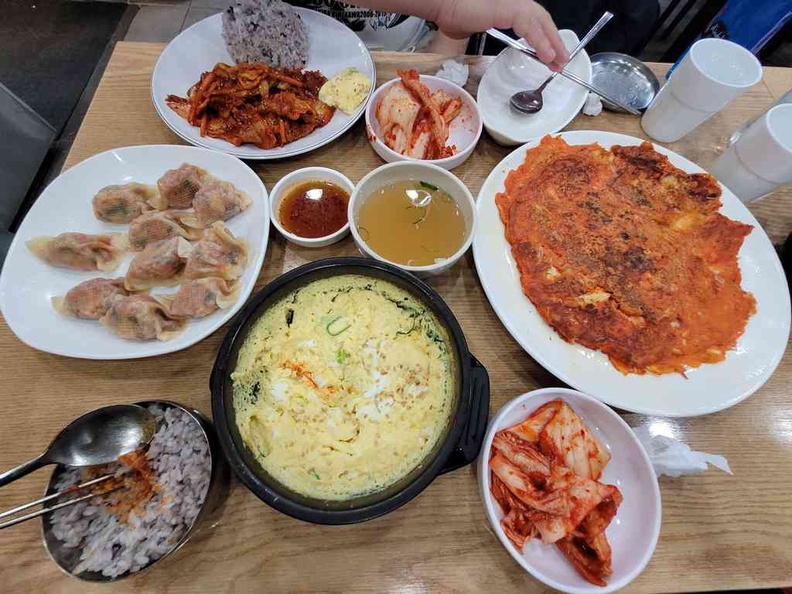 Also, shopping center food courts and train station eateries tend to be slightly more expensive from the S$10-20 range per meal. You can't get away from Korean Ramen (or popularised as ramyeon).
If you are up for it, the Korean Ramen here is also very good. You can get a decent sized Ramen noodle soup for 1000 won (S$1) which comes with a full set of condiments. It is value for money and can be found in all convenience stores and even Korea's Daiso branches.
Additionally, at the markets, you can find Korean snacks, like Dalgona (Korean Sugar Candy) popularized in the Squid game netflix series too. Also, night markets are great places for hot stews in the cold winter.
A staple you find here too is their Budae-jjigae otherwise known as the misnomer as army base stew. The Korean jjigae (stew), is usually lightly spicy hotpot served simmering over a fire. Also, typical ingredients are those you find in Korean army rations like ham, sausage, Spam, baked beans, kimchi, instant noodles, and gochujang.
Furthermore, if theme park thrills excites you, Lotte world theme park is one to check out. It is Korea's answer to Disneyand with a more family focused attraction situated near the Gangnam district spread over an indoor and outdoor park grounds in Lotte world. Also, Lotte world about 30 mins metro ride along the green line towards Jamsil station.
Bongeunsa Temple in Gangnam
Gangnam is not only known for its modernity, but it also beautiful parks and green spaces. One such park is and place of worship is the Bongeunsa Temple. It is a serene Buddhist temple set amidst the skyscrapers of Gangnam. Also, it's a peaceful oasis where you can experience traditional Korean culture and enjoy some tranquility in the midst of the city.
Additionally, the Bongeunsa Buddhist Temple sits in the heart of Gangnam and is always buzzing with devotees coming in and out of the temple grounds. Also, the highlight here is a majestic tall stone buddha statue. It sits at the far end of the temple up in a hill.
Also, on demographics, the most prominent religion in South Korea is Buddhism. This is followed by no religion, then Christianity and then other religions. This evidenced by the number of Buddhist sculpture collection you can visit at the Korean National museum too.
Bongeunsa Buddhist Temple opens from 5am to 9pm daily, with Cheongdam Subway being the nearest via metro right in front of the temple.
Seoul Demographics
Cars and buses are modern and shows the affluence of the Korean economy and people. Also, during my trip, there were no homeless people seen living about the street, albeit a small handful of beggars stationed around the transport hubs.
Social welfare, despite the bleak story typically painted or dramatized by Korean movies and dramas, like Parasite for instance. Demographically, still, the rich poor divide is something still existing in South Korean, much shared by fellow locals. But it is contained well and you can't find homeless people on the streets. I would position, Seoul between Taiwan Taipei City and Tokyo, Japan other capital cities in east Asia.
Also, much of the unspoken power in the country also lies in their Chaebol industries. Examples include Hyundai, Samsung and SK telecom. These conglomerate can be credited for uplifting South Korea from destruction after the 1950 Korean war to one of the top nations in the world in terms of GDP.
The Chaebol provides for literally very daily needs of the Korean people. This range from markets, telecommunications, transport, insurance and even recreational theme parks, on top of just selling cars and handphones as most consumers would relate.
Interestingly, even when roaming on international Sim cards, you will receive emergency "wartime alerts" on your phone via SMS in south Korea. But do not be too alarmed when you receive these messages. This can include alerts to take cover from provocations from the north, to missing persons alert in your district.
Visit Museums on Korean war history, and DMZ
Besides, shopping, Seoul is home to a couple of world class museums. The Korean National museum and Korean War Memorial gets my recommendations. The best part is that most of these museums are free to visit. The Korean War Memorial covers most Korean war history.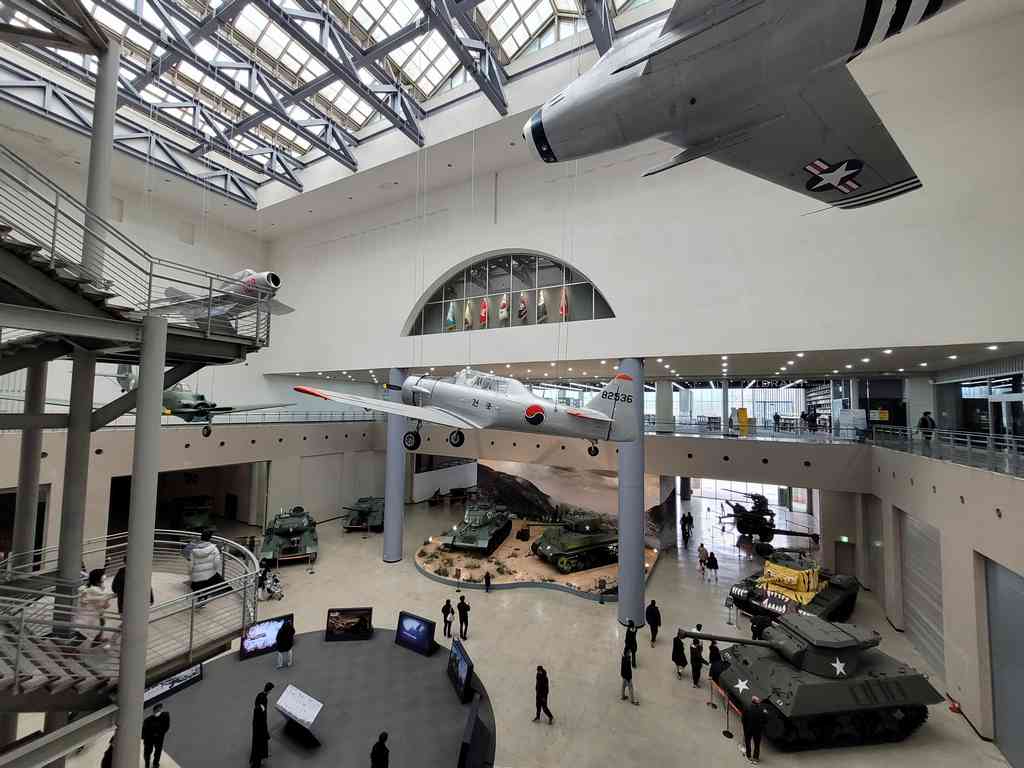 This is illustrated by galleries of historical artefacts and equipment used in the 1950s Korean War between the North and the South. If war history is your fancy, especially the 1950s Korean War resulting in the separation of the Koreans today into the North and South, you can visit the Odusan Unification Observatory, as well as the De-militarised zone (DMZ) at Imjingak, Paju situated about over an hour drive North of Seoul city.
Not including the Seoul palaces, which are essentially life Josen-era museums themselves, the National palace museum at Gyeongbokgung Palace is a small one you can visit 1-2hour. It covers items found from both Gyeongbokgung and Changdeokgung palaces. The palaces are typically open 9am to 6pm and closed on Mondays.
Walk along the Cheonggyecheon Stream
An interesting city feature in Seoul is the Cheonggyecheon Stream. It is a modern public park and waterway that runs through the heart of downtown Seoul. It stretches for 11 km from Cheonggye Plaza all the way into the west to Dongdaemun district in the east.
Notably, the stream was converted from a regular city canal with lit elements. Also, the entire canal itself, serving a a storm drain can be completely flooded. Also, the stream has a long history, dating back to the Joseon Dynasty (1392-1897), when it served as a major transportation route for goods and people. However, in the 20th century, rapid urbanization and industrialization led to the stream becoming heavily polluted and covered with concrete.
In 2003, the city of Seoul launched a major urban renewal project to restore the stream and its surrounding areas to their natural state. The project involved removing the concrete cover, restoring the waterway and its ecosystem.
It created a pedestrian-friendly park space along the stream banks. Notably when walking along, you would notice wall-side signs and escape routes lined along the canal for escape on high rides. Not that the stream that was needed on my visit in winter.
The Cheonggyecheon Stream restoration project was completed in 2005. It quickly became a popular destination for both locals and tourists. The stream and its surrounding park offer a peaceful escape from the hustle and bustle of the city. It provides a beautiful natural environment that is rare in such a densely populated urban area.
City Historical sites
You might notice a couple of peculiar looking grand arches throughout the city. One notable one is the Seoul City Wall Trail near the Dongdaemun Design Plaza (DDP) in the Seoul Dongdaemun district. These were used to be part of the gates into palace grounds. Notably the city is also home to a number of Korea Palaces which dates back to the 14th century and Josen dynasty.
The city hall and Gyeongbokgung and Changdeokgung palaces are places worth visiting during your stay, with change of guard parades conducted outside on public ground typically around the 2pm time. Notably, Changdeokgung Palace was built by King Taejong in 1405. Additionally, Gyeongbokgung (Palace Greatly Blessed by Heaven) was built in 1395.
Also, this was three years after the Joseon Dynasty was founded, and it served as the main palace for more than five hundred years. Notably, most parts of the palace were destroyed and burnt down in a great fire in 1876. Also, the fall of the Josen empire saw the new widespread adoption of Confucianism where we start to see a shift in culture and religions.
Moreover, the palaces is situated near major Seoul shopping districts. Also, the Bukchon Hanok Village (a 14th century Korean village) you can check out in the heart of town. Also, the Daehanmun palace near city hall change of guard parade complete with an inspection, change over ceremony and drum beating on traditional Korean drums.
If you like ramen with Dumplings, the Myeongdong Kyoja Main Store here at the Myeongdong district is one worth checking out. It is located near and walking distance from Seoul City hall where the Myeongdong night market sits. It is a popular lunch place with an accolade of Michelin stars.
Getting around Seoul and outer Seoul region
Moreover, while the Seoul metro is the best way to get around the city center. Also, subway rides are affordable in Seoul. Fares start from 1250 won (About S$1.20) and sometimes 1800 per ride on longer lines.
Also, unlike per-ride charge in US, Seoul public transport transfers between lines, buses and trains during your ride are also free. Just remember to tap out your transit card when a lighting from the bus.
However, trains out of Seoul city is another different matter. They are less reliable and more infrequent on the overground, and more confusing to navigate. For instance, on some stations, (like like digital media city) multiple platform serves the same train line but at different timings. Hence, it pays to check the rail timetables pasted on the platform.
Use their T-Money Contactless card
Moreover, you can get around using the South Korean T-money card. It is a pre-paid contactless transport and general cashless card similar to Singapore's EZ-link, London Oyster card. Also, you can obtain one from vending machines at the airport. It is also the card of choice when you choose the Korean tourist card. You can top up your card using cash via the top up machines at subway stations or card via the T-money app.
Buses are more efficient
On my explorations, I found public transport buses are more reliable. Buses are one of the most popular means of transportation in Korea. Even exceeding the popularity of subway trains, where their reach is limited outside the city.
Also, bus services are offered with a mix of long distance buses, typically have a "thousand series" service number like 2200 which runs from Kintex to Hongdae. Also, there is a 6000 series service numbers from Hongdae to Gimpo area.
Furthermore, the buses typically make runs through city centers before plying the highway between connecting towns they serve. Additionally, buses are also the preferred mode of transport to more remote national parks. Notably, N Seoul tower is served by an electric bus service, bringing you to the tower into a protected greenspace right in the heart of Seoul.
Moreover, I found their bus arrival timings very well integrated within Google maps. An app I would recommend using in top of their official Kakao Transport app. Also, Airport connectivity to Seoul is pretty good too.
Additionally, on getting to the airport, taking a metro train from Ichonen Airport is recommended. Also, a journey by train takes about 60 minutes to reach the ICN terminal 1 station from Central Seoul station on the blue airport line operated by Arex train company.
Railways are recommended and affordable way to get to central Seoul. At 6000 won, it costs half the price than an express train or bus. Also, it takes about an hour tops to central Seoul station despite stopping at every stop along the way. There is also a 43 mins express train but costs extra, and not really worth the faster 10-15 minutes.
Wrapping up
Lastly, wrapping up with some other interesting miscellaneous sights to check out just on the suburbs outskirts of Seoul. Examples include areas in Gimpo and Goyang region includes the Gimpo Laveniche March Avenue and Department Store Kintex. Also, these buses are very efficient in transporting you in and out of points of interest out of Seoul City.
Additionally, the thousand-series bus numbers can bring you from Seoul to Goyang region, in the 60 to 90mins range depending on highway traffic. Here you can check out points of interests on the suburbs in Gimpo and Goyang, such as the Hyundai Motorstudio and the nearby Ilsan lake park with picturesque gardens, pavilion, mini zoo and frozen lakes.
A place to check out in Gimpo will be the Gimpo Laveniche March Avenue canal. It is a nicely themed food and beverage night hangout area with restaurants, coffee shops and eateries lined along a storm canal.
Also, the shope here in general opens till late. The area is a quiet place for a dinner and a coffee or two. Interestingly, the lake was frozen a crystal white sheen on my visit.
All in all, in summary, Gangnam district is a dynamic and trendy neighborhood in Seoul, South Korea, offering a mix of modernity, K-pop culture, luxury shopping, and natural beauty.