Lotte World Adventure Theme Park is a large urban amusement center with roller coasters and thrill rides located right in the heart of Seoul City. If you are a thrill seeker looking for a place that offers a mix of excitement, adventure and family-themed rides, Lotte World Theme Park in Sincheon-dong, Songpa, Seoul, is a place to be. Let's take an explore of the theme park today.
Part of the Lotte entertainment empire
Furthermore, Lotte World Adventure is owned and managed by Lotte Group. They are a South Korean conglomerate headquartered here in the city of Seoul that deals in the business of entertainment and hospitality.
Notably, they are quite the household name. You might know the of the Lotte brand for its confectionery goods and duty-free stores in Singapore. Also, the group has diversified its business interests out of food and ventured into the entertainment, insurance and hospitality industries where this theme park is part of.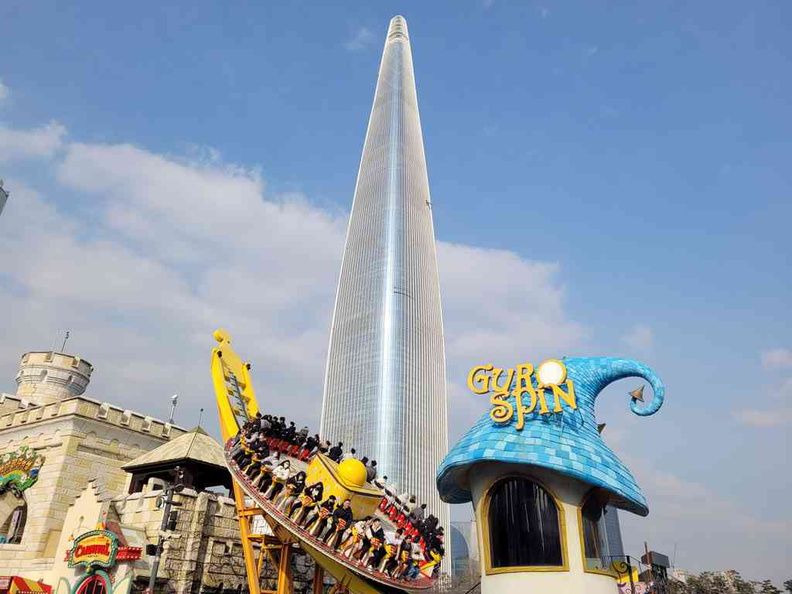 On the background of the park, Lotte World Theme Park opened to the public on April 3, 2017. It offers a mix of thrill and family-themed rides. The park is situated in the Jamsil district near Gangnam, and is accessible, connected via the Jamsil Subway. Also, the Lotte World Tower is also located in the same district and is currently the tallest building in South Korea and the sixth-tallest in the world.
Additionally, the park has 2 main entrances entering into the indoor section of the park. Do note that re-entry after exiting is not permitted. Hence, you should take extra caution when using multi-attraction tickets requiring you to exit the park grounds.
Two worlds of fun
Moreover, the amusement theme park has both an indoor and outdoor section, called the Magic island and Adventure sectors respectively. Also, the indoor section top floor and event area has a green garden theme. It gives visitors a forested fantasy world feel, while the outdoor section has a fantasy castle theme that adds to the overall adventure and fantasy theming of the park.
The theming of each sector is unique and adds to the overall appeal of the park. Additionally, the adventure sector lower floors have an ancient temple feel, complete with rocky temple walls and hanging green vine. It does instill a sense of adventure.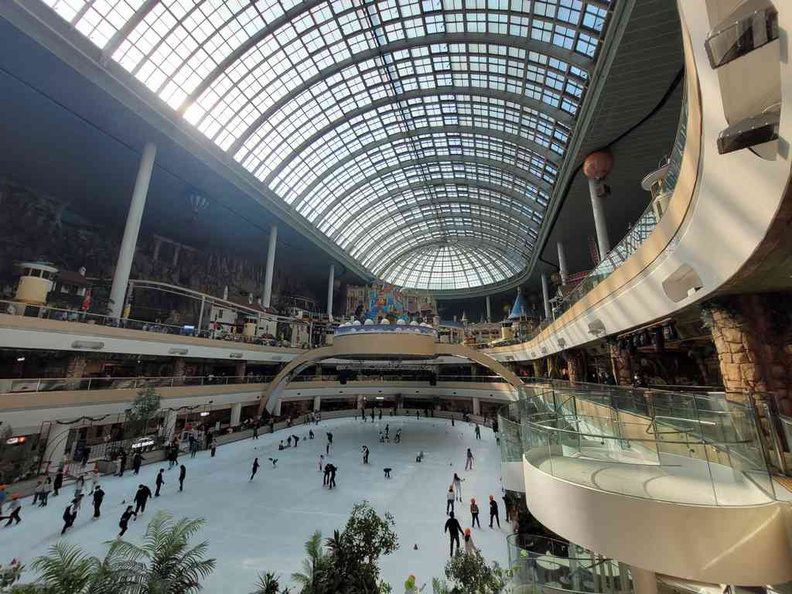 Also, the park in physical size is not very large. But it has enough attractions packed within it's walls to keep you occupied for an entire day, less the time wasted in queues. I find the ride split is 60-40 between the indoor sheltered dome and the outdoor island area.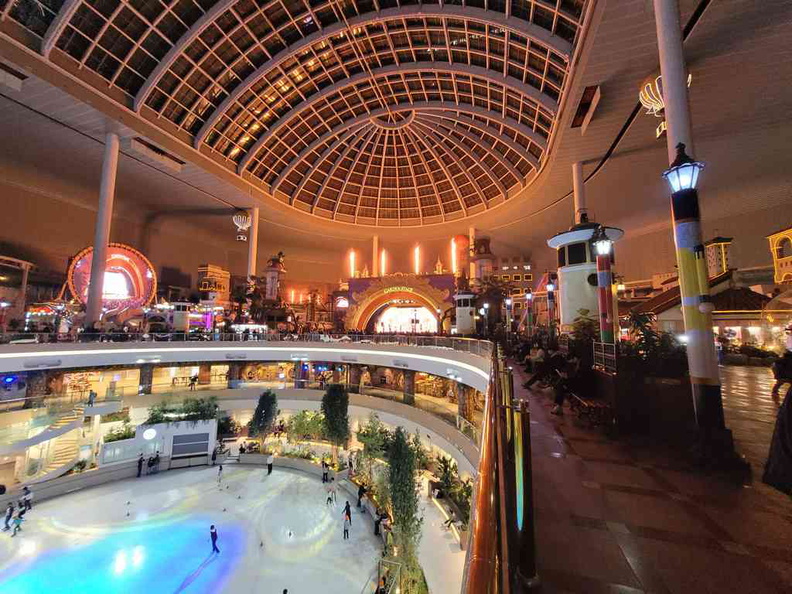 Additionally, this vast indoor dome is sheltered from the elements and illumination during the day via its vast skylights. There is also a main stage here where you can catch daily pyrotechnic dance and performance with a parade. Moreover, this sector is where most of the family and children friendly rides reside.
Aeronauts is a unique scenic hot air balloon themed ride which encircles the park indoor area, offering an overhead view of the park. It is a good alternative to the monorail travel ride which travels outdoors too. Also, the Aeronauts is suitable for families with children who are looking for a fun and less intense experience.
Roller Coasters
Furthermore, the park has two roller coasters, one placed indoors called the French Revolution and another outdoors called Atlantis Adventure. The custom steel coaster made by Netherlands-based Vekoma takes you through a simulated French Revolution, featuring drops, twists, and turns that simulate the watershed event.
Also, impressively, the indoor coaster loop passes through a small animated town and even circling a path walkway. The ride is suitable for thrill-seekers who enjoy roller coasters. The French Revolution roller coaster runs through the park interior. At times you can hear the roaring thunder of the coaster as it makes it way around the various floors in the park's indoor section. It has tad the feel of the coaster in Cosmoworld in Berjaya Times Square, Kuala Lumpur.
Moreover, key rides here at the outdoor Magic island include Atlantis Adventure. It is an outdoor roller coaster that takes riders through a water-themed castle in the likes of the underwater city. It features multiple inversions, twists, and steep drops suitable for both thrill-seekers and families who enjoy roller coasters. This is attested by the snaking long queues to the popular roller coaster ride, which can be seen snaking blocks away from the ride entrance.
Thrill Rides
The indoor section has some notable rides, Conquistadors viking ship and an Egyptian ride called the Pharaoh's Fury. I found the Pharaoh's Fury indoor ride another nice adventure ride which fits the adventure sector theme. I find the Pharaoh's Fury is an exact clone of Disney's Indiana Jones Temple motion tracked ride through an Egyptian themed area. You might have seen a similar carbon copy at Disney Sea in Japan.
Wrapping up the thrill rides is the Conquistadors swinging viking ship ride. The ride is designed to look like an ancient Egyptian boat. It is suitable for families with children who are not quite ready for the more intense rides.
Outdoor rides
Moreover, the outdoor section features a mix of spinning and drop rides. It is a small island surrounded by water in a lake. You access it via the mall area crossing a road bridge into a Disney Cinderella castle look-alike decorated with stone lions.
Also, this sector is themed after a magical fairy tale island surrounded by water with some castles offering a walk-through attraction of sleeping beauty and home to a small indoor arcade. Here, you can find children-friendly rides such as a chair swing ride and an ocean-themed carousel. Notably, the Atlantis roller coaster and the Gyro Drop are the highlight rides of the park.
Also, the Gyro Drop is also another thrilling and popular ride in this sector of Lotte World. It is one of the two outdoor free fall tower rides here in this sector. Here, you strap into a gondola taking you up 70-meters vertically before suddenly releasing you from the top. Also, it offers a panoramic view of Seoul city from the top, and it is suitable for thrill-seekers looking for a rush of adrenaline.
Lotte World Let's Dream Parade
Furthermore, the Lotte World Dream Parade is a highlight of the park and runs twice daily at 2pm and 8pm. The parade features the park's mascots, two raccoon dogs named Lotty and Lorry.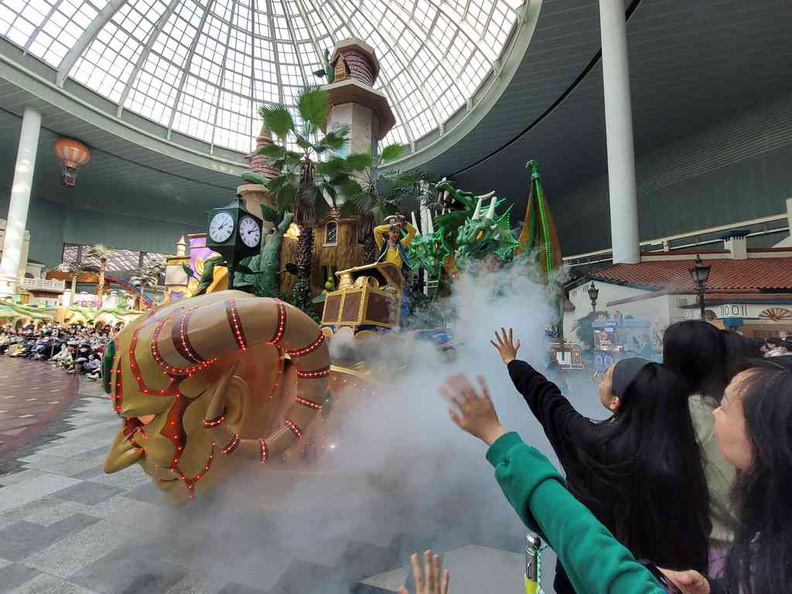 The parade comprises a mix of ground human dancers, costumes, and motorized floats that make their entrance into the second floor of the theme park, which runs in a full-ring circle with a main stage. The show lasts for about 20 minutes and is played over a soundtrack that helps visitors "realize your dreams".
Lotte World Tips and tricks
Furthermore, when planning your visit to Lotte World, it is good to avoid peak weekends and public holidays where the crowds are huge. You might spend more time queuing up the entire day than going on rides. Also, not all rides are free. Rides like go-karts are payable extra and requires tickets to enter.
Additonally, it is worth noting that queuing is quite the Asian pastime and it is no exception here at Lotte world Theme park. Here, queues on popular attractions like the French Revolution roller coaster can go up to over 2 hours.
Hence, be prepared for crowds. To avoid long lines, it's a good idea to arrive early in the morning or later in the evening. Also, you could technically "buy your way" through the queues using Lotte world's version of the Express pass called the Magic Pass. Additionally, be sure to wear comfortable shoes and clothing. You will be doing a lot of walking and possibly some water rides.
Moreover, do take advantage of the Lotte World app for information around the park. It provides up-to-date information on ride wait times, show schedules, and other important details. Though I didn't get to use this feature on my trip. The app also allows you to purchase tickets and make restaurant reservations, allowing for a more seamless and convenient park experience.
Snag discounted ticket prices
A walk-in day ticket costs around 62,000 won (approximately S$60 SGD). But I would recommend pre-purchasing your tickets online through Lotte World website or through third-party ticket sellers like Viator to get a better deal. Discounted tickets generally cost 42,000 won (about S$42), almost a 30% discount through these channels.
Also, the park offers half-day 50,000 won discounted tickets for entry after 4 pm. This leaves you about 5-6 hours in the park as the park typically closes at 9pm on the dot. I would still recommend the cheaper online full-day 42,000 won ticket.
Secondary attractions here include the Lotte World Aquarium, located in the basement level of Lotte World Mall. This aquarium is often offered as a day bundle in addition to your Lotte World park ticket too. The aquarium showcases a wide range of marine life, including sharks, rays, and tropical fish. It has a touch tank and a 3D theater that shows underwater documentaries.
A self-contained theme park
In addition to the theme park, you can take a break from the rides and attractions and enjoy some shopping at Lotte World Mall. The mall boasts over 1,000 shops and restaurants. It is one of the largest shopping centers in Asia. Here, you can also catch a movie at the movie theatre, a game of bowling at the bowling alley or head up the Sky31 food court for a quick meal.
Also do note that no theme park re-entry is allowed, so you are pretty much stuck in the park for the entire day. Good thing the park has a large number of food stalls, some operated by franchises, kiosks and free toilets that provides for your stay within. This range from small snack stores to food courts. The food is priced very reasonably too with a price premium in the 10-20% range. This is unlike 200% overpricing in most American theme parks like Disneyland and Universal studios.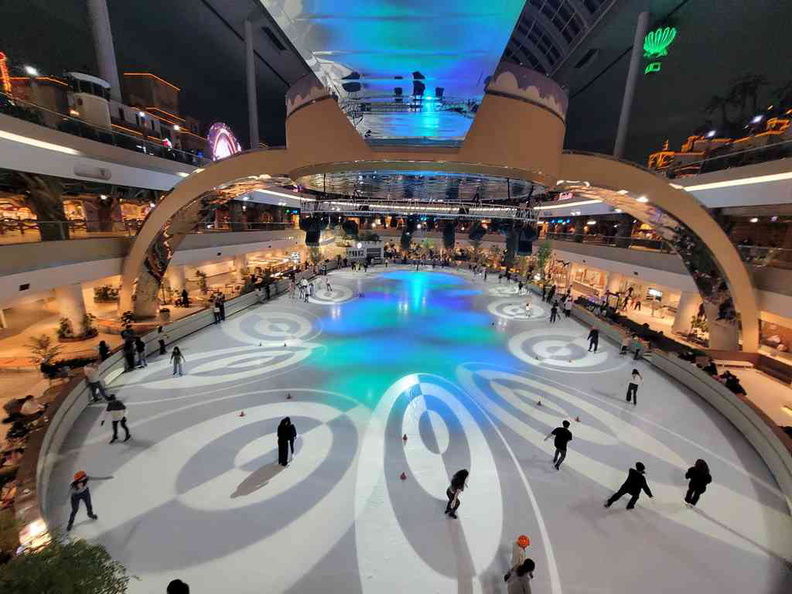 Wrapping up
Also, Lotte World offers a variety of seasonal events and attractions throughout the year. During the summer, you can visit the Water Park home to range of water rides and attractions. This is in addition to annual special events during major holidays. Examples include Christmas and Halloween specials, where the park is often themed to the festive, with event-specific themed decorations, costumes, and performances.
That wraps up our explorations of Lotte World theme park. All and all, Lotte World Theme Park in Seoul offers a variety of thrilling rides and attractions that cater to both thrill-seekers and families with young children. You do need an entire day out here in the park, owning to a large portion of your time also spent in the long queues.
Though there are many other bigger and better theme parks in South Korea. I reckon none offers the curation and convenience Lotte World adventure brings to the table right in the heart of Seoul. The park offers a good mix of indoor and outdoor attractions rides for thrill-seekers, and tamer rides for families with young children, there is pretty much something for everyone, making it a great destination for a fun day out.