Tokyo Disneysea is a themepark located in the city of Tokyo, Japan. It is one of the two Disney parks here in Tokyo comprising of 6 main sectors, themed to a Seafaring element. Located right in the heart of Tokyo, the theme park is one of the must-visits if Theme parks are your thing. Let's check out Tokyo DisneySea theme park with a whole day visit. Let's explore!
Furthermore, Disney Sea is a sister park to the main Tokyo Disneyland park. The main park itself is a full by itself. It is tad synonymous to other Disney sister parks like Hollywood studios in Paris and Disneyworld Orlando. Also, having said that, it is like a Japanese version of Walt Disney world in Orlando, which I won't be covering in this write-up.
Getting there
In comparison, Tokyo DisneySea is a park unique in the world. It is also one of the few better-themed Disney parks. Various sectors of the park are laid on the perimeter of the park, with the centre being a large man-made lake.
Moreover, on getting there, both Disneyland parks are located on the eastern side of Tokyo. Also, they are highly accessible via a direct train ride along the JR (Japan Railway) Keiyo Line or Musashino Line. You get off at Maihama Station.
Furthermore, the station exit has a shopping complex area and a monorail station which you take to your theme park of choice. DisneySea plaza, a vast courtyard and globe fountain greets you at the entrance where the ticketing counters are. Entry is a breeze. On a typical weekday, there is even hardly an entry queue.
You enter into an open courtyard themed with mud-brick like Mediterranean-styled buildings. Additionally, the Mediterranean harbour sits in front of a large man-made lake with the highlight icon of the park, the volcano of Mount Prometheus on the Mysterious island sector of the park.
At night, this large open man-made lake is where the nightly Disney Fantasmic light and water show is held, as well as closing fireworks. I shall touch on these later in my adventure.
American waterfront
American waterfront is an olden day like town New York town area themed with a pier side waterfront. Also, the area complete with a mock-up cruise ship callled SS Columbia which is a facade of a restaurant (SS Columbia dining), as well as the Turtle Talk attraction.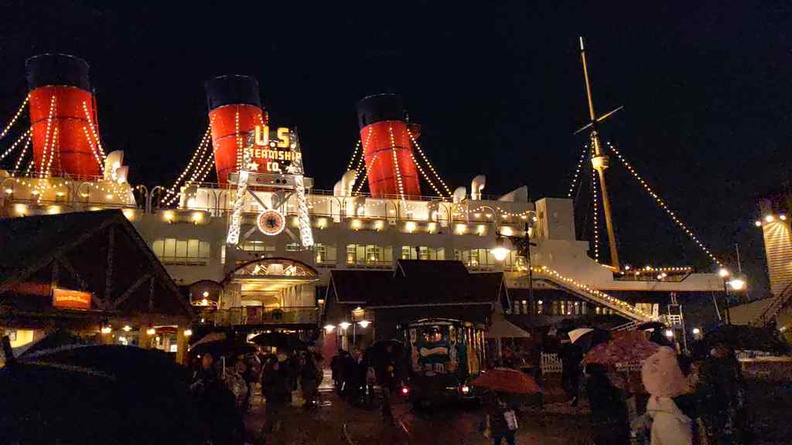 The ride to go for here is the Tower of Terror. It is a generic ride name given to all of Disney's vertical drop tower ride which plunges riders as a free fall ride.
Also, this one of the newer variants of Tower of Terror. Here, it lacks the horizontal transverse track element as seen in Hollywood studios Orlando. Notably, the ride system is tad similar to the tower ride in Disneyland Paris Hollywood studios.
However, unlike the twilight zone ride story we come to know, the ride here has a unique story line for the Japanese audience. Also, it revolves about a businessman who had in procession a cursed voodoo doll which haunts the tower and its guests.
Other than that, the ride is exactly like the ones we see in Europe and US. Moreover, the ride loading area is in a basement themed area. Here, the gondolas undergo a random drop sequence with at least 4 straight drops.
Mini Venice section
Also, adjacent to the Waterfront is a nicely themed Venice section. It is home to only a Venetian gondola ride, cafes and that's just it. However, it is a pretty minor sector tucked behind walls.
Moreover, this area is a pretty minor sector hidden from the main street. It is rather quiet too with the only ride being the gondola boat ride. Also, there are some quirky deco items such as paintings offering nice photo opportunities.
Additionally, Toy Story mania is also a Japanese favourite here. The Japanese simply love the Toy Story franchise. Notably, the queues speak for themselves with lines going up to 90mins at a go. It is a virtual shoot-up game set to the Toy Story universe.
Additionally, the sector is noticeably small and standalone, with the lack of the Andy playground rides as in Disneyland Paris and Hollywood studios with a dedicated Toy Story sector.
Also, the ride uses 3D glasses which you go about shooting virtual objects on screens. It is unlike Buzz Lightyear's Space Ranger Spin ride with a similar gun system, but this one is fully virtual.
Crazy popcorn flavours
One of the delightful things I love about Japanese Disney parks are their crazy flavoured popcorn. I find they are one of the main attractions in its own right.
Fancy shrimp or black paper flavoured popcorn? It's the real deal here and tastes like it too. I didn't know you can make popcorn taste so good.
At times you can hear the rumble of the Disney Seas electric railway here. This people-mover tram ride which runs on the overhead viaducts here. The transport ride links this sector to the Port discovery sector. Rides here in Port Discovery includes the Aquatopia ride.
It is like a mini Tomorrow land or sort. The park is very compact, but nonetheless follows a rather logical layout in a circular fashion which can be covered in a day.
Additionally, the more kiddy sections of the park includes the Mermaid lagoon and Arabian coast, each with their own set of family rides such as Jasmine's flying carpet, and performance stages such as the  Mermaid lagoon theatre and Magic Lamp theatre with their live shows respectively.
Mysterious Island Mount Prometheus
Furthermore, the Mysterious island is one of the most impressive and well-themed areas of the park. A large Volcano (Mount Prometheus) sits center stage. Also, the volcano "erupts" at regular intervals by spewing smoke, light and noises. It looks great at night.
Journey To The Center Of The Earth
Notably, the volcano is the showboy and where the Journey To The Center Of The Earth ride resides. Here the ride here in Tokyo DisneySea is a car speed way ride similar to the Epcot Test track, with the cars themed to steam punk transport vehicles.
Moreover, Journey To The Center, in typical Disney fashion has an excellent story-telling element with a detailed themed ride queue, loading and track theming.
Also, you ride through so-called underground caverns before meeting an underground monster where your ride car transitions from a slow ride into a face-paced dash with drops and turns.
Additionally, here, you can find the basement broadwalk leading into the ride entrance of 20 Thousand Leagues Under The Sea. It is a small suspended slow family ride with brings you "under water" to explore the depths of the ocean. Notably, it is tad like Peter Pan the ride with an underwater theme. Similarly, a steam punk style gift shop and broadwalk area can be found in the crater.
One of the best sights in Tokyo DisneySea
Also, at night, the lighting in the crater transforms the sector into a busy expedition digging area, with lots of working lights. Additionally, if you were to ride the park's ferry boat, it passes right through this lost crater, offering some really great photo opportunities.
Also, docked in the crater is a steam punk style "sea wolf" Submarine as seen in Disneyland Hollywood. Though most of the items here are props I find the lost crater is probably one of the best you can find a theme park.
Magellan mystical restaurant
Additionally, by Mount Prometheus is a medieval castle. The castle is an interactive walk-through Fortress exploration exhibit which you can explore at your own time. It is located just before the entrance to the Mysterious Island and looks like a fortified castle complete with fountains.
Within the Mediterranean harbor castle, you can find a small cafe selling snacks and drinks and a really cool restaurant.
Also, it is an impressive restaurant, Magellan selling full-rouse meals and wine reside here. It is worth a visit just for the fantastic theming, check it out!
Moreover, if you wish for something tad less lavish and affordable, I do recommend the Restaurant Sakura in the Waterfront sector. Notably, they serving affordable tempura and other Japanese cuisines.
Fortress exploration
Additionally, back to the Fortress exploration exhibit in the fortress building is one of the few less-visited hidden gems of Tokyo Disneysea.
The fortress is an explore at your own time attraction. It comprises of several display elements and physics demonstrators to teach about physical mechanics, astrology and even nautical navigation. Moreover, there is even a starry sky room which you can hand-crank to watch each of the planets rotate about our solar system. At the end of the exploration is a top viewing deck with nice overall views of the park Lagoon.
Indiana Jones river delta
Furthermore, in the far end of the park is a jungle themed area to that of the Indiana Jones franchise. Two notable rides reside here. Here, one is the awesome Indiana Jones Adventure of Temple of the Crystal skull and other a looping outdoor roller coaster themed to an ancient temple called Raging Spirits. Both rides are very well themed to the jungle theme.
Moreover, notably, the Lost river delta park sector is a thrill-seeker area. Also, you cross the bridge into a jungle expedition area complete with downed aircraft.
Here is also where you can find one of the two Transit steamer line boat boarding areas. A ride from here brings you across the lost crater to the main town entrance at the Mediterranean harbour.
Working the Fast passes
Additionally, fast passes are a quick and free way to snag short queuing times on park without having to deal with hour long waits. Also, the strategy is to visit the fast pass station all the major AAA rated rides you wish to ride when you enter the park.
Notably, rides like the Journey To The Centre Of The Earth and Toy Story Mania are known to run out of fast passes even by midday. Hence, it is good to keep your entry park ticket handy at all times. Scanning at the machine will give you a return ticket which you can return to the ride at a stated timing.
Fantasmic
Lastly, wrapping up your visit to Tokyo DisneySea is Fantasmic. The water and effects show utilises the park's central lake as a showpiece complete with various Disney characters on lit floating boats and floats.
Also, like the Fantasmic we come to know in Orlando, with a battle of good (Mickey mouse) versus evil (Disney villains) and a large animatronic dragon. Additionally, the show ends with a string of fireworks half which runs half and hour before parking closing.
Notably, the park opens from morning till a commendable late time of 10pm. However, do note that rides start to close and stop accepting new riders half and hour before park closure time.
In conclusion, Tokyo DisneySea is an outright fully enjoyable Disney park of its own, with a similarly priced entrance fee to the main park. Also, you will need an entire day to explore it in entirely and definitely one of the happiest places in Tokyo for sure. A must visit when you are in town.