Hyundai Motorstudio Goyang is an automotive museum in South Korea, showcasing Hyundai's past, present, and future innovations. It is both an attraction theme park and a car showroom all in one, with a number of exhibits which are both educational and entertaining. Let's check out Hyundai Motorstudio attraction in the flesh.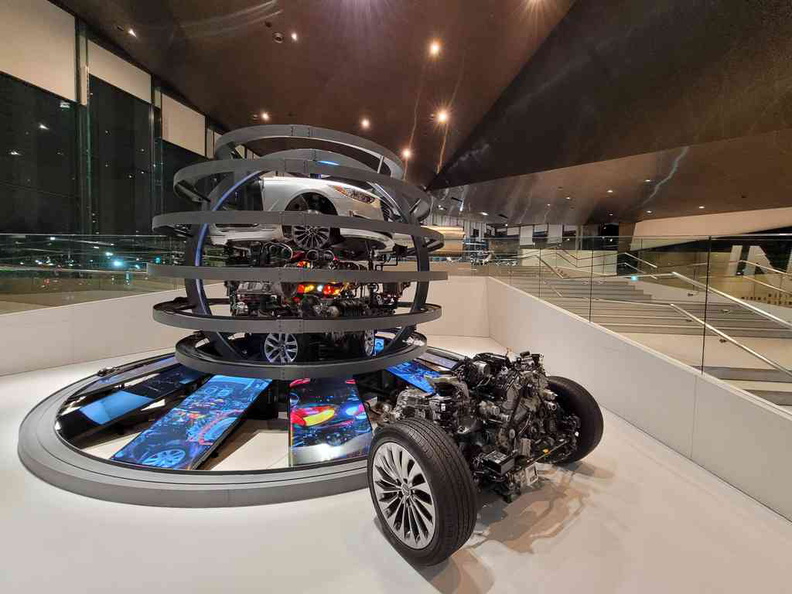 The Motorstudio is one of the many showcase studios the car maker Hyundai uses an automotive showroom and showcase of the Korean car maker. One such establishment is this one in Goyang, Korea. The Motorstudio is an unlikely point of interest you can visit during your stay in South Korea, not just limited to Seoul City. Also, don't let the Hyundai name fool you into thinking it is more car showroom than an entertainment and attraction, it is more of the latter.
A motor showcase
Interestingly, Hyundai Motorstudio is also labelled as an amusement and entertainment center. Moreover, you can enter the showroom section of the Motorstudio for free. Here, you check out the various Hyundai and luxury sister brand Genesis car makes and models. There is also a test drive zone outside which you can pick up a car to test from the showroom carpark, though not essential as part of the experience unless you are planning on buying a car here.
Furthermore, there are about a range of 20 over cars for you to explore and sit in the showroom without any distractions from sales staff. Who will attend if need you assistance, but you are often left alone to explore the cars at your time. Notable cars here be Hyundai's new ionq electric range, such as the ionq 5, as well as their Nexo hydrogen fuel cell car.
Also, if you are up for it, there is also a goods Truck here you can climb aboard and explore the European style sleeper cab. Interestingly, the Genesis car models, especially the G80 and the high end G90 are also on display for your viewing pleasure.
A manufacturing journey
The highlight of every Hyundai Motorstudio is a guided tour of manufacturing and technology innovation tour. For 10000 won (about S$10), you are brought through a 1 hour guided showcase of Hyundai's various technological presentations split over zones covering Vision, Heritage, Dynamism, and the Arts.
Also, these tech also which goes into and implemented in Hyundai cars. This includes manufacturing processes, safety, eco drive trains and Hyundai racing on their N-range of rally cars.
You start off entering an extended area of the showroom. You can touch raw production materials like iron ore which forms the key ingredient of mild steel, as well as steel alloys used in modern cars. Also, you can "operate" a hydraulic press, which through some switch-a-roo and sound Trickery give you the impression you had formed metal.
A couple of automation robots demonstrate the tact welding, painting and assembly sections of manufacturing the car. The interactivity like the metal presses on display are somewhat similar to the Toyota Commemorative Museum of Industry and Technology we previously visited in Japan.
Safety and propulsion technologies
Thereafter, your guided tour brings you through the safety engineering elements, from educating on the role of airbags for crash safety. There is also a video on purpose of crash test dummies and crash testing to make Hyundai cars safe.
Next up is an Eco-friendly, and green car technologies showcase. It is also an interactive one, allowing you to drag and drop various car components and power train cube blocks to activate different component parts of a hydrogen car drive train on an animated screen to power-up a hydrogen car and make it move.
Also, this interactive gallery leads to a showcase of their Nexo model of hydrogen cars. Notably, Hyundai's Nexo range of cars are already a mass-produced car available in the Korean market, affirming Hyundai's commitment to alternative sustainable fuels.
The last part of these tech showcase is a concept car cubical. Here you sit in a mock-up of a smart car which can drive itself and has space for 4 seats which can move independently from each other between commute or meeting style arrangements within the car's interior.
The seats can move around in a conference table layout where you can interact with an animated table. Also, there are two of these cubicles which entertain guests in this sector at any given time.
Automotive Motion Art
Next off you head into one of two displays highlight showcase of automotive-inspired  art in motion. The first is a quirky motion activated vertical light bars which are individually activated to raise out of the ground when you approached it when traversing the open space. The technology is not fool-proof and times you can trick the system into moving into limits.
Additionally, the second art exhibit is a mechanical flow art using a matrix of individually actuated poles which moves vertically up and down to form shapes. Also, the art display paints a flow of qi, elegance and are motion sensitive too, which animates based on your presence. It is tad like a kinetic rain art sculptures we saw at Singapore Changi airport Terminals.
Sports and rally zone
You wrap up your tour with a self-guided portion through the Dynamic zone. It offers interactive driving experiences, including a driving simulator and a 4D theatre. You can find a work-shop style of car parts placed beside actual cars here running along a track.
Here, you be introduced to Hyundai's foray into the world rally racing with a showcase of their N and performance car division. "N" to Hyundai is synonymous to TRD for Toyota, STI for Subaru, AMG for Mercedes and M-division for BMW in the motoring world, tad their in-house tuning a and motorsports division.
Wrapping up this sector is a 4th Dimension motion theatre show, putting you through the rally course route with an i20N rally car. It is a showcase of the manufacturers N series such as the Elantra and i20N. There is also a Virtual Reality gaming simulator where you can have a go driving a race car on a track.
Wrapping up, your tour ends at the museum giftshop, before exiting back into the main lobby showroom area. Here, the shop sells an assortment of officially licensed cards, posters, apparel and model toys. Something to bring home memorabilia your trip here to the Motorstudio.
All in all, you are good at Hyundai Motorstudio for about 2 hours tops, including the guided tour and self-guided tour section. It is not quite what you call a typical car showroom. It is both educational and entertaining like a museum, a rather unlikely find for a car showroom by a car manufacturer. Definitely an interesting point of visit during your trip in South Korea.