Belkin is known for creating innovative gadgets on top of their regular suite of well-known peripherals, cables and chargers. Today, let's take alook at their Belkin SoundForm Rise Wireless Earbuds with a review and test, taking a closer look at the device first impressions, quality, and a rundown test using the wireless earbuds as a daily driver.
Quick lowdown- Belkin SoundForm Rise Earbuds
Good sound quality, with tight bass response
Excellent week-long battery life
Capacitive touch controls for music and calls
USB-C charge case with Qi wireless charging
Affordably priced when on sale
External impressions and Packaging
Moreover, the packaging of the Belkin SoundForm Rise Wireless Earbuds (AUC004bt) is straightforward and made using sustainable materials. The cardboard box contains the earbuds, charging case, USB-C charging cable, and a user manual. Printed on the box are key specifications, and are easy for customers understanding.
Also, the Belkin SoundForm Rise Wireless Earbuds feature a premium look and feel. The earbuds come in white, black or dark blue colour options. The earbuds themselves have a glossy finish that gives them a stylish and understated appearance. Also, the earbuds fit comfortably in the ear and do not cause any discomfort or irritation.
The earbuds are IPX5 water environmentally sealed and is sweat and splash resistant, offering protection in workouts and weather. Do note it is however, not waterproof, so no showering or swimming with them. The earbuds sides have a touch-sensitive panel that allows you to control music and calls with a simple swipe or tap. More on that later.
Wireless-Qi Charging Case
The earbuds come packaged with a minimalist and conservative design, starting off with the case which does as a dock and charging base for your wireless earbuds. The case is a simple squarish box with well-rounded corners. It has a matte finish and a discreet Belkin logo on the lid. The case is compact and fits comfortably in a pocket or bag, though it sits on the larger side in volume and size compared to Apple Airpods or Galaxy Buds charging cases.
The included wireless case allows you to recharge the earbuds quickly and easily. Also, the lid is held down by magnets which stays firmly closed even held upside down. The front of the case also has a single LED light that indicates the battery status and pulses white when charging the case.
Additionally, an interesting feature of the case is availability of Qi Wireless Charging. An added touch typically found on premium ear buds, allowing you to charge the case by popping it on a standard Qi-compatible watch or phone charging stand. However, it does make the charging case tad larger than the competition.
Also, the earbuds fit perfectly inside the case and are easy to remove and insert, going in one-way via a clever arrangement of magnets between the buds and the groves they sit in. This also reduces guesswork of inserting them incorrectly, and prevents you from mixing up the Left and Right channels.
Commendably long Battery Life
The Belkin SoundForm Rise Wireless Earbuds sips battery and has an impressive battery life. Belkin claims 31 hours of combined battery life. This battery life is split with up to 5-7 hours of playtime on the earbuds itself on a single charge, and an additional 24 hours of battery life supplemented by the charging case itself.
With an hour commute each day and charging the headphones once a week, I never had an issue of the earphones running out of juice. Also, the charge case LED flashes orange when battery charge is at least 50%, and red if below 50%. Also, the charging case supports fast charging via a USB-C cable. If you are in a rush, you can get about 2 hours of playtime with just a short 15-minute charge.
Moreover, pairing the Soundforms is a fairly straightforward affair despite not having dedicated pairing button. The earbuds feature automatic pairing. Opening the case sets it into pairing mode where it can be quickly detected by your phone or any compatible Bluetooth device. The earbuds support Bluetooth 5.0, and is compatible with modern Apple iPhones and Samsung Galaxy phones with Bluetooth stereo audio and control functionality.
Also, both earbuds will auto-connect to moment they are removed from the case. Also, popping any of the earbuds back into the case momentarily and taking it out auto re-pairs any of the said earbud. Useful if one of your earbuds is not connected. The earbuds support multi-point pairing, which allows users to connect to two devices simultaneously.
Good Sound Quality
At first thought, it is surprising that Belkin choose to enter into the consumer audio market. One already dominated by audio incumbents in the likes of Sennheiser, Audio Technica, Jabra, etc. Having said that, it is a good opportunity for new comers to adopt "best practices" for a good product in a mature place.
I am pleased to say, the Soundform Rise scored well in the sound department. Sound is clear without being distorted, even at higher volumes. Also, each earbud has a 6 mm dynamic driver driven by neodymium magnets. The larger drivers does bring about a notable large range output with a notable strong base reproduction with minimal distortion.
Furthermore, I found the Belkin SoundForm Rise Wireless Earbuds produces deep tight bass and clear treble, though it do struggle on the upper high-frequency end, especially when playing classical music. Also, the earbuds does not include passive noise cancellation, which blocks out ambient noise and enhances the listening experience. Notably, the claimed environmental noise cancelling is only active when making calls and not when playing music.
To customize your comfort, included in the box too are 3 additional sizes of silicone ear tips. It allows for you to choose your desired ear fit and seal. For most of us, the default medium size which comes bolted-on to the earphone works. Also, the Soundform Rise has pretty good ear seal, which makes up for the lack of active noise cancelling. The included earbuds are adequate for comfortable all-day use.
Tappity tap tap Music Controls Using Swipes
The Belkin SoundForm Rise Wireless Earbuds have no physical buttons on the tiny earbuds itself. You control the earbuds using touch-sensitive capacitive panels on the flat surface of the earbuds. This allows you to control music (play or pause music, skip to the next or previous track) and calls with a simple swipe or tap. Also, there are tapping patterns to adjust the volume, activate voice assistants and answer or end calls.
Touch controls
The touch controls are not intuitive at first and does get getting used to, especially counting the number of taps unique for each control type. If you come from using Apple AirPods, the controls are similar.
To play or pause music, you need to tap two times on the touch-sensitive surface on either earbud. This function is especially useful when users need to pause music quickly to have a conversation or hear an announcement. Music will resume with another single tap on the panel again.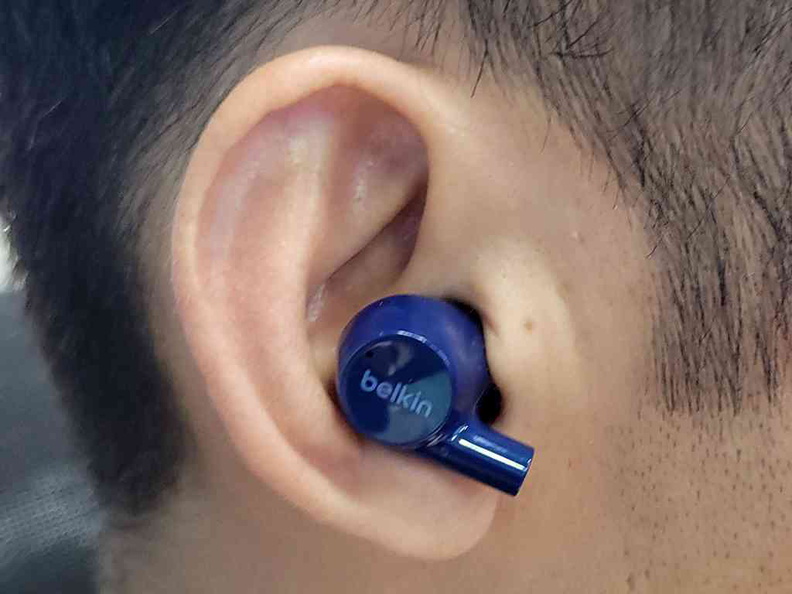 Moreover, you need to quick-tap three times to change tracks. Likewise on the left for previous and right side for next song. This is akin to reading a conventional book left to right. (Sorry manga readers!). Also, having to do three taps on your ear is tad gimmicky, and sometimes I think it might be better to simply just change to the next or previous track on your phone. Also, at times, when you tap at an inconsistent pace or too slow, you might end up pausing your song instead of skipping.
Lastly, to activate voice assistants (e.g Siri or Google Assistant), answer and end calls, you need to tap the touch-sensitive panel of either earbud two times. You hold down for 2 seconds to reject a call. You do the same to end a call too. This allows you to take your call without removing the phone from your pocket. Though at times, you are more likely to simply just take my phone out than to work the earbud swipes.
Lastly, price-wise, the earbuds costs S$99 standard retail price, which is priced higher than segment competition, though nearly priced similarly to the Galaxy buds, but much cheaper than the Airpods. Also, Belkin runs frequent sales on Lazada LazMall and Shopee Mall where you can snag the earbuds discounted at S$39, a very attractive pricing indeed.
Wrapping up
All in all, the Belkin SoundForm Rise Wireless Earbuds is a pleasant addition to Belkin's range of lifestyle peripherals they are widely known for, such as their GaN chargers for instance. The earbuds scored well in areas such as sound quality, ear fit, bud size, and weight, with tops marks for battery life.
They are a great choice for anyone looking for a high-quality pair of earbuds. Despite the finicky touch sensitive earbuds, the earbuds good sound quality, and long battery life do make up for it. The earbuds are also good value for money, especially when you can snag it on sale. If you are in the market for wireless earbuds, the Belkin SoundForm Rise Wireless Earbuds is one worthy to consider.
Belkin SoundForm Rise Bluetooth Wireless Earbuds
Pros
Excellent battery life
Good sound quality with 6mm drivers
Easy to pair and use
Smart Qi-charging case
Cons
No noise cancellation
Case is on large side
Premium price (look for sales!)
Sound struggles on the high-ends
Many thanks to Belkin for the opportunity to review the SoundForm Rise Earbuds. As with all my reviews, manufacturers have neither editorial inputs to reviews, nor seen this review before it is released to you, my readers. Thanks for reading!