Yongsan Electronics Market is a Seoul haven for electronics junkies in South Korea. If you are an electronics junkie looking for an exciting place to explore in Seoul, South Korea, Yongsan Electronics Market is one to shortlist visiting on a free day in Seoul. Let's check out the electronics flea market on the ground with a walk through.
Furthermore, the Yongsan Electronics Market has a history that dates back to the Korean War. During the war, the US military established a communication center in the Yongsan area. It brought a significant demand for electronic equipment. After the war, the US military continued to maintain a presence in the area, leading to a market for electronic equipment and components here in Seoul city.
Today, the Yongsan Electronics Market is more than just a place for computer and electronics enthusiasts. It has since expanded to include a wide range of goods, such as musical instruments, audio equipment, and camera accessories. Moreover, the market is touted to sell unusual items like retro video games, anime figurines, and collectible toys. Though I wasn't able to find any such pop-culture stores here except at the nearby iPark mall. More on that later.
The Electronics Zone at iPark Mall
Moreover, before heading to the Yongsan Electronics Market, you can check out the Electronics Zone at the iPark Mall. The air-conditioned mall is located directly above the Yongsan Subway Station, a transport hub and features several IT computer shops, handphone shops, and camera stores. It is also a convenient place for lunch, as the electronics flea market has limited food options.
Additionally, the second floor of the iPark mall here is home to a small collection of electronics shops. These stalls are compartmentalized into small booths, similar to the electronics malls in Shenzhen, China.
Also, the 6th floor of the mall features a pop culture zone, which is home to a range of anime, manga, and gaming products. You can check out this pop culture area in a separate post there.
From iPark Mall, you can make your way towards the outdoor sprawling Yongsan Electronics Market. It is largely a computer parts street comprising of few mall complexes housing several small independent shops and computer assemblers' offices. Also, while it may not be as sprawling as some electronics districts in other countries, there are still plenty of small pockets of interest to explore.
Getting to the Yongsan Electronics Market
It is advised to travel to Yongsan Electronics Market using Seoul Public Transport and walk from the iPark Mall. The market is pretty conveniently located near the Yongsan subway Station, which is connect to the greater Seoul subway system. You can take line 1 or 4 to reach Yongsan Station, which is located in the Yongsan-gu and Cheongpa-ro district. From there, you can either walk 1km from iPark mall to the electronics market or take a short taxi ride.
Furthermore, the North end of iPark mall is connected to the market via connecting overhead bridge. It brings you towards Novotel Ambassador hotel Seoul Yongsan, and a parking garage. Also, walking from the iPark mall takes about 10 minutes and provides a scenic view of the surrounding area from the sheltered overhead bridge.
The bridge ends at street 15-2 Hangangno 2(i)-ga, Yongsan-gu, which is the center of the Yongsan market, with most of the stores and malls concentrated here. Let's go on Exploring the electronics district.
Computer Parts and Quirky Finds
The Yongsan Electronics Market is a fascinating, yet pretty kinda boring place to explore for PC hardware. More of that later. It has a mix of traditional shops and modern electronics malls. The market is home to dozens of small independent shops that specialize in computer parts and accessories. You can find everything from RAM and GPUs to hard drives and cooling fans. These shops offer a range of mainstream brands in the industry such as well-known manufacturers like Asus, MSI, Gigabtye, to lesser-known China brands that offer affordable alternatives.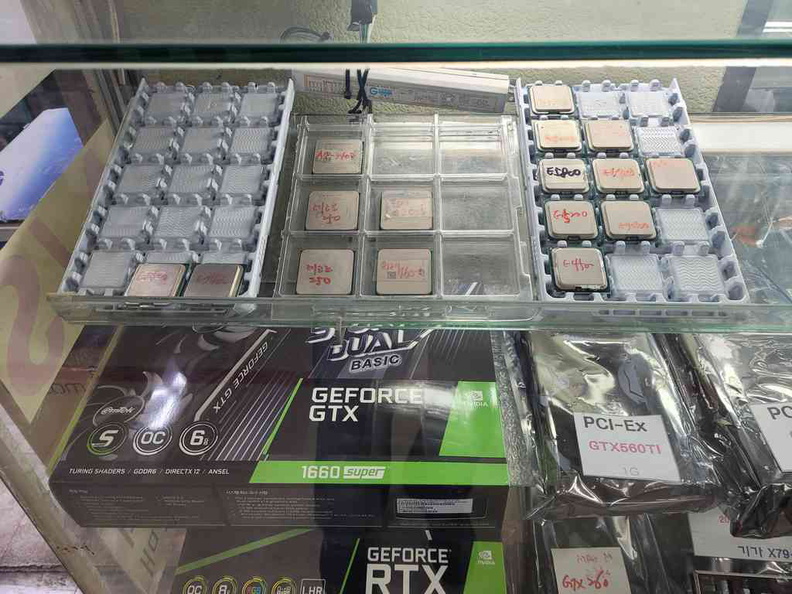 Moreover, a prominent PC hardware mall is the Sun plaza. Here, you can find a variety of computer hardware parts, including memory cards, PC parts, fans, and components like ram, GPUs, and CPUs. There are also shops selling old second-hand hardware. Here, you can with dealers displaying wares of old monitors and graphic processing units (GPUs) in cases or on the street. Some of them are dated back to some ten years or more.
Notably, some of the PC builders here have even started selling the newer NVIDIA RTX4080 and older RTX3070 CPUs at prices ranging in the S$590 and S$370 range respectively. Not a bad price, considering these costs upwards of S$2,000 each 2 year back during the crypto boom.
An Intel 12th-gen i5 with 8GB RAM and a new-ish but more affordable RTX3050 costs about S$1000, while a Ryzen 5800X with an RTX 3080 with 32GB ram costs S$2,200. This is comparable to prices in Singapore and online retailers like Amazon and Newegg.
Additionally, one of the more impressive shop offerings here is a fan shop selling fans of all kinds of sizes. You can even get thermal paste here at $2 a pop. Adjacent to the building is an electronics mall selling ready-made computer desktops assembled with the parts you buy. Do bring cash as many stores here charge a 10% surcharge on card purchases.
Builder's street
Other malls here include the ET Land Electronics Yongsan. It is one of the more modern and built-up malls here along the Yongsan main road. They sell mostly finished electronics and appliances. There is also a Lotte world cinema here, albeit an odd location for a cinema.
Moreover, while Yongsan Electronics Market may not be as large or flashy as some other electronics markets, like the radioshack in Japan we previously visited. The district still has some charm to it for electronics enthusiasts. Also, with a bit of digging, you can find some interesting deals on computer parts and accessories, and you may even stumble upon some rare or quirky items.
However, keep in mind that most of the street-side stores were not open during our mid-day visit, and the market can get quiet past 5pm with most stores closed by then.
Out of the Sun plaza mall, heading down the adjacent Saechang-ro and Wonhyo-ro Streets brings you small street of PC builder and offices. These stores here are mostly storage warehouses, Service centers and distribution center and do not have a retail store front for walk-in customers. Also, it is not uncommon to see empty cardboard boxes of PC components and motherboards stacked all around the streets and bins here, presumably discarded by the PC builders.
Aside from the standard computer parts, you can also find quirky items that are not typically found in other electronics markets. For example, you may come across stores selling vintage gaming consoles, rare computer accessories, or even handmade electronic items.
Also, one of the main draws of the market is the wide range of computer parts and accessories available at reasonable prices. Visitors can also find quirky and unusual items like custom computer cases, LED lights, and computer cooling solutions. Besides pre-builds being more common now, evidenced by the number of assembled PCs on sale here, some shops in the market offer custom computer builds. This allows you to select your components and build a computer to your exact specifications.
Wrapping up
In conclusion, the Yongsan Electronics Market in Seoul, South Korea, is a cool place to explore when you are in Seoul, especially if you have a spare lazy day and a PC hardware enthusiast at heart. While it may not have the sprawling size of other electronics markets, and is not the most buzzing nor impressive as the Digital market we visited in Taiwan for electronics and computer. Still, it offers a uniquely Korean offering of traditional shops and modern electronics malls like iPark Mall. It offers a range of computer parts, accessories, and quirky items that are difficult to find elsewhere.