The Circus Circus adventure dome is a self-contained indoor theme park located in a hotel and casino. The establishment opened on August 1993 and had been operating since then. It is the only full-fledged theme park in Las Vegas.
Getting there
The Circus Circus establishment is located in northern end of the Las Vegas strip. It is situated near the Stratosphere Tower. It is however is not exactly accessible being located on the outskirts of the Las Vegas strip. Nonetheless, you can access it using the Las Vegas monorail from downtown strip. It is a short 10-15 minute walk from the Westgate station along Elvis Presley Blvd.
Visually, the hotel does somewhat stand out in typical Las Vegas glittery. It is themed like a circus tent, which is lit by an array of lights at night. The theme park is located at the rest end of the casino establishment. The Circus Circus casino greets you at the main entrance full of jackpots and blackjack, roulette tables. Notably. There are shops and F&B outlets scattered throughout the casino grounds.
After all, Circus Circus is a casino, hotel and theme park, with the theme park being the establishment being an additional unique selling point. Also, like all Las Vegas casinos, there is a faint smell of old carpets and cigarettes lingering in the casino grounds. Not surprising as this casino had been operating for decades. However, the Circus theme does start to look old.
Notably, the casino grounds also has a small trampoline net and performance area suspended over a central area of the casino grounds. Moving further in brings you past a couple of restaurants before the entrance of the dome.
Cooling oasis in the desert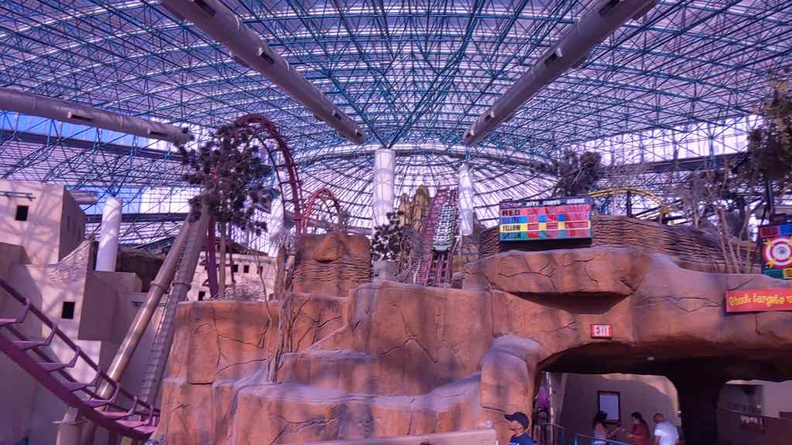 Notably, the entire theme park is fully air-conditioned, which not only shades but also protects the rides from the harsh Nevada dessert environment.
Moreover, layout-wise the 5-acre theme park follows through a circular layout. It takes the shape of the round footprint of the glass dome it sits with a stairwell at the centre leading up to the upper floors. Access to roller coasters are all located on the second floor.
Furthermore, the theme park adopts an open concept design, where you can enter and roam about the entire park for free and pay as you ride. If you plan to ride a number of rides, it is advisable to get a day pass.
Roller Coasters of Adventure dome
Roller coasters of are the mainstay of Adventure dome. The main attraction here are the Canyon Blaster and El-Loro coasters. Both roller coasters features track inversions elements.
Canyon Blaster Looping coaster
Canyon Blaster is an indoor Arrow Dynamics looping corkscrew roller coaster. The coaster is the World's only indoor double-loop, double-corkscrew roller coaster.
Also, it is the highest ride here in the dome, with the hill-lift nearly reaching the ceiling of the dome. The coaster enters a double vertical loop after its first drop and transits into a double corkscrew.
The train then speeds through several track elements in the Adventure dome up to speeds of 88 km/h, including helixes around the arcade areas on the ground floors.
The train's loading area is old school and large. A typical trait of roller coasters built in the early 90s era. There are also shelves for your bags on the opposite side of the loading area if you have bulky items which you can't take on-board with you.
The coaster track generally travels around the uppermost parts of the park through the canyon-like structures above the arcade areas.
Regularly, you can hear the thundering rolling trains of the Canyon Blaster. You can see the trains just simply zip by in an instant.
Despite being over 20 years old, Canyon Blaster is still surprisingly stable, despite some vibrations at high speed on the loops. But it handles the corkscrews with much ease and smoothness.
El-Loco compact coaster
In addition to Canyon Blaster is El Loco. The coaster is a compact inverting roller coaster built by S&S Worldwide. You can recognize by its yellow tracks. It is in contrast to the Canyon Blaster's red-purple ones.
A wild mouse of steroids
The ride in a nutshell is like wild mouse coaster on steroids. It is a very compact ride and well fitted into a space vertical limited environment like the Adventure dome.
Interestingly, even the 30 m initial hill lift climb is vertical, the top of the ride follows like a typical wild mouse, with sharp corners and wavy twists. The twists and turns you experience up here mimics to throw you out of your car it does instill a sense of vertigo.
Also, in addition to its unique layout in the coaster world, El Loco sends riders over vertical drops pushing up to 1.5 vertical-Gs.
A tiny zippy package of a coaster
Additionally, the train does a series of barrel rolls and some inversions which at one points of the track leaves riders hanging completely upside down. Also, you can often feel yourself being over the edge as the train seat pulls you back onto the track up an climb for a second drop.
El-Loro trains comprises of small but nimble 2-abreast coaster trains which sit across 2 rows. They provide for a rather compact train layout. Also, the train is able to do inversions and hold riders in place with just a simple over lap restraint. This reduces the need for traditional over shoulder restraints.
Lastly, the track goes about two steep beyond-vertical drops before going into an inverted half-loop back into the coaster station.
Moreover, given the limited space, the dome has a very compact layout. Also, a central volcano-like Canyon sits at the centre of the adventure dome, with the Canyon Blaster built over it. Also, notably, the dome is free standing and encases all the attractions within which are placed surrounding the outer rim of this central spire.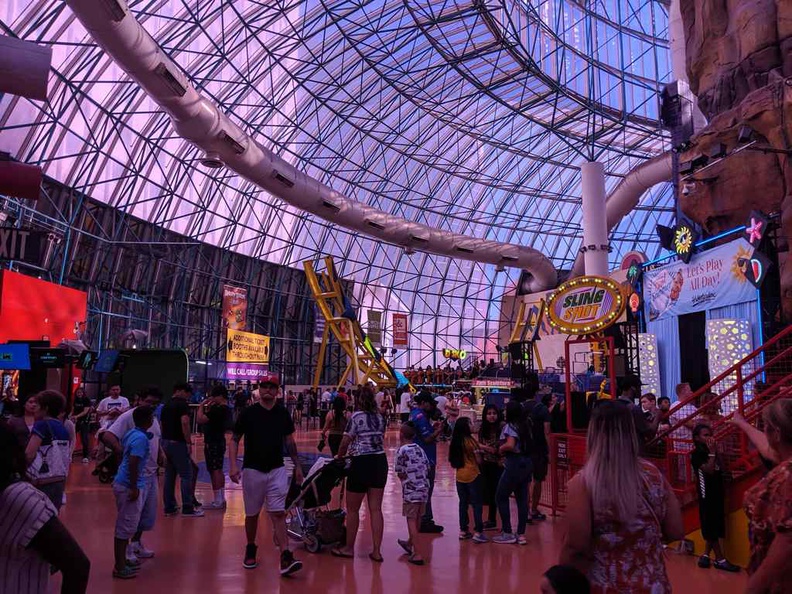 Flat and family rides
In addition to El-Loro, there is an assortment of thrill flat rides scared throughout the park. Also, these rides comprises of a mix of impulse thrill rides as well as family-friendly rides.
Notable large Thrill rides includes a classic Viking ship, Inverter, Frisbee, Bumper cars and a Slingshot vertical drop tower. Let check them out!
First up is the Sand Pirates ship by Zamperla. You can't go wrong with plain old vanilla Viking ship. Here, it sits surrounded by an assortment of carnival Midway games booths and the Canyon Cars bumper car ride which you have to drive around in a clockwise manner to aid flow of traffic.
The Midway Games are a time-honored tradition to show your skills in classics such as darts, mini basketball, balloon bust and win fabulous prizes. Here, get behind the wheel of their circuit bumper cars and prepare for a crash-course in defensive driving.
Additionally, there is also a Zamperla Disk'O spinner. The ride has a ride car with dual rocking/spinning motion facing riders outwards. This not only gives all riders a front-row seat but also impart riders the impression of the ride going out of control.
Spin them crazy nauseous!
Moving on the Inverter. It is a Chance Morgan rotating inverter flat ride. It spins riders 360 degrees giving constant g-force action. Chance Morgan is here in full force with a large selection of rides, their Sling Shot is another such ride.
It is a mini vertical sky shot tower which shoots you up with an acceleration up to 4Gs, and fall back down again. Topping up the Chance Morgan spree is the Chaos flipper. It is built around the Canyon Blaster corkscrew at the rear of the theme park.
This ultra-thrill ride whirls riders in three ranges of motion. As the ride gondolas rotate random based on inertia, it is quite an intense ride that warrant a totally unpredictable experience every time.
Family Junior Rides
Additionally not forgetting the little ones, we have a couple of tame rides for the thrill-adverse. Moreover, there is the B.C. rotating Bus ride, Flying airplanes, and a Zamperla Drifters Ferris wheel themed to festive hot air balloon.
Topping up the Junior selection of rides is a Leaping Frog Hopper, Road Runner, and a runaway coal train ride called Miner Mike.
No theme park is complete with a Carousel, or Merry Go Round. Chance Morgan is at it again with a Circus-themed animal Carousel. Hop on your favourite animal for a classic carousel ride.
Arcade and Midway Games
Moreover, in addition to rides are an assortment of arcade machines located throughout the park. Non-ride attractions include a movie theatre and a virtual-reality and a dry Roller skating rink.
Interesting there are are action activity areas, like a Bank Heist Laser Challenge: Crack The Code, a laser timed race through web of laser beams, and mini-bowling on a Highway 66 themed bowling alley, without the silly bowling shoes.
Moreover, there is a Zombie-like Blaster grounds called Lazer Blast and a couple of carnival style fair games. Of course, being in America, a couple of shoot 'em up ranges. Also, there is even a retro arcade gaming section called the "Classic Arcade". Also, like the Roller skating rink, you pay a fee to enter a sector for unlimited plays of your favourite classic arcade games all day. This is on top of your entrance fees.
If mild sports are what you desire, there is Xtreme Zone indoors rock climbing and bungee jumping. Pirates Bounty 18 hole miniature golf.
In addition to physical rides is the virtual Extreme Ride Theater. This FX Theater showcase 4D Features by SimEx-Iwerks. We have Dino Island and SpongeBob SquarePants 4-D Great Jelly Rescue movies.
In the latter, SpongeBob and friends careening through Bikini Bottom, face off the Flying Dutchman and the villainous Plankton on a wildly hilarious adventure to rescue the Jellyfish. In addition, the Extreme Ride Theatre was also playing The Angry Birds the Ride. Also, it is based on the mobile game mischievous piggies and their never-ending bag of tricks, complete with swarms of buzzing bees and massive TNT explosions.
Get an all-day pass
You can choose to do single rides or buy an unlimited regular pass ($34.95) for access to all rides for the entire day. Coaster Rides cost $12 a ride, per person and premium rides cost upwards of $9 per ride. Hence, recommendation is if you are planning to ride all rides is to purchase the whole-day pass. Moreover, if you demand more value and plan on visiting the adventure dome in addition to other MGM studios attractions such as New York New York, Body words, it is advisable to purchase the MGM Resorts 3 in one ticket at $57.
All in all, Adventure dome is one of the few retro theme parks you can still visit operating today without breaking the bank. If you desire a theme park experience here in the heart of Vegas, there is no other better place than here. You be good in adventure dome for about 3 hour tops in typical visit, with most rides not having any much of a queue. Also, the theme park typical opened 11am till midnight, with shorter hours to 6-9pm on weekends.