In the midst of the COVID-19 lockdown, figured I do some catching up on my trips from the past year. Today, let's go sightseeing at the Grand Canyon West!
The Grand Canyon is a natural wonder in Arizona USA. The National Park is home to the immense Grand Canyon which you can explore via day or extended trips. Today I am going to bring you on a tour on the UNESCO World Heritage Site West canyon rim via a Bus Tour from Nevada Las Vegas.
Grand Canyon West by road
There are several ways to see the vast canyons. Typically west canyon tours are the closest and most accessible portion of the Grand Canyon from Las Vegas city, Nevada. Getting there involves driving up there yourself or going up on a day guided bus tour. The latter handles hotel pickups and transfers to the Canyon area, as well as stopovers on sights along the way through Boulder City, such as the Hoover Dam.
From my research I found local bus operator Grayline. They are a tour operator I shortlisted for my trip which does daily bus tours to the West Rim. Grayline will pick you up from specific hotels along the strip.
A 3-4 hour drive from Vegas
Thereafter, you are brought to a visitor dispatch center to be split up into your day tour groups. The coaches are not quite the "luxurious" motor coaches as claimed. They do come with tinted panoramic windows and are well air-conditioned, great for the Nevada weather.
The drive in total takes about 3-4 hours, stopping at various spots of interest, like the Hoover dam, Joshua Tree Forrest and the BC hill marking. Hence, expect a trip to the Canyon to be an entire day trip itself.
Notably, if time is not on your side, alternatives includes (rather expensive) helicopter tours. They fly exclusive tours to the South Rim. Additionally, the Grand Canyon South Rim is open all year. Additionally, the North Rim sector is usually closed off during the winter months, reopening around the mid-year.
Joshua Tree Forrest
Soon after the surrounding terrain starts to transition in a mix of flat hills and lakes. The route from here involves a drive through the 900-year-old Joshua Tree Forrest. This is on the way to lands of the Hualapai Indian National park and Grand Canyon. Random musing tool includes a mural on a hill, which used to act as a landmark for planes.
Also, the Grand Canyon West is second most visited location at the Grand Canyon. It sits behind South Rim in visitor ship with over 1 million visitors annually. There is an airfield catering to planes as well as helicopter tours.
Checking out Hoover Dam
Hoover Dam is a concrete arch-gravity dam located in the Black Canyon of the Colorado River. The dam was a stopover point midway on-route to the West canyon. It was originally known as Boulder Dam. Interestingly, it sits on the border between the states of Nevada and Arizona.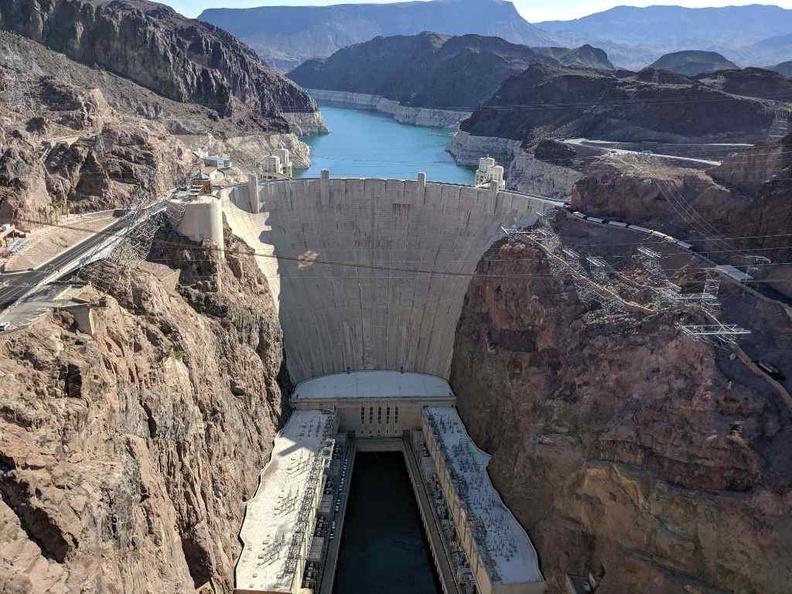 Moreover, on nearing the dam, you will pass the iconic Hoover Dam Lodge as well as various power distribution towers and the support utility buildings. This signifies that you are nearing the dam. Let's check it out.
An iconic Dam
Additionally, you may remember this dam being the focal points of movies like in Transformers or San Andreas. On bit of history. The dam was constructed between 1931 and 1936. Also, construction involved thousands of workers, notably during the Great Depression. Sadly, about one hundred lives were lost during the construction of the dam, often working in hazardous conditions. The dam was officially renamed Hoover Dam, after President Herbert Hoover in 1947 after a Congress joint resolution.
180 degree panorama of Hoover Dam
Getting up Hoover dam involves climbing up a series of steps with themed tribal elements and murals elaborating how the dam came to be. Moreover, you start off from the west end of the dam. You do not get to walk on the dam itself, but rather the highway bridge (Mike O'Callaghan- Pat Tillman Memorial Bridge).
Also, most people will walk to the bridge mid-point offering the best views overlooking the dam before turning back. At times of the year, you can see water from the dam is pumped through to generate renewable hydroelectric electricity for the city.
Grand Canyon West Hualapai Indian National park
Furthermore, Grand Canyon West is located on the privately-owned Hualapai Indian Tribal Lands. Also, Hualapai Indian tribe has spent the last ten years or so extensively developing the area with further attractions. Notably, the Glass Skywalk is the main attraction here at Grand Canyon West which I be covering later.
Also, do note that the tribe lands is not part the National Park portion of the Grand Canyon. Hence, the entrance fee here does not include that of National Park Service Pass Entrance Fee. It would be a concern if you plan to enter the National park, which you do not need to do so here in the Grand Canyon west.
On arrival, visitor centre entrance greets you together with a vast helicopter airfield and an open guest parking lot. Your Grayline transfer bus drops you off here and you enter the park using your package pre-purchased tickets given to you earlier.
From here on, you are on your own to explore the west canton at your time. Your Grayline tour guide will inform you of the meeting times back at the lot at the end of the day for the journey back to Vegas.
Panorama of Eagle Point
In addition, within, there is a complimentary looping bus services bringing you around various viewing stops of interest, such as Eagle Point & Guano Point included. Guano point is also a lunch spot with fantastic views overlooking the Grand Canyon.
Gorge sights at Eagle & Guano Points
Moreover, one of the best sights at the Grand Canyon West is the Eagle and Guano Point. Both these locations are part of the Hualapai Reservation.
180 degree panorama of Guano Point
Also, Guano Point is a scenic viewing area offering panoramic views of the winding Canyon and the Colorado River. You can make out the steep gorges along the canyon due to years of river erosion. This is typical of steep canyon gorges.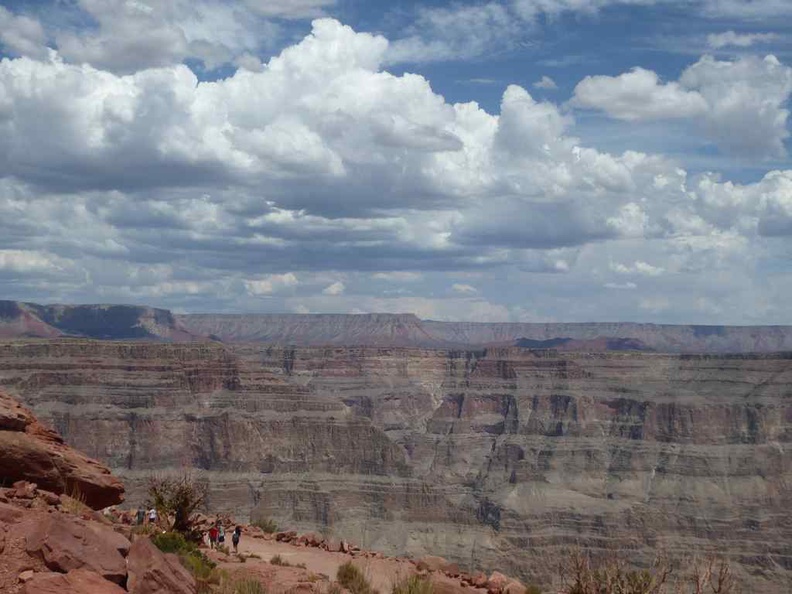 Additionally, Guano Point Highpoint itself is unique as a significant landmark in Grand Canyon West due to its odd pyramid shape. If you adventurous, you could take a short hike to the nearby Highpoint vantage viewing point. It offers great panoramic views of the Canyon surroundings which seems to stretch on endlessly into the horizons.
Moreover, the canyon spots noticeable unique combinations of geologic color and erosional forms. These decorates canyon walls up to 446km down the river. It can span up to 29km wide, and a 1.6km deep. The Canyon simply overwhelms your senses through its immense size.
Guano Point Guano Point Highpoint panorama
Moreover, notably, there is an old historical aerial tramway that used to serve the abandoned guano mine during the goldrush in the early twentieth century.
Also, you can traverse the Canyon to explore the minor attraction since its opening in the 1970s. However, I did not on my trip given time limitations. Notably, the tramway tracks stretch nearly 2.7km across the canyon expanse. An impressive testament to early twentieth-century engineering.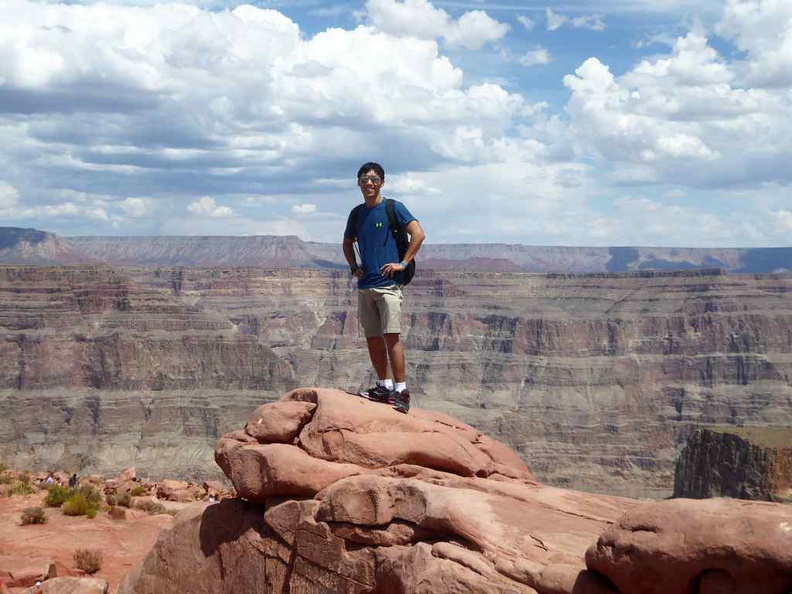 Have a meal with a view
Moreover, Guano Point offers a lunch spot with overlooking views of a river gorge and a vantage lookout point which you can explore on-foot. Notably, your West Canyon entry main ticket gets you covered for a buffet meal. Well not quite the "Hualapai Buffet" I was expecting.
Interestingly, it is a one-go packaged "local cuisine" meal option with a main course and a couple of sides and a drink. It is essentially a meaty dish with sides of potatoes, corn and bread. You also get a cool drink which was helpful in the heat. Also, vegetarian options are also available.
You dine at an outdoor sheltered area with a magnificent view of the canyon to boot. Check it out! Additionally, Guano Point offers a unique dining setting that isn't available too many other places. Notably, there are a couple of small shops seen around the bus loading areas.
Also, the Hualapai Marketplace at Guano Point stores are manned by local artists and artisans selling their unique wares. Many of these range from traditional tribal souvenirs wares and Native American crafts and artwork.
A history of Eagle & Guano Point
Interestingly, Guano actually means excrement, particular that of seabirds and bats. It is an important component in fertilizer. It was named after a cave discovered in the area on 1930, which housed nearly 100,000 tons (about $15M worth) of guano. Talking about cash from sh*t!
Moreover, Eagle Point is also home to a replica Indian Village. It tells the background of the tribe in the old days. Here you can also enjoy the Hualapai Ranch.
Additionally, Eagle Point is also home to an authentic Native American village. It features with architecture that reflects the heritage of multiple tribes.
A 180 wide view of the Canyon from Eagle Point
Moreover, there is an amphitheatre where live musical, dance performances and lectures on Hualapai history are held at specific times daily. However, at most times of the day, the area is just a collection of huts which just serve pretty much for photo-ops. The searing sun here pretty much makes the are devoid of any visitors.
Grand Canyon West Hualapai Ranch
The looping bus service last stop before back to the visitor center is an authentic Indian ranch experience. It is a west themed experience which includes cowboy stories, campfires, and real canyon-facing cabins.
Also, this area despite being quite a lesser section in the entire property, does has some quirky and peculiar sectors. Interesting finds include a quick draw shoot out play area and horse rides courtesy of on-site stables.
There is also a zipline or sort, which is located on the far end of the ranch but is quite deserted. Also, other interesting finds is a mechanical bull ride which give you 3 tries to hang on for dear life, as well as an old-west theme street complete with store you can explore.
Eagle Point Skywalk
Additionally, Eagle Point is also home to the famed Skywalk. This rather touristy attraction is essentially a suspended U-shaped viewing platform built over the canyon. Also, the Skywalk attraction opened on 2007 with multiple attractions added to the commercially and privately owned site.
The highlight and selling point here is the full transparent glass bottom flooring of the walkway (rather it is made out of a durable clear Perspex plastic). This allows you to see yourself standing a height of 1200 meters over the gorge face. Not quite for those with vertigo or the faint of heart.
A glass bottomed spectacle
Moreover, do note the sky walk is a payable extra attraction. Additional tickets are required in addition to regular admission prices. Also, it is worthy to note that no cameras or phones are allowed on the Skywalk, with only authorised photographers are allowed. Like an on-ride photo, you can purchase them from the exit counters for a fee.
Also, the Skywalk is home to amenities as well as a gift shop. You can chill in their air-conditioned comfort out of the hot Nevada desert heat. If you don't want to pay for a Skywalk photograph, adjacent to the building is an open viewing outdoor area which you can also catch panoramic views of the canyon. You just can't walk over the edge.
All in all, you can typically spend about 3-4 hours tops at Grand Canyon West as a whole, with 1-2 hours at the observation points. The west canyon, given its accessibility and proximity to the Vegas strip or even Fremont Las Vegas to the Hualapai and Skywalk makes it a viable and quick option to see the Grand Canyon, also if you have limited time on your hands. The best part is that you can do it without the compromise of forgoing great views and stunning photographic opportunities of the Grand Canyon.