Heart attack is a themed novelty American burger establishment located in the heart of downtown Las Vegas Fremont. It is one of the few bizarre dining establishment here in Vegas and an attraction restaurant on its own. Let's ruin our diets with a dine in!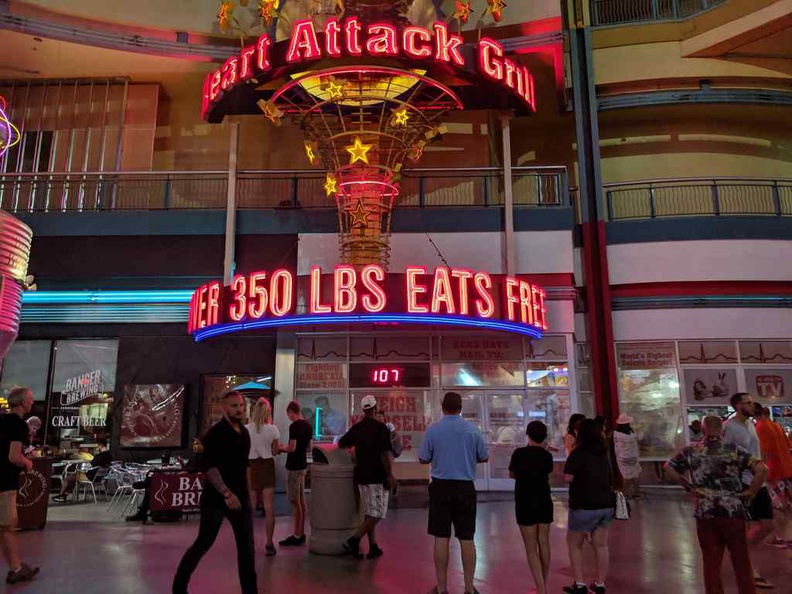 Welcome to the hospital
The restaurant is located in the Neonopolis shopping center. It is at the far end of the Fremont street experience where the flying fox attraction tower is. Fremont is also known as the "old Las Vegas". The restaurant sits at the road crossing between Fremont East Street and by the Fremont slot-zilla building. Also, you can't miss it with its eye-catching neon signboards. There is an industrial weighing scale outside which you can weigh yourself. The restaurant is themed after a medical ward with staff member's dressed up as medical nurses.
Moreover, upon entering, a receptionist dressed as a nurse takes the size of your party and leads you to a changing room. Here, customers "patient" dons a hospital gown and wrist band before behind led to their tables. I found the gowns turns out to be pretty good at keeping your burgers off your clothes too.
You get regular tabled waited service where you order from a menu of American grill to order favourites. Moreover, the restaurant have tad of a sterile look with red flooring to go with various white accents as part of the medical theme.
The diet buster
If you are on a diet, dining at the Heart Attack grill will sure to bust your calories intake for the next couple of days. Menu selections includes 4 variation of their best-selling burgers, as well as hotdogs, and milkshakes. Moreover, the menu is generally themed around grill items that are exceptionally high in calories and fat as they are cooked with plenty of oil and lard. It is not for small eaters.
Also, the remedy of a heart attack is of course a bypass. They are classic beef burgers with cheese and some vegetables. This terminology is carried onto their menu options. Fancy a single, double or triple bypass burger? It includes "Single", "Double", "Triple", "Quadruple", all the way up to "Octuple Bypass" hamburgers.
Their menu items are simple, your starter single layer burger costs $9.93 and going up to $24.25 for an eight layer burger. Each layer of "bypass" burger layer costs an average of 2 dollars more. Additionally, you have the option to add additional greasy oily bacon slices into your meal at about a dollar for 5 slices.
8000 calories a burger
Did I mention that the portions here at Heart attack are huge? The largest of the burgers has 910 grams of beef, topping up to 8000 calories a meal. Notably, divided by the average calories intake a person needs a day, it is enough calories to last a person for up to 3 to 4 days. Come to think about it, a $25 burger with enough energy to cover 4 days of meals, it is tad quite of a bargain.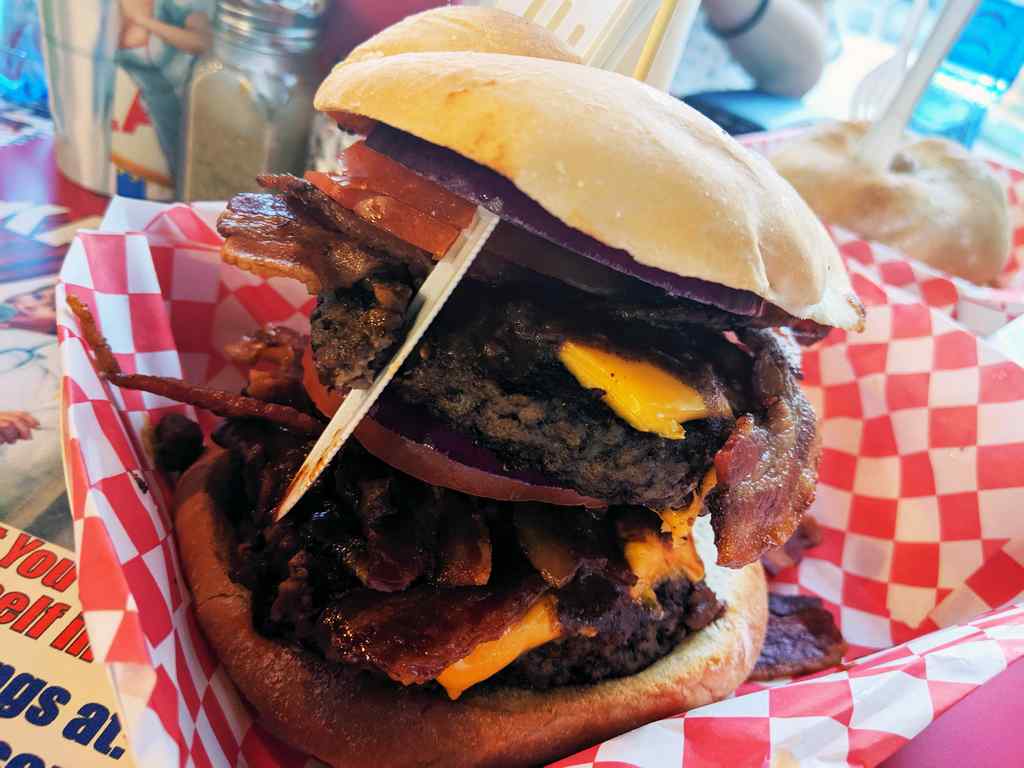 As the menu items name suggests, eating the food served here at Heart Attack grill could potentially kill you. It is a burger packed with beef patties and greasy. Well literally not direct, but probably from the health complications which could arise if you do not eat in moderation.
Sides bang for the buck
Furthermore, I would recommend a single bypass burger with a milkshake and fries, or a Coronary dog ($9.70) as an alternative to a burger for the fill experience. Regular fries cost $1.85, while their chili cheese flatliner costs $5.55 and onion rings set you back $7.39. They are all deep fried in pure lard to add to the guilt.
I would recommend their thick milkshakes ($6.23). Only one size is available. It is a diabeties-in-a-cup contraption of thickly blended milkshake topped with brownie pieces and a cube of butter. Amusingly, the milkshakes are also incredibly thick.
Also, I could hold the cup perpendicular to the ground and the milkshakes would still stay in. Also, the bar also offers beers in 4 different nurse-branded flavours, as well as monster 3.4oz shots of vodka, tequila cocktail mixes, just to name afew. They cost $12 to $17 a pop, though I would not recommend them as I think it distracts from the mainstream offerings.
Henceforth, a typical meal here would cost you about just under $18 USD per person if you order a drink and sides with your burger or hotdog. And boy, will it be a rather filling meal indeed.
And oh yes, did I mention that those who do not finish their meal shall receive a paddling by one of the "nurses"?
Get spanked by a nurse
One of the few hidden draws of Heart Attack grill is not just the hospital theme, but the interaction you get with the "nursing staff". This is its own right is an amusement and fun factor of dining here at Heart Attack grill.
At times, you will hear loud slap in the restaurant which catches the attention of everyone in the restaurant. At times inviting laughs with tables. It is quite an eye-opening experience. The story here is that you will be spanked if you are unable (or purposefully willingly) to finish your burger meal at the restaurant.
Of course, you'd be able to find yourself in such a position if you order above a double bypass burger. Though I had seen patron easily finishing up a up to a quadruple with ease. It is usually it is the guys who are smacked by the nurses and occasionally a lady if they want to play along. Being spanked is a purely voluntarily process, so no worries here. Furthermore, after your spanking, you have the option to buy the paddle afterwards at $9.
All in all, I would recommend dining at Heart attack purely for the unique experience it offers, but probably not for just the food. Also, the establishment is noticeable packed during dinner time, even on weekdays. With the quirky hospital theme and guest to staff interaction as one of the novelty highlights in downtown Las Vegas.
Verdict:
Must Go! | Actually pretty Good | Worth Trying | Shortlist Optionally | Should Avoid
Heart Attack Grill Fremont Locality Map
Neonopolis
450 Fremont St #130, Las Vegas,
NV 89101, United States
Opening hours daily: 11am– 10pm