Let's check out the URA Long-Term Plan Review Exhibition at URA Centre Atrium with a gallery walkthrough and exploration today. The exhibition is held at 45 Maxwell Road and runs from 6 June 2022 to 4 August 2022. It showcases city planning concepts and strategies charting Singapore's future in the build environment.
In a nutshell, the long-term exhibition shares of the country ambitions and plans for land planning and development. Furthermore, the exhibition sits at the ground floor of the URA building.
Furthermore, the exhibition comprises of several individual islands touching on multiple aspects of the build environment close to Singaporeans life. Also, this include topics on living, work, play, sustainability topics and even a section dedicated to Paya Lebar Air Base (PLAB) redevelopment.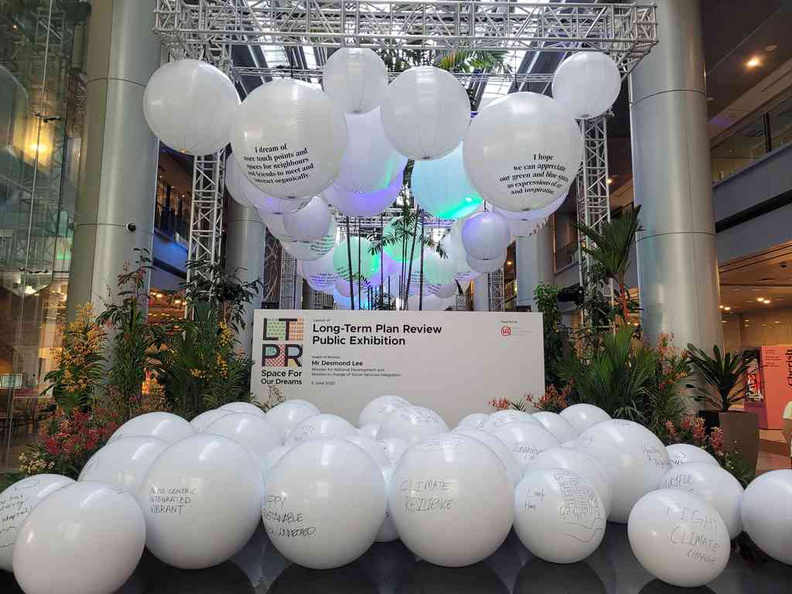 Moreover, each area of interest has their own info board and screens showcasing the various build environmental initiatives. Also, you might remember the URA building as the spot where we last checked out the City scape gallery exhibition right here at the building.
Additionally, the gallery displays are laid out in a logical manner with no particular flow. Each display is a standalone section. Each display is it's own self-contained exhibit covering differing aspects of urban planning and the build environment. Also, this is told through a mix of printed media on stands and slideshow TV screens. And yes, as much as you like to touch the screens, they are not touchscreens.
Living Well and Together
Starting out in no particular order is The Live section. It covers inclusive housing options for Singaporeans and strengthen community relationships. This includes examples of how towns and communities are built to support community interactions and future-ready. This includes optimising land use and enhance the flexibility of living and estate spaces.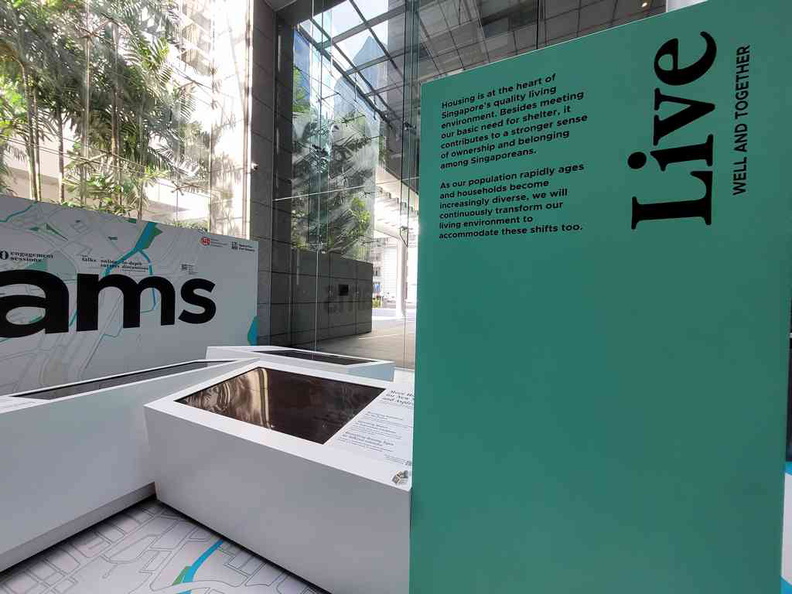 Additionally, examples here include adapting floorplans for homes supporting demographic and lifestyle changes. This include elderly-friendly fixtures as part of Elder Assisted living Community Care Apartments. Also, there are also ideas supporting hybrid working being the new norm of work and inclusive housing towns with a good mix of public and private homes.
Also, the Bayshore residential estate and Upper Changi MRT station are examples offering a mix of seamlessly integrated public and private housing supported by common and recreational amenities for communities.
Visit if you are property hunting
Moreover, the main gist of the exhibition is evolution of Singapore housing over the years. For instance, the East Coast Long Island, which extends prime sea-view residential living onto 3 separate island extension beyond the current East Coast Beach Area. This effectively triples the possible eastern coastal and beach areas in the east coast.
Also, as the exhibits covers to an extent Singapore future housing plan. It is a place for you to do your homework in finding spots and development plans for your dream home. No wonder the spot is popular with property agents. You can see them bring their clients here to scout for property hot spots of interest.
Work and play Anywhere and Everywhere
Furthermore, the Work, Anywhere and Everywhere section touches on urban planning to improve commutes and integrating work and play in estates. Showcased are initiatives to bring recreational spaces closer to homes through innovative use of space, schools and community garden spaces. Also, the sector shares of URA's initiatives for a playful city for all. It goes about the theme of living well and together.
Additionally, here, you can find concepts and ideas to create liveable spaces blending Recreation Play, work and living. Examples include vertical zoned building concept for industrial estates. This integrates various uses within a single development, such as accommodating non-industrial uses such as co-working spaces, retail, and food & beverage spaces under one roof. Also, some additional bizarre ideas of using underground caverns to store goods which would otherwise require large land area and reduce surface road traffic.
Moreover, a quirky section is the Cherish, Distinctive and Loveable sector. It shares on methods which goes into a relatable community. This to make homes not just places of residences, but one of heritage and identity for wider resident appreciation and ownership. It goes about identifying areas in Singapore for their heritage and identity for any future development plans.
Improving Transportation Efficiencies
Moreover, the displays explore the Work life integration portions which goes about the theme of working anywhere and everywhere. This also touches on evolution of working spaces closer to residential areas to reduce traveling time. This could be done via Zoning strategies to bring jobs closer to homes away from typical downtown central business districts. Speaking of traveling time, the display covers areas on designing for transport.
Additionally, the public transport section touches Singapore's public transport systems, one of the world's most efficient. This sector takes a nod into the "Move" theme for more efficient and connected public transportation. This include having through planning and integration across various public transportation modes and mediums between main and last mile journeys.
Furthermore, the move sector shares transport plans to strengthen the Island's mobility networks towards sustainable and efficient people-centric mobility modes of travel. This includes the expansion of the MRT and LRT network to 360km by the 2030s. Also, the aim is for 8 of 10 Singapore households to be within a 10-minute walking distance of any MRT or LRT station.
Green and Low-carbon initiatives
The Steward and Sustain section looks primarily into the environmental and sustainability development considerations in urban planning. This covers efforts to purposefully introduce and better integrate greenery into our urban landscape. This includes improving the ecological functions of greenery for buildings and Singapore's urban environment.
Also, the displays teach of the government adopting a science-based approach towards the stewardship of green spaces. This is led by government agencies like the National Parks Board's Ecological Profiling Exercise (EPE). The display shares efforts to balance between planning for green spaces and balancing other land uses in the long term and supporting national goals of becoming a low-carbon city.
In addition, going with the green theme, the lobby central area home to a number of inflated white balls with greetings written on it. It is a spot allowing you to Dream out your liveable spaces. Also, the central lobby area houses a mini green garden with life orchids and a mini aquarium.
Concept proposals for Paya Lebar Air Base Estate
Moreover, an outlier display is one dedicated to the redevelopments and planned relocation of the Paya Lebar Air Base (PLAB) around 2030. Called the Next Flight, it shares development plans for the airbase grounds. Redevelopment transforms it into a mixed use space for residential, work and play areas. This all while retaining several elements of the old airbase for historical purposes.
On top of lifting building height restrictions around the new estate, the project plans to optimise land and rejuvenate the surrounding military areas. This frees up about 800ha of land in the East Region. Also, this gives an opportunity to improve connectivity between the north-east and eastern parts of our island, via new homes, jobs and amenities.
Lastly, wrapping up the ground floor displays is a children arts exhibition. You can find several wall-mounted pencils coloured and crayon drawings of scenes by children of the build environment. You can enjoy the view of all the art while sitting on benched made of repurposed wood from the original national stadium.
All in all, you are good for the URA galleries for about hour tops. The exhibits are simple to navigate leading one onto another. When you are done, another nice gallery in the URA building worth visiting would be the Smart City Scape gallery covering Singapore's Smart Nation journey. It is located on the URA building's second and third floors.