Today let's check out Don Don Donki at Jurong East JEM. Notably, this is one of the eight branches which opened up in Singapore on the brand. This is one of their branches in the West. Like with our exploration posts, let's take a look with a walkthrough.
In a nutshell, the establishment, like the 100am mall variant spans over 2 floors in a regular shopping mall layout in JEM mall. Furthermore, greeting you at the entrance of the market is the establishment supermarket sector.
Also, the layout and selections here are largely shaped by the market demands. Here, you see fresh fruits and vegetables sitting in baskets and chiller fridges. This is followed by rows of open-air chillers housing sliced beef and seafood, like Alaskan crab and salmon for instance.
Moreover, the main goods and entrance starts on the ground floor where most of the goods reside. Here you can predominantly find a supermarket food section which is Don Don Donki's main selling draw. This floor is connected to an upper floor with a foodcourt like the one we saw at their Clark Quay Central and City Square branch, with additional foodstuff. It is accessible via escalators.
A Singaporean Donki
Additionally, consumers here in Singapore are more foodies. We had seen the evolution of their supermarket chain over the years, where we see the shrinking of the non-food sectors here such as electronics and clothing. Also, notably, the food section grew larger in the food and condiments section, as well as the ready meals which are hot items.
Going on the food theme, there is a Japanese food court located on the upper floor of the market. It is a sector crafted out of the general store area with focus on a curated selection of Dons, Ramens and even a Bar by the name of Drunk Drunk Donki. Stores here of the trade includes Kohmen tonkotsu ramen, Ifuku Dons and E-Gaya.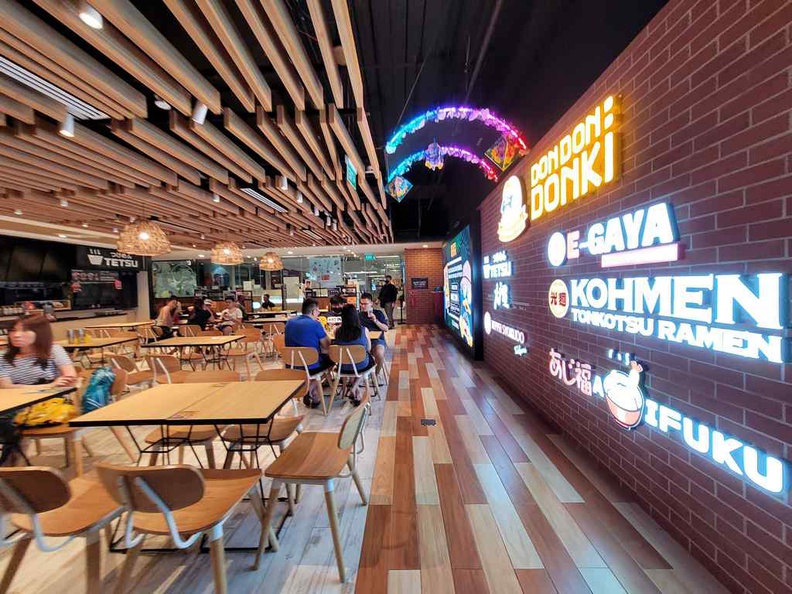 Speaking of booze. This Donki also stocks aged Suntory matt whiskey, with premium seletctiosn priced bottles starting from $1288. Regular bottles set you back in the sub $100 to $150 range. This is without a doubt pricier than purchasing it yourself in Japan, but includes the added convenience of obtaining it right here.
In contrast, in Japan, the Donkis are sprawling large hyper marts, with the food and supermarket section taking less than half the shop space. With the rest devoted to an extensive clothing, travel, automotive and electronics sections. You can check it out in my Don Quijote exploration in Japan here.
Toys and wellness sections
Interestingly, the toy section does retain the quirky cosplay costumes, albeit a much smaller curation than we first seen in Singapore's first Donki at Orchard central during their opening months.
In addition, in typical Donki fashion, the tiny toy section is lined with Donpen stuffed toys, a couple of plastic model kits and a Tomica toy car drawer. This, and the electronics section is tiny and unimaginative in comparison to their Japan stores.
Moreover, the JEM branch feature a small dedicated adult toys section under curtain covers. It always attracts giggles and chatter among patrons who chanced upon the intimate corner. I can guess Donki now is not so discreet to label the area as a "health and wellness section".
All in all, there is no stopping the rapid expansion of Don Pen the penguin. When the Donki group mentioned of their planned rapid expansion since their first branch in Orchard Gateway nearly 2 years ago, the rest is pretty much history.