West coast plaza is a heartland mall located in the west coast area along 154 West Coast Road. You might know the mall by its old name Ginza Plaza. Lets check it today with a casual walk through and exploration.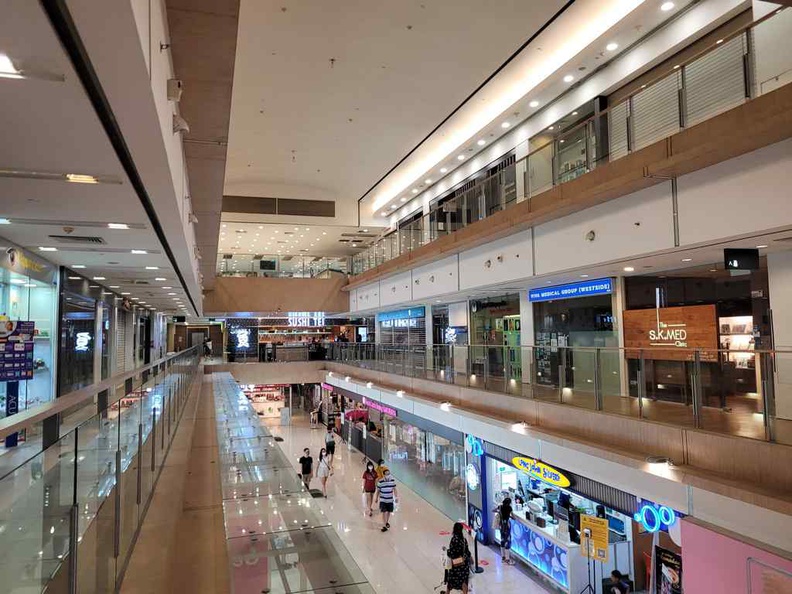 A rustic and quiet community mall
The mall spans over three floors and is also home to residential condo behind the mall. Notably, the mall is operated and run by the Far East Organization. The real estate group also operates malls like Lucky plaza, Far east shopping and plaza at Orchard road. However, unlike these malls at Orchard which most would come to know as a remittance and domestic helper's hangout choice. In contrary, West coast plaza have tad bit more of a cozy family-friendly feel.
It is tad like one of those rustic malls I enjoy visit away from the overcrowded buzz like JEM and NEX malls. Also this mall is right up the alley to the likes of Tanglin mall where we previously checked out the JEN buffet, as well as great world city at Kim Seng. However, do not expect Fraser or Capital land operated malls level of exciting tenant curation of stores on offer here.
Notably, the main atrium of the mall is rather devoid, with an open space for two cafes. It looks rather bland, even by today's mall standards.
Functionality is pretty much the works here. The essentials without the fat. Moreover, Anchor tenants here includes supermarket chain Cold Storage, as well as a Daiso store.
A checked past
Notably, Ginza plaza had quite a bit of a notorious history not known to many. It had an unfortunate incident of a gas explosion at the mall before it's opening day in the early 90s on Aug 1992. SCDF called it an explosion with persons injured which left 61 injured and 3 dead.
Notably, the mall was named after the high-end commercial and shopping district in Tokyo. Ginza plaza mall was conceived to be a Japanese expatriate hot spot, but with limited success. Still it's hard to picture that the mall had already been around for over 30 years. The mall closed for a major renovation on March 2007 costing $26M.
Today, the mall has a modern atrium style open layout. Notably, when Ginza plaza first opened, it had a more cozy feeling. I remembered the mall in the 90s has small atrium water features and bridges on the ground floor with lush vegetation. Now, all these are gone and replaced with a more maintenance-friendly open tiled walkways we see here today.
A community focus
In addition, walking around, there are a couple of family entertainment venues. This includes a gaming arcade on the upper floors, enrichment teaching centers, and a couple of outlet apparel stores on the ground floor.
Notably, some are shuttered possibly from the pandemic. Furthermore, there are notably small family run stores, like a Lego shop called Toysland, as well as a sports equipment store.
Additionally, food-wise the Coffeebean and Starbucks can be found here too, as well as a fast food outlet Burger king and Long John silvers too. Also, there is a food court on the upper floor which appears to be shuttled for good.
All in all, that wraps up my short and rather opportunistic exploration of West coast plaza when I was in the neighborhood. There is just some vibe about old rustic quiet malls I enjoy visiting. Still, it is not a mall you would go all the way out to visit, but rather you would accidentally chance upon when you are in the area, then you'd be glad it is there.