Let's embark on a visit to the brand-new Children's Museum Singapore – an educational haven tailor-made for kids. This museum is housed in a historic double-storey colonial building on Coleman Street, Unit 23-B, boasting a rich history spanning over a century. Interestingly, this building once served as the Singapore Philatelic Museum.
The primary aim of the Children's Museum Singapore is to foster a sense of wonder and joyful learning among children. Furthermore, this enables kids to connect with both Singaporean culture and the wider world. To provide an overview, the ground floor of the museum features a permanent gallery that chronicles Singapore's history- but more on that later.
Also, on the other hand, the second floor houses temporary galleries and Special Exhibitions, offering a rotating selection of displays to keep the experience fresh. It's important to note that prior online booking is essential to manage crowd sizes and prevent overcrowding.
Journey Through Time: Permanent Exhibitions
Upon entering the museum, you'll be greeted by Wonderbot, the museum's mascot, in the entrance lobby. Here, Wonderbot invites you to delve into the "Voyage Back Through Time". Also, it is a permanent exhibition tailored for children that delves into Singapore's history. This immersive experience taking you on a captivating journey, spanning from Singapore's pre-independence era to the present day.
This ground floor exhibition is divided into four distinct segments. It begins with a living room-style storage area, housing artifacts and fragments unearthed from the Fort Canning archaeological excavations. From there, you'll delve into the world of the spice trade, a vital aspect of Singapore's role as a hub for entrepot trade during the colonial era of Raffles.
A Voyage Back Through Time
An interactive highlight is "The Hidden Chamber". It is an immersive theater show that allows you to experience life aboard the ship Ahoy. This exhibit sheds light on the arduous journeys Singapore's forefathers undertook to reach the island. Also, you can explore the ships they took on their journeys, complete with sleeping hammocks and a glimpse into the challenging conditions of the underdeck.
The journey continues with scenes of loading and unloading goods along the Singapore river and port piers, offering a glimpse into the trading activities along the Singapore River. Also, the voyage culminates with "The Marketplace," where kids can engage in a simulated trading experience. Here you can fancy "trading" products through goods on weighing scales to determine their value.
Visit a recreated old Neighbourhood street
Transitioning into the modern era, "My Neighbourhood" recreates scenes from Singapore's past. Here you step into a small, recreated scene of Singapore old shop houses back in the day, complete with authentic props and furniture.
Moreover, items here includes a variety of old shops like a grocer, barber, butcher, toy store, and even a Tibetan shop, complete with authentic toys and nostalgic items.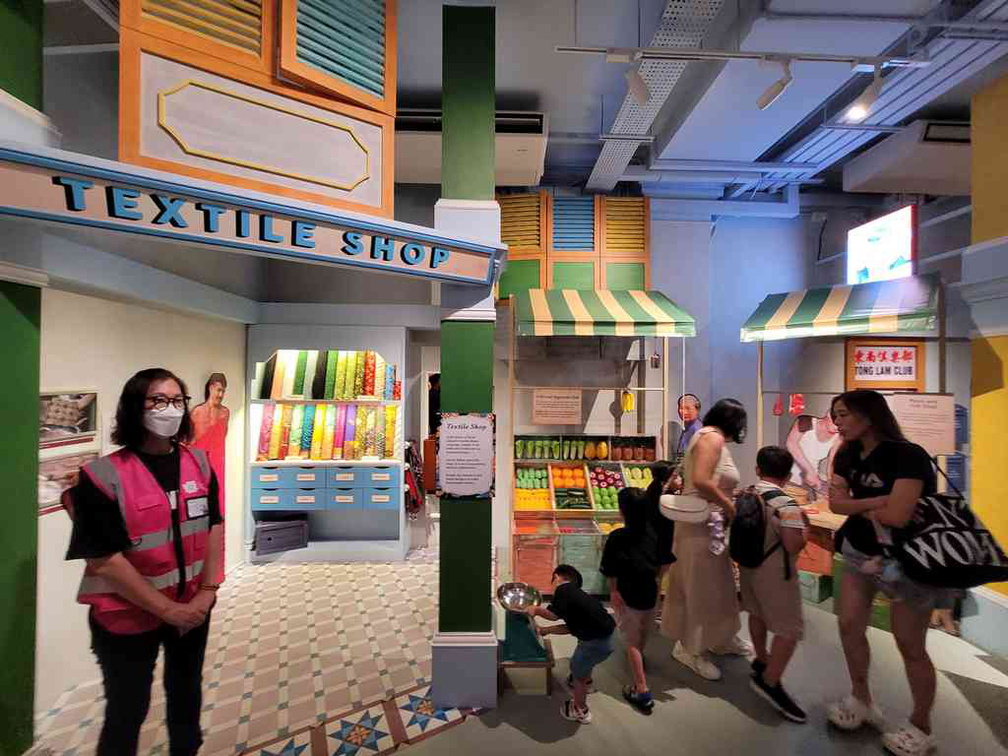 The sundry shop is one of interest, with an assortment of old toys on display. Interestingly, even the metal coin tins which the shop owners back then use to hold money can be found hanging from the ceiling via working pulleys.
Moreover, you can spot some elements of postal item such as post boxes, can be found integrated within inconspicuously in each of the galleries like everyday items. Do keep a lookout for them, they are items kept here from the collection of the old Singapore Philatelic stamp museum.
Also, this shop neighborhood house spot provides for one of the best photo opportunities with your kids too, as they discover scenes of a lost Singapore through play and exploration.
In essence, these exhibitions offer a child-friendly version of Singapore's history, integrating playful elements into each segment. Also, it's akin to a history-infused playground, where children educational elements are seamlessly blended into the play experience.
Moreover, the focus lies more on play than on presenting new facts, especially in comparison to the National Museum of Singapore. Also, the information is presented in a simplified manner, using images and straightforward language on information boards within the galleries.
Part of the old stamp museum
Exiting the "Voyage Back Through Time" section leads you back to the museum's main lobby area, which still retains remnants of the old stamp museum. The lobby space has expanded, and the former gift shop that once stood at the entrance has been removed for this larger lobby space. Also, the museum does not have a shop now.
Here, you'll find displays showcasing plastic models of historical post boxes from around the world. This open space here is also where children interaction performances are held, like a Mr Postman session during my visit. Also, from here, the galleries continue on the upper floors, accessible via an inconspicuous set of steps concealed behind vibrant walls.
Greeting you on the second floor is the "Play Pod," a safe haven for children aged 2 to 4. It is designed for unstructured play and exploration in a green garden-themed environment. Also, safety measures, like soft surfaces and rounded corners, are in place, but adult supervision remains a requirement to enter.
An Evolving Experience
The second floor also houses Special Exhibitions, with "Imagine A Garden" being a highlight. Also, the second floor is dedicated to three rotating galleries, typically evolving on an annual basis ensuring that each visit unveils something new and engaging.
Imagine A Garden paper sculptures
Furthermore, "Imagine A Garden" carries an Alice-in-Wonderland ambiance, with green hedge mazes partitioning various captivating displays. It allows you to wander around points of interests with display frames of sculptures and play elements through this small forest.
Also, here, the exhibition showcases intricate paper sculptures of birds and flowers crafted by Colombian artist Diana Beltran Herrera.
Also, these beautiful paper sculptures offer insights into the diverse avian and floral life of Singapore and Southeast Asia. Notably, the displays are arranged at a child's eye level.
Another captivating gallery on this floor invites exploration into the various ways Singaporean communities celebrate birthdays. This expansive space, once home to the stamp museum's postal history, now houses quirky exhibits.
This includes a room with funhouse-style mirrors that explore body image perceptions. Here, you can learn about welcoming newborns, selecting ideal gifts, preparing delightful birthday treats, and more.
Additionally, if you are sharp at a food and baking at the far end of the gallery, you can notice a familiar cabinet from the old Singapore Philatelic Stamp museum. Also, theses plastic food models were saved from the old second floor food gallery where they were displayed as Singapore foods.
Wrapping up
To sum up, a visit to the Children's Museum Singapore promises a captivating experience for around 1 to 2 hours. Tickets for the Children's Museum Singapore are free for Singaporeans and PRs. Likewise, admission fees apply for tourists and all other foreign residents costs $10 per child and $15 per adult. You can book your tickets online prior, or use self-help kiosks on-site at the lobby.
This is especially if you're accompanied by little ones. But it be good if the museum allows entry to all guests. Whether you're immersing yourself in the time-traveling voyage on the ground floor or exploring the special exhibitions on the second floor, the museum offers a blend of playful engagement and educational insights. Despite its compact size, the Children's Museum Singapore is one to check out within Singapore's arts and civic district, providing a unique perspective on the nation's history and culture tailored for young minds.