Update:
Following the refurbishment of the Maritime House Cantonment, Mariners corner had shifted to their new restaurant location at Clementi Sunset way (Blk 10 Clementi Street 12). You can read more of
their new restaurant here
.
Located along Cantonment Road, Mariners Corner Cantonment Restaurant at Maritime House is one of the few surviving family-run homely restaurants today serving authentic Anglo- Hainanese western fare.
A Mariners' heritage
The Maritime House building serves as an administrative building and clubhouse for all seafaring sailors and captains who call to port on Singapore shores. Physically, the commercial property is situated within a stone throw near the Keppel container port opposite The Pinnacle at Duxton housing board flats. Notably, it still serves visiting sailors till today, providing apartments accommodations- a home away for seafarers during their stay at the Port of Singapore.
Maritime House is also home to a number of commercial business and an eatery all tucked into its tiny 12-floored footprint. Also, this includes the Singapore Mariner's club, Seafarer lounge and a Maritime Medical center for the sailors. They have their affiliations with the Maritime Port Authority (MPA) of Singapore.
Cozy and homely experiencing a time bygone
Sailor hospitality is the name of the game here. The Mariners' Corner Restaurant is a well-known hang out and dining point for sailors. The restaurant was founded and run by a Chinese Hainanese family, who been serving their Hainanese Western Fare since 1984. Additionally, I had always wanted to write a review of this restaurant, having patronized it for over a decade, but hadn't done so till now.
The restaurant entrance is located just right beside the Maritime House main lobby entrance. Also, Mariners corner still maintains the cozy-dreamy family restaurant feel complete with dimly candle lit setting with tables draped with traditional table cloths dating from the early 80s.
It is almost like going into a realm back in time. Remember the old Jacks place steak houses in the 90s with dim candle lit tables draped with lumberjack-style checked table cloth? That's the experience you get here at the Mariners' Corner- an experience almost extinct in fast-developing Singapore.
Moreover, Mariners' Corner regularly updates their menu on their of their regular menu items when any festive season approaches. Also, you can find seasonal items in their Festive menu, on top of the regular menu.
Mariners Corner, a place for steaks
Moreover, the restaurant is known for their steaks and lobster dishes. I will strongly recommend their assortment of conventional steaks, such as their Tenderloin steak ($28), Angus Rib eye ($24) and Sirloin steaks ($22).
Typically, your dish is served with a small side of seasonal garden vegetables, together with a baked potato. Here staff will thereafter load your potato with an optional serving of cream, shallots and parsley.
Moreover, I found their steaks are to be of very good quality. Also, they are cooked accurate to your desired done-ness. The kitchen managed to get medium-rare done right with a juicy inner with slightly sheared edges. It is quality meat even rivaling that of premium dining restaurants.
All steaks from the Al-la-carte menu are served with baked potato and summer vegetable sides. Other meats worthy of trying include their NZ Venison and Lamb cutlets. Also, their meats are in general pretty juicy and not too dry.
Seafood with Steaks
Their Lobster meal selection (ranges about $31) comes served with a choice of meats, such as fish (pacific dory), beef or grilled chicken. The Lobsters are grilled with a crunchy center.
Moreover, their chicken steaks are juicy and grilled fish soft and creamy on the inside with a crispy outer. Commendably both very well prepared and very affordable too.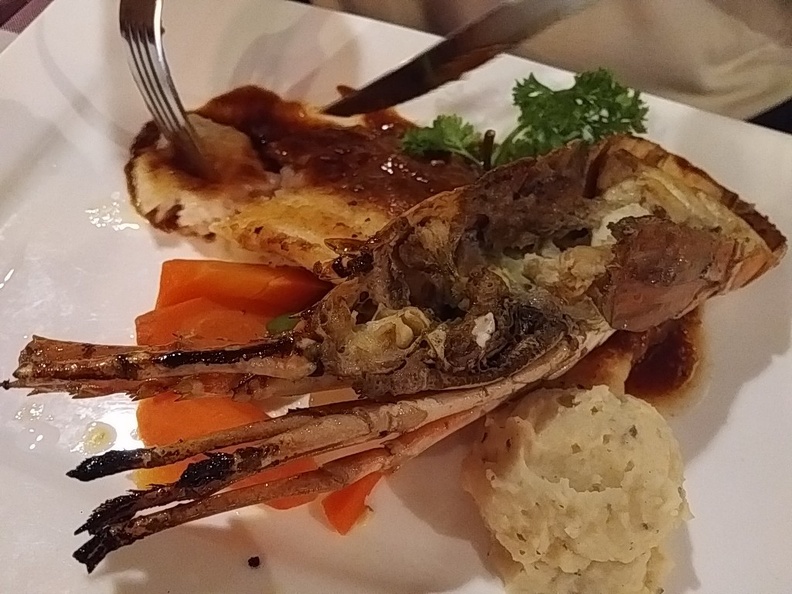 Moreover, other restaurant signatures include the N.Z lamb Shank, Fish and Chips (both about $19.50). They are similarly served with potatoes and seasonal vegetables. If lobsters are bit too pricey for your platelet, there is the option for meats paired with King Prawns, setting you back a more affordable $22 a dish.
Furthermore, their fish selection is usually served with butter sauces and Pilaf rice. For a restaurant dine-in, prices range from as low $20 for an al-la-carte main course, up to $30+ for premium steaks and lobster. You get your steaks served on the plate or on hotplates depending on your liking or on special request. Their friendly staff will be open to accommodate.
Oxtail soup, a Mariners Corner classic
Moreover, recommended side dishes shall be the Braised Oxtail stew (which can be eaten as a meal too) and their Escargots. Their signature braised colonial Oxtail stew ($18.50) a family Hainanese recipe. Also, it had been told that the stew is based on a secret recipe passed down from the owner's father when he was a colonial cook.
Escargots ($12) are served a half dozen quantities. On top of your main course, you can top up $5.80 for set the set meal. In addition to access to the salad bar, set meals are served with bread, soup and dessert of the day, as well as coffee or tea. The salad bar buffet which primarily serves as starters and fillers while waiting out for your main course.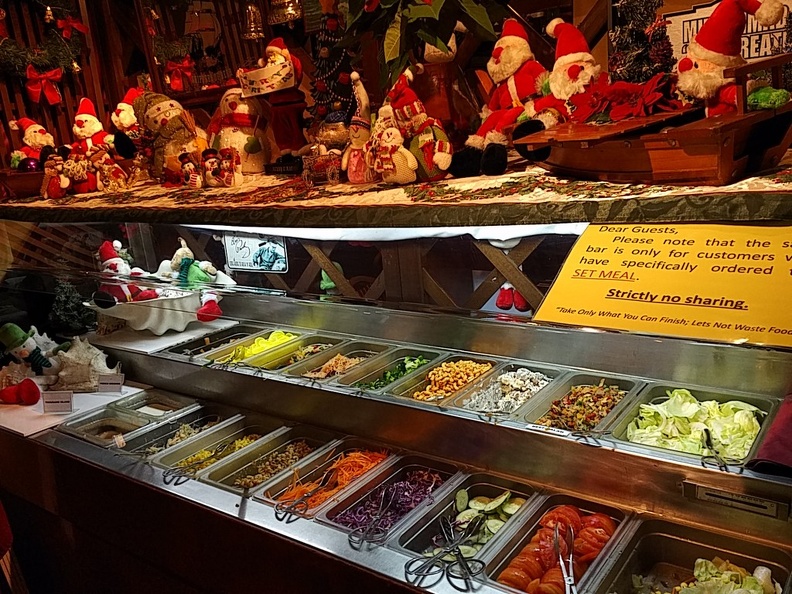 Additionally, Mariners corner salad bar selection is extensive, complete with an assortment of usual salad funfair such as lecture, tomato, etc., with added bonuses of fruits, bread (and bread sticks, my favorite), as well as pasta/beef mixes with chilled meats.
My only gripe was the waiting time for the food. My steak usually takes about 20 minutes to arrive, Lobsters take considerably longer. However, the inclusion of a buffet salad beforehand helped to alleviate the wait, keeping me (and my stomach) occupied before the food finally arrived. The salad bar is good for an appetizer, as well as a post-main course dessert fruit supplement.
Family friendly
Moreover, the restaurant is family friendly, though cramped at times. Hence it makes the restaurant a space constraint for visitors with wheelchairs or children strollers. The restaurant also serves and assortment of wines by the glass or bottle. Just check with your sommelier/waiter for details. Their prices are reasonable at under $25 per pax for a rather filling meal, and service is excellent.
The restaurant opens at two slots daily. Firstly 11.30 am to 3pm for lunch, with a choice of the lunch set menu. Secondly, for the evenings from 6pm to 10pm serving the main dinner menu. The restaurant takes a mid-afternoon break in between daily opening hours.
The nearest MRT to the Maritime building is Outram MRT, where you can exit at the Cantonment police complex and make your way up the hill toward the Pinnacle Duxton HDB. Basement parking in the Maritime House is free for diners. Also, the restaurant takes reservations and is advised for festive days, such as Christmas. Additionally, worth noting that on festive days (like Christmas), the restaurant will serve a limited menu with inclusion of the salad bar, tea and coffee by default.
In conclusion, the Mariners' corner gets my thumbs up for an enjoyable dining experience. It offers good food with good ambience to boot. Do check it out if you are in the area.
Mariners Corner Verdict:
Must Go! | Actually pretty Good | Worth Trying | Shortlist Optionally | Should Avoid
Mariners Corner Restaurant and Bar
Maritime House, 120 Cantonment Rd
Singapore 089760