Jurassic world cafe is a themed novelty café restaurant establishment located at Orchard Ion Sky. Yes, that Ion which sits on top of Orchard MRT station. Also, the café operates for a limited time period for 2 months from 6 November this year to 3rd January next year. Lets see what [Jurassic World Cafe at Ion Sky has to offer.
Additionally, the establishment is a tucked on the upper 55th floor. You access the ion sky area via an express elevator from the mall's level 4 concierge service counter. Notably, there was an art exhibition at the mall entrance, which you can browse on your way in.
Moreover, given the current COVID-19 restrictions, entry to the restaurant is limited on a booking-basis, where you can reserve your slot in 30 minute blocks from the restaurants' opening hours from 11am to 10pm daily. Also, with the December school holidays in full force, expect the restaurant to be jammed-packed with family and kids.
Ion Sky Great views
At the top, you circle around a carpeted walkway which encircles the restaurant, with full panoramic city views of the southern and western sides of Singapore. Ion sky is pretty much towers over all the buildings along Orchard road, with Tang Marriott hotel itself looking minute from above.
Also, it is quite a sight to behold in itself. You can even see the blue sea towards Keppel/Sentosa and make out a visible hilly Malaysian ridgeline beyond the horizon towards Bukit Batok.
Furthermore, the theming of the Jurassic world restaurant is at best mediocre. The rather small, but otherwise well-spaced restaurant is lined with large leafy ferns mimicking Jurassic-era foliage, with one or two dinosaur statues like a Velociraptor by the entrance.
Also, the wall feature LED screens which only displays static images of Scenic dinosaur views like viewing them from an enclosure. It's quite a bummer. The concept tad reminds me of the temporary fad-driven Japanese anime themed cafes you can find in Tokyo Akihabara we explored earlier this year.
Surprisingly quality main courses
Moreover, Jurassic world menu at its core is a Singaporean Fusion one. The establishment menu options are simple with a mix of local and western flairs. You place your order and pay right at the restaurants entrance before being seated.
I would recommend their Jurassic World Burger ($28). It is one of their best offerings- a beef cheeseburger sandwiched between charcoal buns. Also, the patties are juicy though the burger itself tad dry and better with more sauce. Your burger comes with potato wedges as sides.
Furthermore, I found other dishes like the Nasi Lemak and Volcano curry rice ($23) tad bit too bland for the offerings. Though. The curry is a mildly spicy and great if you demand a more Asian flair and want something more unique than plain Nasi-lemak ($20).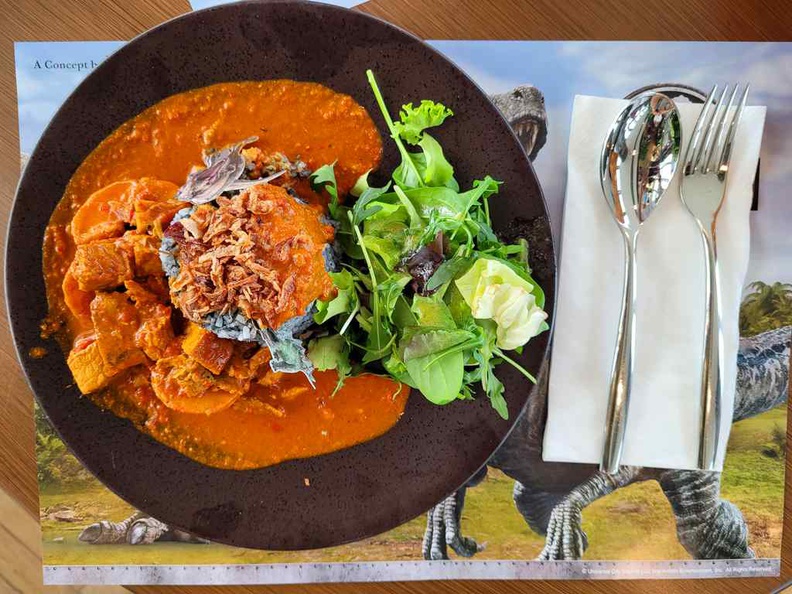 Moreover, there are also Battered Fish & Chips ($24), which you can order out of the menu and is available on their online menus. Additionally, going with the Christmas theme during my visit, is a choice dish of Christmas meat platter comprising of roast pork ribs, and chicken. Also, kids Menu items includes (Mac & Cheese) $18, and potato sides such as Curly Fries $14 and fried Tater Tots (hashbrowns) going for $14 a pot.
Desserts and drinks- not as dinotastic
I would recommend their interesting themed desserts, such as their Lava flow cake ($16). It is essentially a lava cake. It is a nice touch which goes well with the Dino theme. Also, the Lava flow cake as a good sweet dessert to top up your meal.
Moreover, like a lava cake you can see the bright salted egg yolk "Lava flow" from within. Also, the Fossil Excavation Cake ($16) is what I like to call and "activity meal" which turns the phrase "don't play with your food" over it head. Also, it beckons you to dust out the frosting of your dessert cake like Archaeological diggers.
Stay away from the drinks
Also available to go with your main courses are a selection of novelty drinks and desserts. But I find it hard pressed to recommend them considering they do cost ridiculously expensive. $9 for a cup of Milo or $8 for a Mosasaurus (regular) soda anyone?
Hence, if there is one thing I would not recommend here are the drinks. I found the drinks more to be a novelty item which serves more to amuse kids. Also, your drink is coloured, plain themed with small cardboard dinosaur cut-outs, but does not come with any smoking volcano contraptions- something you did expect for a drink costing as much as a lunch main.
Additionally, more affordable options includes hot drinks, such as Latte, Cappuccino and Mocha at a more Starbuck-priced range of $6-6.50 per pop. Iced Latte sets you back $7. Totalling up, a meal for about 2-3 persons without drinks could set you back just over the sub-$100 range.
Moreover, the restaurant has a small Toy section at it's entrance. It comprises of a mix of Hasbro official merchandise as well as a curated selection of Lego sets themed from the last movie. Also, the establishment touts to offer a limited section of special toys, such as Mattel's Snap Squad and Jurassic World-themed dinosaur Lego sets.
All in all, dining at Jurassic world is a mixed experience. If you are a Jurassic World fan and want a place to amuse the kids, I would strongly recommend a visit.
The dishes and theming is at best what you can find for Jurassic world offerings you can get in Singapore for now. Though you might be disappointed to find anything too out of the ordinary here. Their food quality is good, but offered at a premium too. For the rest of us, I would recommend to shortlist the Jurassic World Cafe.
Verdict:
Must Go! | Actually pretty Good | Worth Trying | Shortlist Optionally | Should Avoid
Jurassic World Cafe Ion Sky Locality Map
ION Sky
2 Orchard Turn, Level 55,
Singapore 238801
Daily Opening Hours: 11am–10pm