Today, let's take alook at the BaseUS wireless car charger with an unboxing, first impressions and functional test of the car accessory product. BaseUS is a Chinese-branded equipment brand manufacturer. They are Shenzhen based consumer electronic brand producing products under their own BaseUS Technology brand, like the product we are looking at here.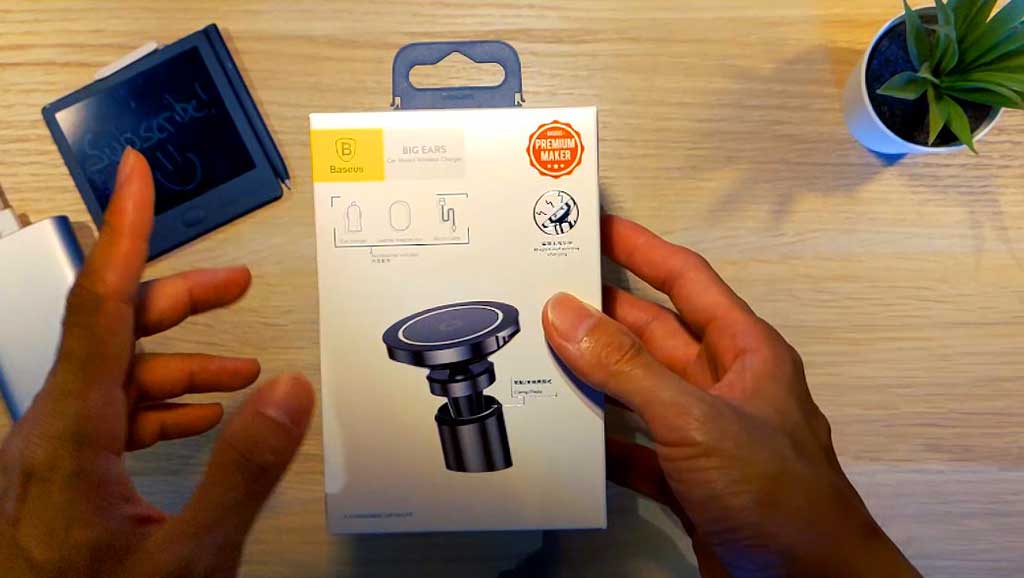 Furthermore, the product goes by the "Big ears" charger. Though the 10W charger does not the highest wireless charging output that we see on the market today (which can go upwards of 15W), but it is one of the few purpose in-built with a car mount. It is quite reasonably priced too, I bought this unit at $28 SGD shipped from online merchants. Notably I found this charger selling at $49 from brick and mortar stores in Sim Lim Square.
What's in the box
In the box, you get the basic essentials. The charger comes with a simple set of instructions and warranty information, as well as some rear aligning cards to stick your adhesive pad onto the back of your phone. Also included as a bonus is a 12v cigarette lighter charger which outputs 10w via a single USB out port. Check out more with an unboxing video and first impression video below.
Exterior outlook
The charger unit is simple. It is clad is black with a mixed of plastic body on the charger unit and a sturdy solid metal stand on the base. These two pieces are attached via a stainless steel socketed ball joint which is rather tough to rotate.
The stiff ball joint does hold your phone pretty snugly in place, so it does not move when driving. Your phone is secured onto charger unit by magnets hidden in the charger plate.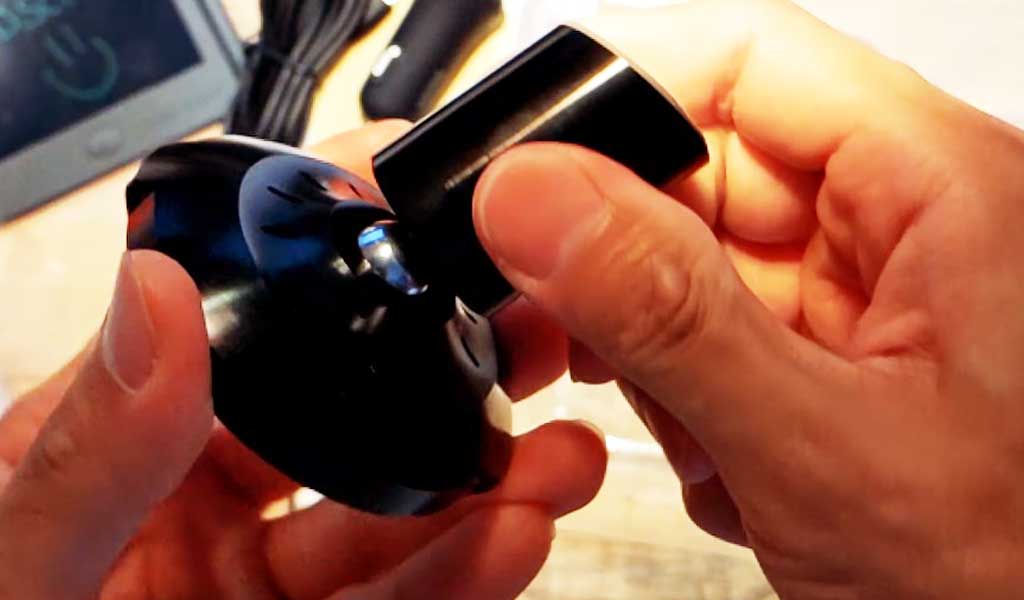 Furthermore, you get a faux leather adhesive pad which adheres onto the back of your phone via pre-applied 3M double-sided tape. Also, in default mode, the charger comes with a double-sided 3M adhesive which you can stick to your dashboard. This base unit can be screwed off to reveal an air-vent clip which you can stick to your car non-destructively.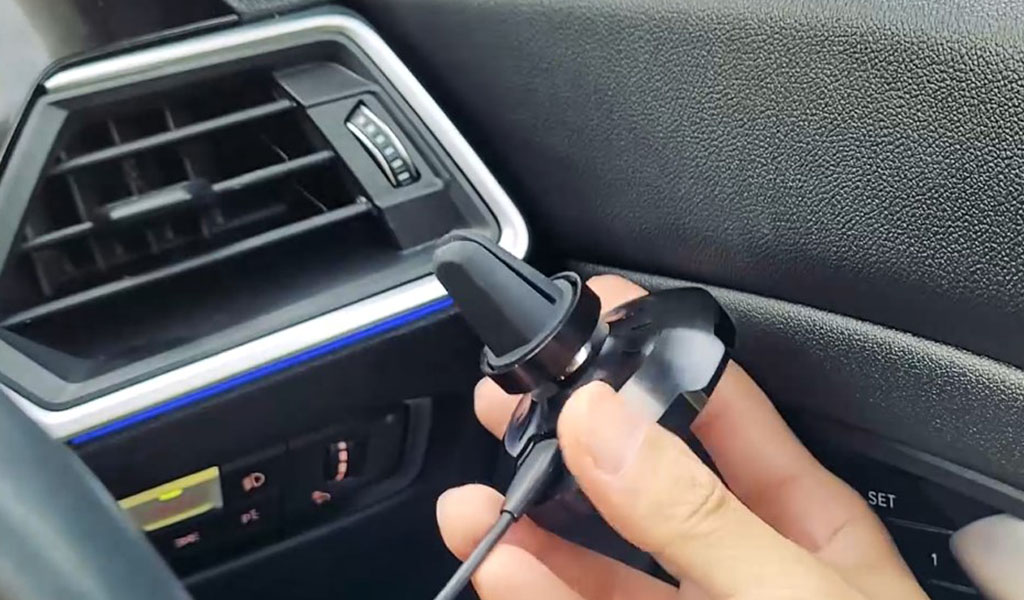 Functional tests
Also, the charger unit is circular which has a magnetic material placed on its outer rim. This holds your phone in place which mated to the included phone backing pad. Also, the center plastic area is where the inductive charger is located. It is surrounded by a magnetic outer ring which holds your phone in place.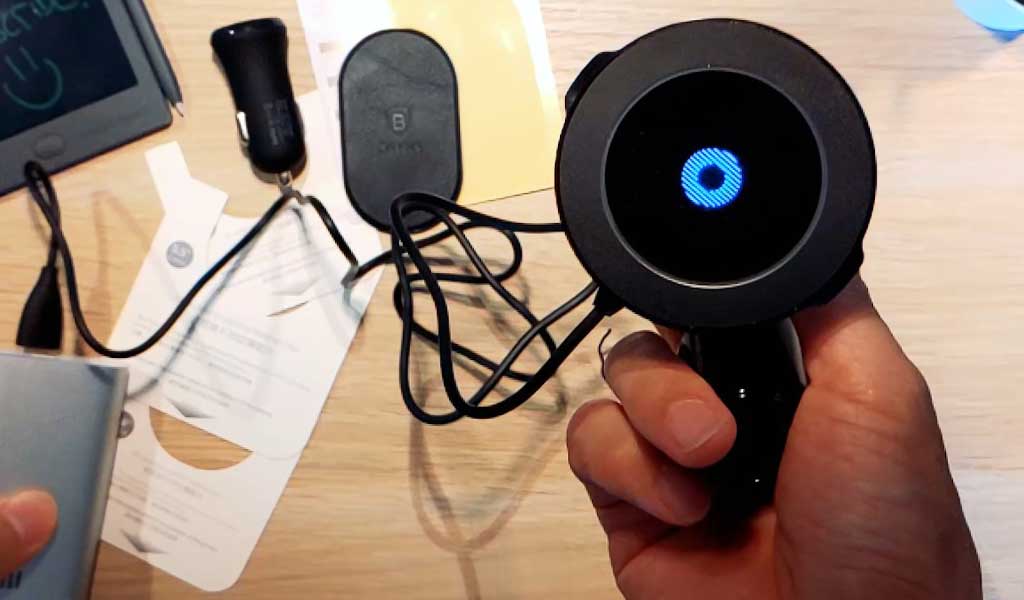 Moreover, at its core, the 10W charger kicks out charge at two operating voltages at 5v at 2 Amps or 9v and 1.67 Amps. This is depending on the device type it detects using the Qi wireless charging standard. Also, the charger has a blue LED indicator standby light showing that it is powered-on.
On my tests, the charger is based on a universal wireless charging format probably based on wireless Qi2 (version 1.2) of 10 watts out. Still, a slow charge has benefits to battery longevity. Furthermore, your charging pad connects via an included Micro-USB to USB type-A cable. This was tad odd considering USB-C is mainstream now.
Backward compatible with older wireless devices
Additionally, it was able to charge older Qi version 1 phones such as a Samsung Note 3 with a third party inductive pad add-on, as well as the more modern phones I managed to test in hand with the iPhone X and Samsung S20. However, charging time is not the fastest, it takes on average half the amount of time (about 3.5 hrs for a full charge) to charge from a cable routed to the phone instead of the wireless charger.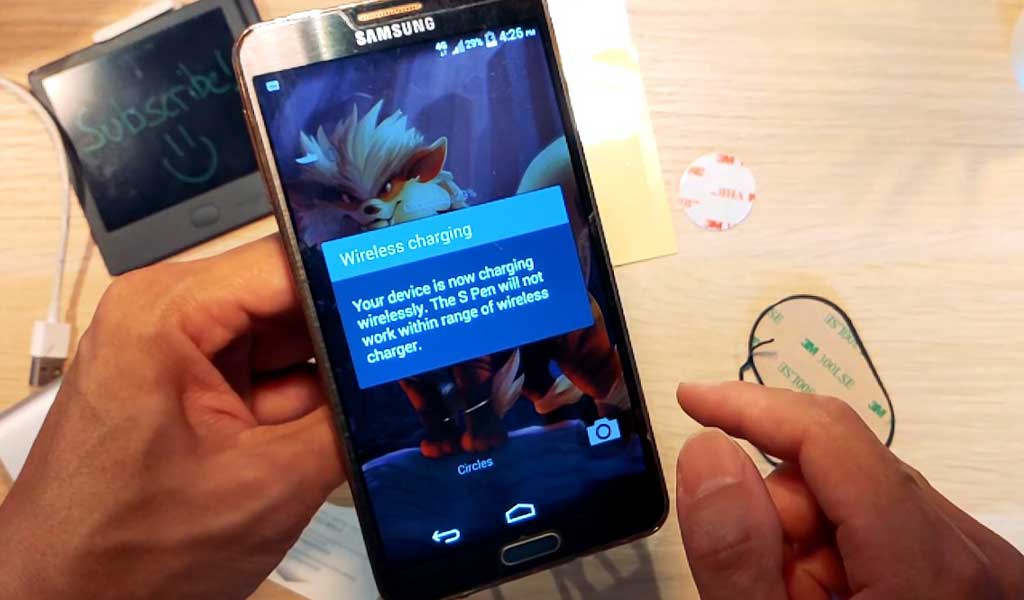 Still, slower wireless charging has more benefits to battery longevity. On real-world use, I was able to get a net positive charge rate through the charger with Waze navigation app on my phone and the screen constantly-on during a drive with navigation. But charging was slow, at a rate similar to running it off a 1 Amp wired charger, it is no-where near fast charge, and you are better off plugging in your phone directly via a USB-C cable if you need juice urgently.
However, that's what you get with wireless charging. In all, you do have the flexibility of not having to deal with the hassle of cables and plugging in your phone physically with a cable when getting into your vehicle. Setting up the charger is simple, simply plug it in your vent, or if you prefer something tad more permanent have it stuck on your dashboard via the included 3M heavy-duty mounting tape.
All in all, it is hard to fault the BaseUS Big Ears wireless car charger. It has little flaws to begin with, couple with a simple and sturdy design. I would recommend the wireless car charger on the basis that it is one of the few such car products out there by a reputable brand, and at a rather reasonable price too.
BaseUS wireless car charger- 75%
Pros
Very affordable price
Quality solid build
Novel way of magnetic attachment
Included 12v charger and cables
Cons
Mini-USB in place of USB-C connector
Not the fastest 10W charging, despite 15W being mainstream now