Update:
Following the SERs en bloc of
Tanglin Halt
, Chef Hainanese Western has now moved to the new two-storey
Margaret Drive Hawker center
Unit #1-32 (Blk
38A Margaret Dr, Singapore 142038
).
They will begin operating from 28th Aug 2022.
Chef Hainanese Western food had been serving up their traditional western food style for decades. Such small family businesses, were largely prevalent in the 1980s. Today, Hainanese style western food is fast becoming a rarity in modern Singapore, especially family-run ones. They are often fast being replaced by commercialized and convenient franchises in heartland malls.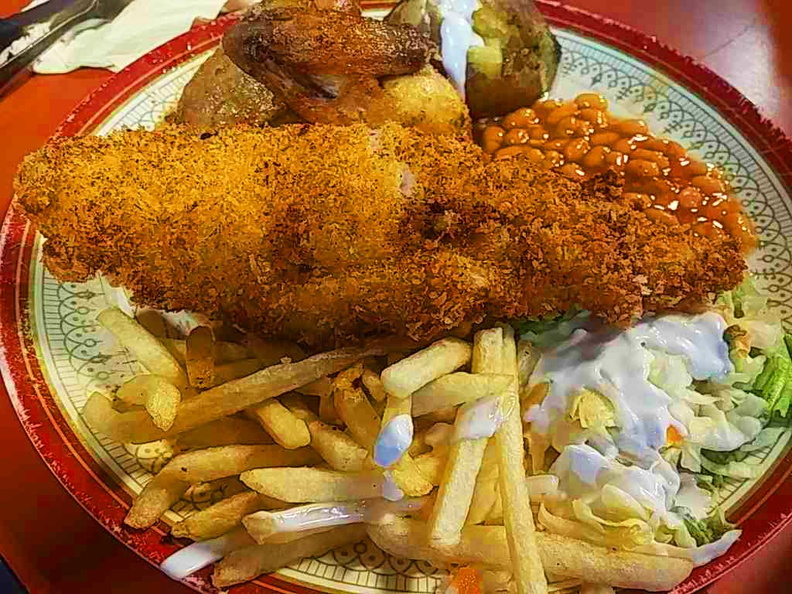 The store is located at a quiet hawker center in the Tanglin Halt neighborhood in Commonwealth Drive. It is tucked in the tranquilly away from the buzzing Commonwealth road and MRT area. A short shaggy elderly man with an overgrown beard greets you as he takes your order, which he passes to a chef hidden behind the storefront.
This elderly uncle is an icon for the store, having operated the place for decades. At times he can appear grumpy, which may raise some eyebrows. But not until you realize that is his work style.
Well priced and fair selection
The store offers the usual Western bells and whistles you expect at a western store in a government managed hawker center. Basic dishes are very well priced too. Staples such as lamb chop, chicken chop, ham steak, pork chops and fish & chips costs an affordable $5.50 a plate serving. You get sides of salad and fries.
These are typical and very reasonable prices in the hawker western fair. This includes mixed grill going for $9.50. Their grilled sirloin steak on a hotplate is priced at a very reasonable $7.50. A cheaper egg and sausage set costs $4.00, their cheapest dish.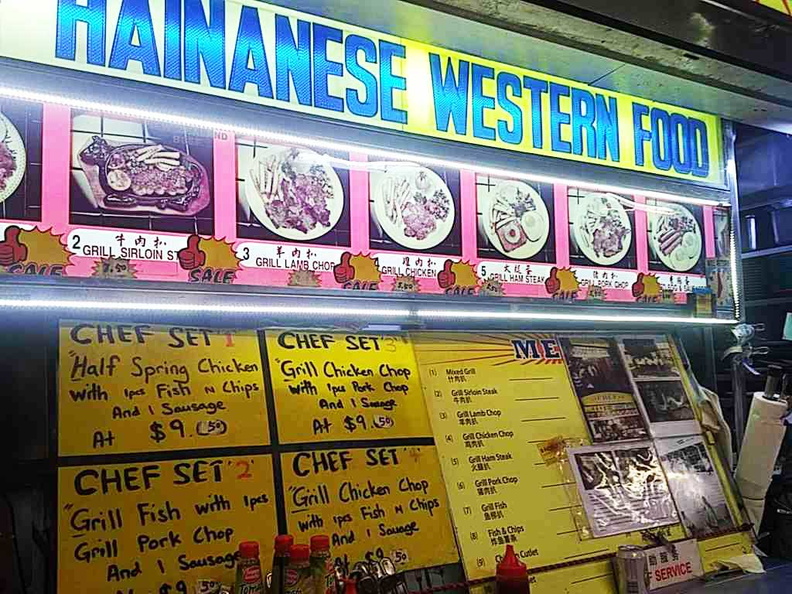 Additionally, their main draw however, are their value mega chef combo sets. There are 4 such combos sets on the menu all going at $9.50. These are what I call their "double sets" special. The meals are very filling. These combo sets are overflowing with food over the edges. The combo sets are essentially permutations of their 4 best selling dishes, namely their grilled chicken fillets, pork chops and fish and chips.
Hence here, you have a choice of the following combos:
Half spring chicken with fish and chips
Grilled fish with pork chops
Chicken chop with pork chop
Chicken chop with fish and chop
Moreover, all Chef Hainanese Western combos sets comes served with jacket potatoes and a single sausage. You get quite abit of a carbohydrate fix with your meal. Served too are heaps of thin French Fries as well as a baked potato. It is reminiscent of how Jack's (JP Pepperdine Group) restaurant serves authentic Hainanese western food with baked Jacket potatoes. It can be a rather filling meal indeed.
A home-cooked throwback
But don't get me wrong. There is nothing, wrong with such commercialized offerings meals, such as those by Collins, Astons, iSteaks or Burger Up Classix. However these offerings often lacks a unique selling preposition. With so many other alternative offerings on the high streets these day, it just feels bland and tad soulless in my opinion.
That is where Chef Western comes into the picture. Though the quality of the food is not exactly top-tier, it is however, not bad either. Also, it does make up for it in quantity. The portions of the chef combos are huge. They can indeed fill you up if you are really hungry or can even feed two ladies at a go.
The pork chops are soft and tender, though on the thin side. Chicken is juicy, but tad dry and overcooked on the edges. The larger chicken fillet cuts are however, juicy and nice. The fish and chips are breaded with a very crispy exterior and soft steamy center.
Great Value for money Steaks
Moreover priced at $7.50, their Sirloin steak is probably one of the cheapest you can find for the quality. The steak is tad on the thin side. Also, despite cooked from frozen, it is not rubbery-hard and well marinated with good taste within the meet. I thing I found odd is that their steaks not not served on hot plates as pictured. You get servings of jacket potatoes on top of heaps of fries and salad. Something like that will easily cost twice the price in restaurants.
But there are some quirks too, Chef western food is not perfect either. The fries were not crispy and over-fried in some areas, particularly the smaller pieces. It is no premium restaurant in comparison. But not overly fantastic in quality. The meats served, especially the steaks are cooked from frozen. It is tad dry in my opinion.
Uniquely old school
However, it is actually these small imperfections that is strangely part of the experience which makes dining at Chef Hainanese Western food so unique. it offers this old home-cooked staple feel that is probably not replicated anywhere in Singapore. Moreover, going in the traditional homely Hainanese western food flair, several tables near the store are decorated with pots of flowers with sauces for your food. The front of the stalls sits a tray-load of condiments such as chili and tomato sauces for your self-help needs.
All in all, I found the quality of the food offered by Chef Hainanese Western food very good for the price range. The stall opens from 6.30pm till about 10 pm and only in the evenings. At times with long queues forming for the entire evening.
Also, if you consider the price segment in hawker centers/coffee shops, you do get quite alot for your money. The food offered at the low price point is simply a throwback into a fast-disappearing era, which could be more relatable and appealing to baby boomers than the newer generation of millennials. There is no doubt about it. It definitely worthy of a try.
Verdict:
Must Go! | Worth Trying | Shortlist Optionally | Should Avoid
Chef Hainanese Western Food (海南西餐)
Tanglin Halt Food Center
Hawker Stall Unit #1-04
1A Commonwealth Drive
Singapore 141001
Opens 6pm- 9pm
Makan Place Locality Map