The Singapore Bay Run Army Half Marathon 2018 to be held on 26th August. It is a staple running event in the Singapore Annual Running Calendar. The event was previously known as the Sheares Bridge Run, the highlight of the event involving a run along the iconic bridge. Presently, given new more viable running routes in the Marina Bay area, the event now see the route through the Marina Bay district. Hence the name Singapore Bay Run and Army Half Marathon.
Furthermore, the 21km Half Marathon still remains the event highlight event. Moreover, the event is one of the few very affordable events around, with registration fees below the $20 mark for NS men. In comparison, this is contrary to running events in Singapore becoming highly commercialized these days. Open registration and members of the public however, have to pay the full $65 registration fee, but get better entitlements.
Here are the details of the running event:
Race Categories And Pricing
SAF NSmen
21km Army Half Marathon: $16
10km Race: $12
NS Team Run 5km: $10/pax to 5-7 Pax
5km Fun Run: $9
Families for Life 800m Challenge: $10 per pair
Public
21km Army Half Marathon: $65
10km Race: $47
5km Fun Run: $30
Families for Life 800m Challenge: $20 per pair
Race Route and Timings (Tentative, to be finalised)
The route is similar to last year's race. The route will see you pounding the pavement in the Marina Bay area. Moreover, the route will see you making a loop through East coast park and the Sports hub before returning back to the Padang via Republic boulevard and the F1 Pit building. The terrain will comprise of a mix of road asphalt(mostly) and concrete pavements. There are no off-road elements.
The start and end points are Esplanade bridge and the Padang respectively.
21km Route: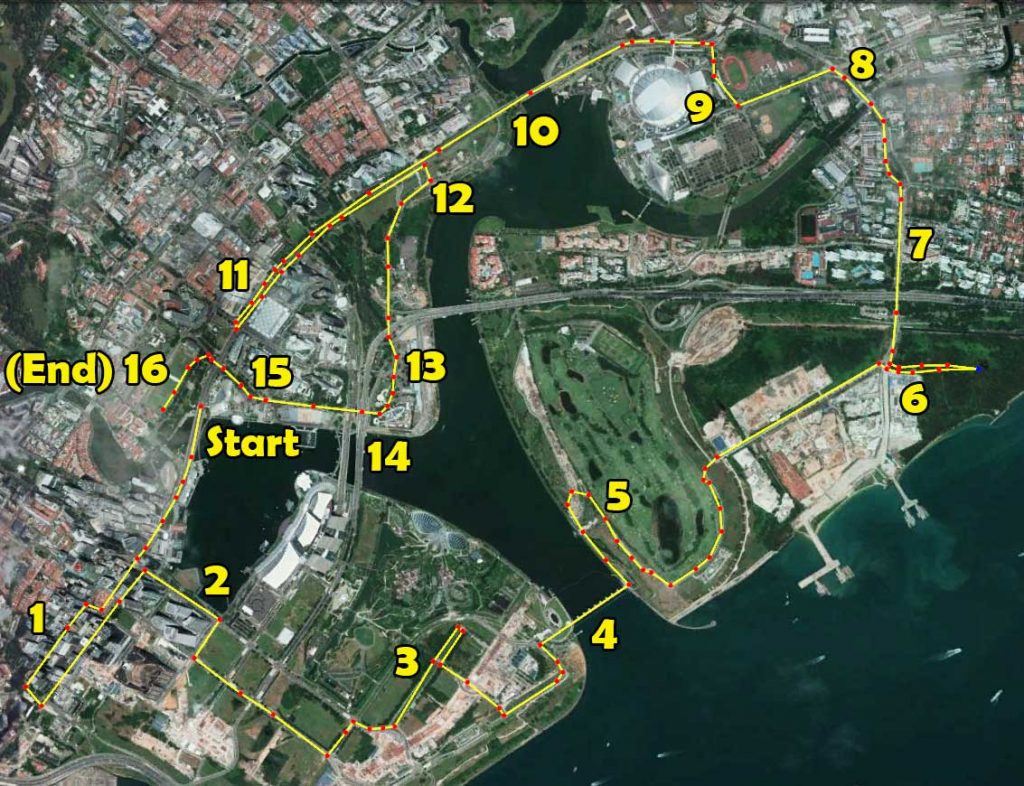 Landmarks:
Robinson Road Maxwell Road
Sand promontory
Marina Mall
Marina Barrage
Gardens by the Bay East
East Coast Park
Fort Road
Mountbatten Road
Sports Hub
Nicoll Highway
Suntec city
Republic boulevard
F1 Pit building
Singapore Flyer
Esplanade Drive
Padang
10km Route: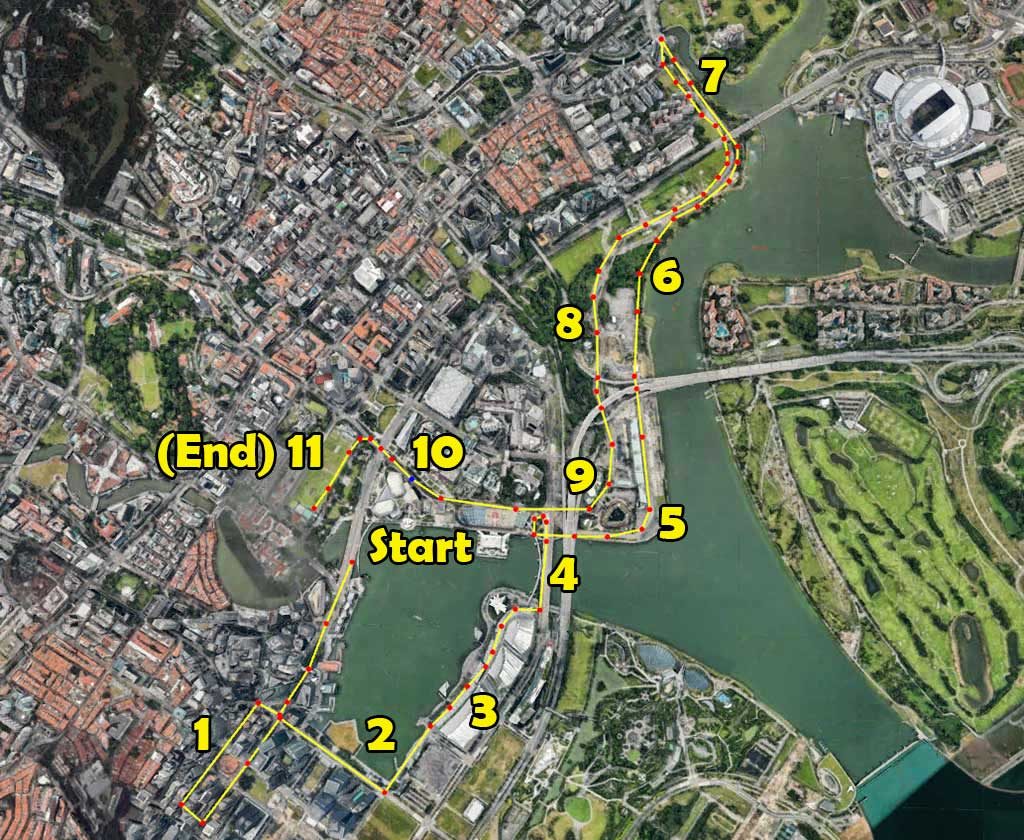 Landmarks:
Robinson Road Maxwell Road
Marina bay sand promontory
Sands convention center
Helix bridge
F1 Pit building
Republic boulevard
Crawford street
Republic boulevard
Singapore Flyer
Esplanade Drive
Padang
Flag-off Timings
21km Army Half Marathon: 4.30am
10km Race: 6.30am
NS Team Run: 7.30am
SAFRA 5km Fun Run: 7.30am
Families For Life 800m Challenge: 8.30am
Runners Entitlements
Apparel Entitlements
10km/21km SAF Active Servicemen, NSmen Team Run, SAFRA Members and SAF Family Members: SSBR and AHM Army Running Singlet
All 10km/21km public members: Event Tee Shirt (You don't get the Running singlet above)
All finishers: Finisher Tee (For 21km runners only)
Families for Life 800m Challenge: Event Tee (Families for Life Participants only)
Miscellaneous Items Entitlements
Goodie Bag (Containing various snacks and vouchers)
Personalised Participant Bib (Also serves as your RFID Timing Device)
Finisher Medal
Personalised e-Certificate
Admin Notables
Race Entry Pack Collection
The Race Entry Pack Collection will be held from 10 to 12 Aug 2018. You will collect most of your running entitlements with the exception of the finisher tee. More details will be updated at a later date.
Paid Shuttle Bus service
There are 32 pick-up points across the island departing at 3am sharp. They are usually located near bus stops near MRT stations. The organisers pretty much got the early travel plans of 21km and 10km runners covered. You can purchase your tickets online or at SAFRA clubs. Tickets are costs $6 for the early bird rate (By 28th may) and $7 thereafter. Tickets are available while stocks last. Also, from my own experience, usually there will be more than enough seats for everybody. More buses will be sent to areas which are oversubscribed.
Pickup range from all SAFRA clubs, Aljunied MRT Station, Ang Mo Kio MRT Station, Redhill to Woodlands, Yew Tee MRT Station, Choa Chu Kang, Yew Tee and Yishun MRT Station. You can find here the entire list of early morning shuttle bus pick-up locations.
Shuttle Bus departure timings (will depart sharply at the times):
21km Army Half Marathon: 3.00am
10km Race: 5.00am
To facilitate runner arrival in absence of public Buses and MRTs at the wee hours flag-off. SAFRA has arranged for dedicated paid shuttle bus services. I had taken these shuttle bus services before. They are quick, no-frills and gets you direct to your destination with time to spare (about 30 mins) before the race.
If you have bags to deposit, it will be recommended to head straight to the Padang bag deposit point upon arrival by bus. Expect queues which could set you back at least 20 minutes. Furthermore, refrain from using the portable toilets before the start of the race. They are usually over crowded with queues where you might end up missing your flag-off. It will be advised to use a toilet before arriving or the toilets along the route after the flag down.
Timing Device
The run will employ RFID champion chip timing. You will collect your Bib and timing chip from the race pack collection.
All participants must attach the assigned participant bib on the front of their running attire at all times in the race.
The shoe tag (one-time use only) has to be affixed to your right running shoe.
You can keep the shoe tag as a souvenir after the race.
Race entry pack collection
All registered participants are to collect their race packs at the race expo. Additional information on the race pack collection expo will be provided by SAFRA in due time.
SAF active servicemen will receive their race Bibs and materials from their respective army units.
After the designated race pack collection period, no further race packs will be issued to participants.
Please bring along your race registration the confirmation slip or NRIC/Passport for verification purposes.
In event of incomplete documents or inability to prove the identity of the runner, the race organisers reserve the right to refuse race pack collection.
Participants may authorise a representative to collect on their behalf if they are unable to collect their race packs in person. The following documents must be presented when the representative is collecting the race pack:
1. Race pack collection authorisation form
2. Participant's confirmation slip
3. Photocopy of participant's NRIC
4. Photocopy of representative's NRIC
Registration
You can register for the event at this direct link on SAFRA website.