25 degrees burger is a bar and restaurant serving gourmet burgers in the heart of town in the Bencoolen neighborhood. The hotel bar offers a mix of indoor and outdoor facing seating. Also, the burger bar ambience is chill and what you expect from a contemporary bar in a modern hotel.
The outlet sits at the cross junction between Bencoolen Street and Middle Road. It faces the NAFA arts school in the vicinity. I will be focusing mainly on 25 degrees burger mains offerings in my visit.
A tale of 4 burgers
Furthermore, 25 degree burgers has on offer a menu of 6 different burger types. Four of these are simply labelled "number one" to "number four". With the exception of their only vegetarian Veggie Burger, these four different varieties of burgers are what you should go for here at 25 degrees.
Burger variant "Number One" to "Three" are variants of Beef burger patties, each with an assortment of different toppings. For instance, "One" offers bacon and Caramelised Onions as your burger toppings, while "Two" has a more Mediterranean feel with roasted Tomatoes, prosciutto and burrata sauce. Their Number "Three" comes with Avocado, Mezzo Secco Jack, Jalapenos, possibly favouring a millennial's taste.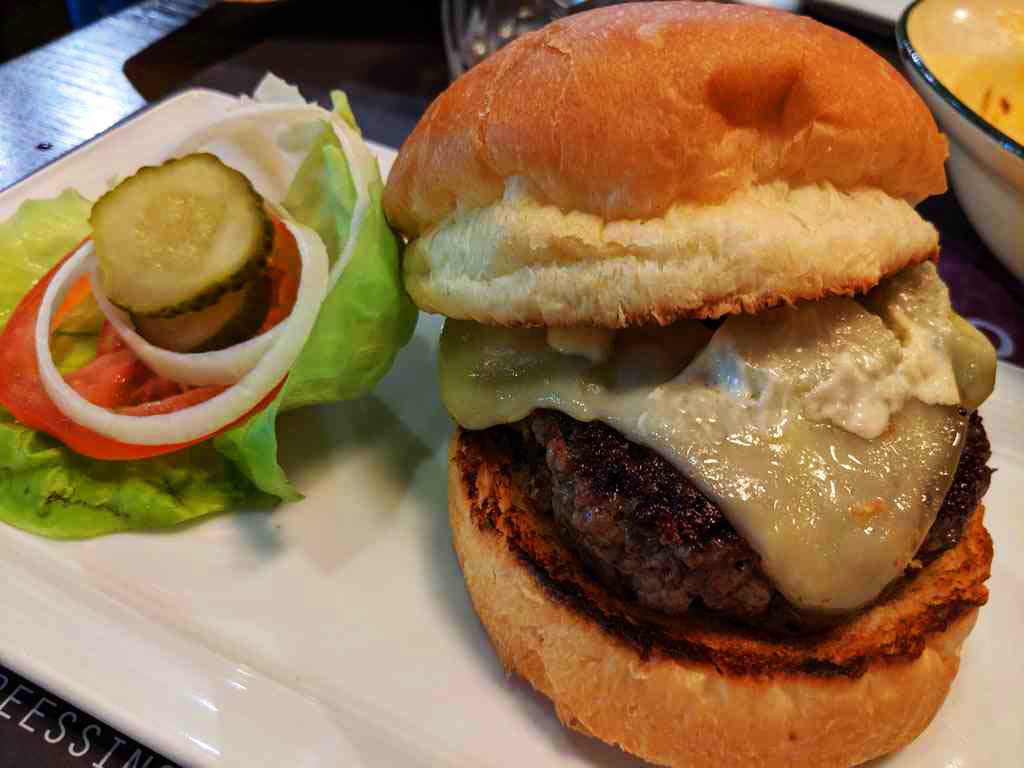 In addition, Yellowfin tuna offered as their Number Four option. It is topped with butter lettuce, fried onions and spicy ailoli. The burgers are made in typical American-style, loaded with generous servings of sauces which at times makes dining a rather messy affair. You can either "American-style" eat your burger with your hands. You can do so upside down to redistribute the sauces from soaking through the bottom bun and making a mess, or using the provided cutlery "European style".
Topping up the list is their American beef burger and Butter milk friend chicken burger. The buttermilk burger is marinated fried chicken thigh southern style, laced with tomatoes, lettuce, pickled daikon and Miso BBQ sauce. It is tad reminiscent of the Bruxie buttermilk chicken.
Additionally, your burgers comes served with a small side of salad if it does not fit. Otherwise it comes served in a brown paper wrap. Also, you can tell that the patties burgers were hand-made as they break apart easily when cut into. These are unlike factory-processed patties which usually have harsher binders holding the patty together.
Try their Filthy fries
Moreover, the 25 degrees also doubles up as the hotel's bar and café. They offer all day breakfast. Options includes toasts, hash browns and eggs cooked in a style to your liking.
Also, a recommendation to go with your burgers will be their Filthy fries. They are a sinful mix of fries topped with crispy caramelised onions, laced with cheese and bacon gravy. It is sure to throw anyone's diet off.
Additionally, their Burgers are of course, best paired with beer. Beers includes selections of IPA beers such as Kona, Pabst blue and Mac's three wolves. There are also Carlsberg and Kronenbourg 1664 on tap.
Also, it is commendable that the bar kitchens operate from breakfast at 7am all till past late at 3am. Hence, making it ideal for late night supper goers. Burger prices range from $14 to $19 a burger excluding sides. Hence, a full meal can set you back about $20 for a burger and side without a drink. You do pay a slight premium for the convenience.
All in all, 25 degrees burger does not strike you of a places serving a menu of craft burgers, with a selection rivaling burger incumbents, such as Fatboys and even Fat burgers. The restaurant burger bar menu offering, coupled with its location in the heart of town gets my recommendations of nice supper places in Singapore to have great gourmet burgers after dark.
Verdict:
Must Go! | Worth Trying | Shortlist Optionally | Should Avoid
25 degrees burger bar at G Hotel
Hotel G Singapore
200 Middle Rd,
Hotel G Singapore,
Singapore 188980
Opening hours daily: 7:00am–3:00 am.