I got to spend a weekend at a cool luxury villa in Phuket Thailand. It is pretty much a short trip away from home with my colleagues. My group shortlisted this chalet-like standalone villa as it is large enough to house over 10 persons in a nice chill and conducive environment. It is a rather viable alternative to say, a hotel resort. Let's check it out with a vacation.
Where is Beyond Villa Phuket?
The villa is located near Bang Tao Beach in Phuket, Thailand. It is one of the sights you can visit within South East Asia. The villa sits about an hour drive out from Phuket international airport (HKT). The establishment is know as Villa Beyond, Phuket. It is sold as a 7 Bedroom Sea View Villa, and located at Moo 2 Cherngtalay Thalang, 83110 Bang Tao Beach, Thailand. It is one of the few large villas on the hill in this neighborhood. Notably, I was told they are also for sale.
With prior arrangements, the villa have a complimentary airport shuttle via a mini-bus van with driver waiting for you at the airport to bring you straight to the villa.
Additionally, if need be your driver can pop you by a supermarket along the way to pick up and groceries or comfort food along the way. On my visit, it appears to be a supermarket frequented by expatiates living in the area. There are several upmarket cafes and fast food restaurants.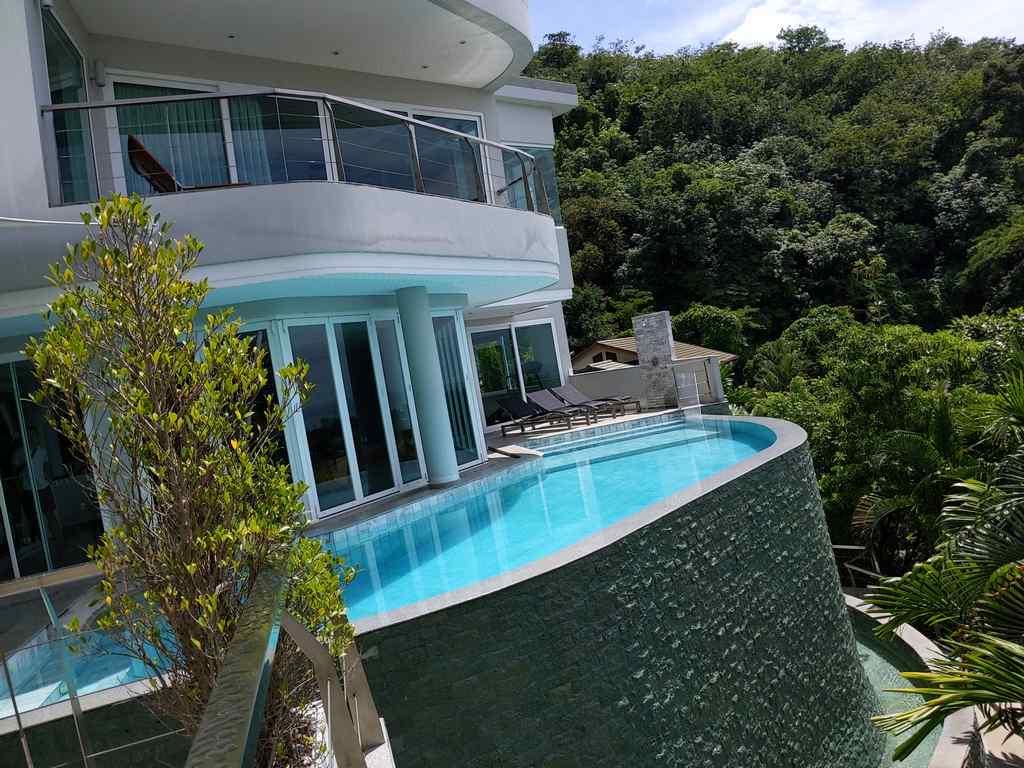 A massive luxury villa
On arrival, we were welcomed with chilled drinks and brought about a tour of the villa. The villa has over 3 floors with a roof top bedroom and balcony area. Stay prices cost about $100 per night, per person. The area is built on a residential hilly area, and is quiet and serene.
Additionally, the living area is a common area in the villa where all group activities happen. It has a large L-shaped sofa and sitting area able to sit 5 with ease, with more space on the floor. You get a 55" TV screen which you can plug in any Audio-Visual or game console you bring along, it is great for group gaming sessions.
Great for groups and dining
Moreover, the dining area can easily sit over 10 with ease. It is a long table situated by a dry kitchen completely decked out with all the essentials pots, pan and cutlery. It is ready to take on any major parties you can potentially throw at it.
Also, the ground floor is also home to a small activity room with a treadmill, stationary bike as well as a ping pong table. The outdoor pool sits on the middle floor. It is an infinity edge pool with views overlooking the open sea bay in the distance.
It shares the same views are the main master bedroom. Moreover, the pool is nicely lit with alternating colours at night. Adjacent to the pool are outdoor sheltered seating and BBQ facilities.
Jacuzzi with a view
Moving up, to the accommodation areas, the villa has 7 bedrooms, each with a king-sized bed each. Also, each bedroom have their own en-suite bathroom and tub. Some even has a Jacuzzi in place of a traditional bath tub. However, some of the bathtubs seem to have loose and missing fixtures, especially on the lower floors, I reckon they do need some maintenance.
Massive bedrooms
For instance, the master bedroom on the second floor has both a tub and mini Jacuzzi with an unobstructed glass window overlooking the bay views. It also has a walk-in wardrobe and a dedicated balcony overlooking the infinity pool below.
Interestingly the villa has Sonos audio network and music entertainment system throughout. Moreover, the villa here is one of the many located on the top of a hill, It overlooks the vast open seas. There are 2 bedrooms on the basement floor below the living room accessible via outdoor steps. These 2 lower floors have a small garden right in front of your room which you can rise in the morning to view through large glass doors.
Also, there are 3 bedrooms on the 2nd floor and one on the roof top. Moreover, the roof top has an opening and grass clearing with a bedroom allowing for a tanning deck and a stargazing point at night. Your rooms are done up and cleaned daily.
Furthermore, a villa manager takes care of you during your stay. Our villa manager is a cheery lady who is also our personal concierge who will tend to us at a call's notice. She is the go-to person for everything from food, pickup or even a call for massage services. Apparently the villa has an army of masseurs, though the rates at 700-1000 baht an hour is not really as cheap I was expecting them to be. Considering if you are spoilt by cheap massages in Indonesia and Malaysia.
Great BBQ seafood and roast
A must-try is their seafood BBQ dinner options. Here, you are served portions of roast beef, satay, crab, prawns, just to name afew. Everything is prepared by an army of kitchen helpers in the rear kitchen with a BBQ pit.
The food on the table just runs on and on. Your dishes are served with plates of fried rice and baskets of garlic bread. Dinner is generally great and costs under an affordable $40 per head, which is really cheap considering it closes with fruit desserts and leaves you so full you have to save leftovers for tomorrow.
Just give your villa manager a day's notice for the staff to prepare and cook the food.Notably, Also, they do prepare continental breakfast if you are too lazy to make breakfast in the morning.
Also, you can literally call in food anytime. The manager has a recommended list of external kitchens you can order in for delivery. But random ad-hoc regular pizzas and bubble tea runs if you so wish are also available.
Sightseeing and amenities
Furthermore, Phuket is a place for beach, sand and sea. As well as island hopping. Also, the villa is about an hour's drive out from the villa is the Patong beach and nearby shopping area. Here, you have options to go for day trips here or chill at a bar if you start to get cabin fever in the villa.
After all, Phuket is home to nice beaches and islands. Especially if you would like to plan a day trip to do island hopping. The
Also, the the Patong beach spot is a popular massive shopping complex and sits within walking distance to beach itself. There is a Hardrock cafe here as well as well as several beach sports areas offering Parasailing, beach volleyball or jet-sking.
Some shopping near Patong Beach
Moreover, if the sun is tad too much for you, here, you can find the Jungceylon Shopping Center. It is a large air-conditioned modern mall housing a supermarket, department stores as anchor tenant as well as a movie and entertainment area on the upstairs. It feels tad like a rather developed mall with several reputable internal brand stores inside.
When you are all good, the villa also does airport transfer right to the international airport for your flight back. Their 12-seater Toyota Hiace Commuter van can easily take in any sized luggage you have from your shopping trip. If you love your stay you can leave a word or two of thanks for the villa staff in the guestbook.
All in all, would I stay at Beyond Villa Phuket again? Yes I would, though it is not really that cheap, but it is a bargain to say, an equivalent stay-cation in Singapore. Also, prices are still pretty affordable, especially if you go in a large room, where you can fully ultilise the entire villa. Not bad for a nice stay-cation not too far away from home.