Washoku Cafe is a Japanese fusion casual dining restaurant serving mains and quick bites in a chill environment. Let's check out the establishment with a simple dinner dine-in.
The café is located on the outside of a micro mall along Tai Thong Crescent. There is mostly roadside parking and the nearest MRT station being Potong Pasir MRT (NE10). Also, at its core, Washoku Cafe is a Japanese fusion dining restaurant. It has a homely ambience with really cheerful staff. However, there is notably quite limited seating for large groups due to the store's small footprint.
Japanese family causal fusion
Their menu is simple with few staples such as rice and pizza dishes. Recommended dishes includes their baked rice. They are tiny little pots of mouth-watering goodness. They come served baked still-wrapped in foil. Once you break the crusty brown top cheese layer, you are greeted with a steamy interior of rice mixed with your ingredients of choosing.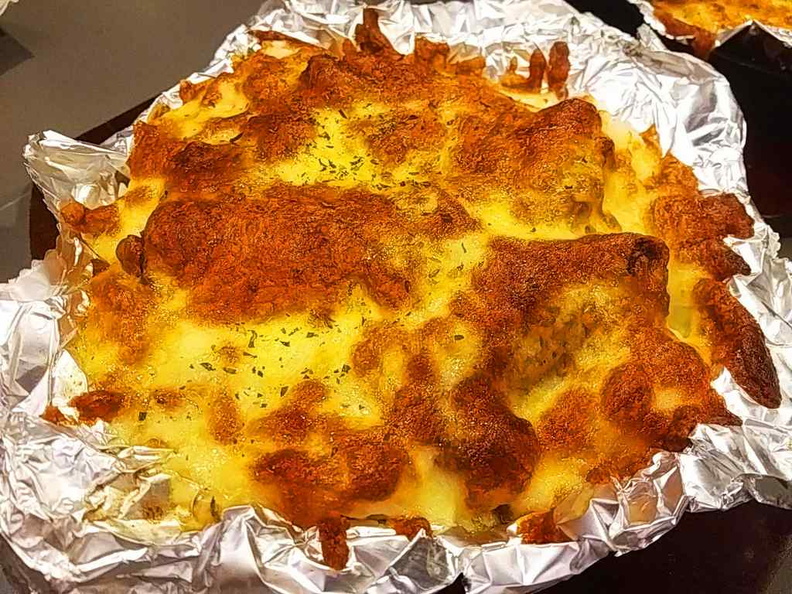 In addition, I would recommend Washoku Café's pizzas for sharing. Their Salmon and mushroom pizza it is essentially, well a as it says on the tin. It is an interesting mix of somewhat Japanese on an Italian and a pinch of Mediterranean. It is a potpourri of straw mushrooms with odd slices of salmon embedded with cheese in a thin-crust pizza.
Wrapping up are their range of salads such as Potato, mixed greens and Washoku salad to name afew. Additional selections includes Bacon and egg, Potato Mentaiko, Scallop and Prawns. Also, during my dine-in, I had chicken salad. It comprises of fried chicken chunks, bean curd, chopped sausages, tomatoes and lettuce.
Moreover, on one of my random dine-ins, the staff offered us some cake and candies on top of the meal my group ordered. Pricing-wise, the café selections are pretty light on your wallet, with typical expenditure in the range about under $20 (about $10-20) per diner dinner. It is more affordable than the SORA Gourmet Food Hall we visited previously.
In conclusion, Washoku Café is not a bad place for a simple meal dining out. Their menu options are not the most in variety, but effective in selections at a great price delivered with friendly service too.
Verdict:
Must Go! | Actually pretty Good | Worth Trying | Shortlist Optionally | Should Avoid
Washoku Cafe Locality Map
2 Tai Thong Crescent #01-27,
Singapore 347836
Opening hours: 11:30am- 10:00pm