Tanuki Raw in Singapore is a delightful haven for Japanese casual diners and sushi enthusiasts alike. This American-Japanese restaurant and bar has gained significant popularity, offering a fusion of Japanese and Western flavors that are both delicious and innovative. If you're a sushi lover in Singapore, your search for an exceptional dining experience ends at Tanuki Raw.
Named after the Japanese Racoon dog
Inspired and named after the Japanese racoon dog, Tanuki Raw takes its name and mascot from this creature. At least the racoon dog is well-dressed reflecting the resultant modern contemporary offerings.
Also, the restaurant opened its doors in 2012 with its first branch in Orchard Central. This branch is conveniently situated in the bustling Orchard Road shopping district. Over time, Tanuki Raw has expanded its presence across Singapore, establishing its reputation as a go-to place for sushi enthusiasts in different areas of the city. Their restaurants is also has a cafe which you can chill out in with drinks and a bar.
Moreover, Tanuki Raw is part of the Empire Eats hospitality group. They are a renowned food and beverage company in Singapore. The establishment is committed to providing high-quality dining experiences to its patrons. At present, the restaurant boasts two branches in Singapore.
The flagship branch at Orchard Central continues to cater to shoppers and visitors in the heart of Orchard Road, while the second branch at Jewel Changi Airport serves as a fantastic dining option for both travelers and locals.
Recommended dishes rice dons
Furthermore, Tanuki Raw's best menu offerings revolve around their rice-based don bowls, a staple in Japanese cuisine. Typically, the price range for these dishes is around the $20 mark, with some premium offerings going up to $25-$30.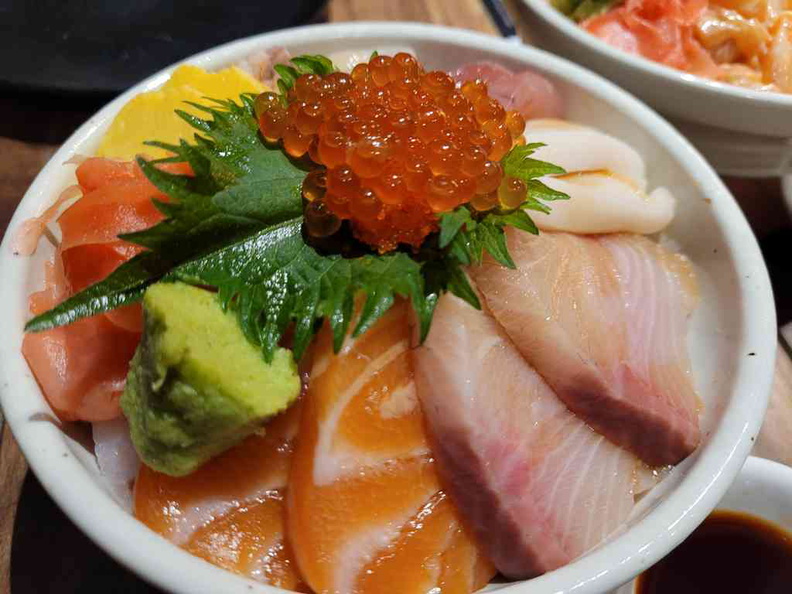 Here, their Chirashi Don ($24.90) being gets a good recommendation. If you're a fan of fresh seafood, you can't go wrong with this colorful and generous bowl of goodness. Also, this colorful bowl features a medley of fresh sashimi, including salmon, tuna, and octopus, arranged beautifully on sushi rice topped with Salmon roe. The sashimi itself is really fresh and the tuna melts in your mouth.
Another must-try is the Shishito Butadon ($17.90) and their Salmon Kaisen Don ($19.90), a delightful mix of salmon sashimi, aburi salmon belly, cubed spicy salmon, mentaiko seared salmon sashimi, and ikura over their signature mixed rice. Also, their Truffle Yakiniku Don ($21.90) is a delectable combination of succulent beef slices with fragrant truffle, served on Tanuki Raw's signature mixed rice.
For those looking to elevate the classic chirashi bowl, the Aburi Chirashi Don (S$21.90) is the perfect choice, with lightly torched Sashimi adding a smoky aroma and enhancing the natural sweetness.
Sushi and sides
Wrapping up on sides to share, Sushi lovers should try the Spicy Aburi Roll (S$19.90). You get eight pieces of tantalizing combination of seared salmon, avocado, cucumber, and spicy mayo. Also, Tanuki Raw's sushi rolls are filled with flavors and textures, like salmon and scallop wrapping around snow crab, unagi, cucumber, and avocado, with torched wasabi mayo and oko sauce.
Also, their Beef Gyoza ($12.90) is a juicy and flavorful option, served in portions of five pieces. If you desire something more western, their Truffle Fries ($12.90) is one worth trying. It is a popular side dish featuring golden shoestring fries tossed in white truffle oil and topped with mushrooms, truffle mayonnaise, chives, and shio konbu.
Unique creations like the Wham! Fries (S$11.90), Mentaiko Fries ($15.90- $17.90), and Truffle Sweet Potato are worth exploring for their distinctive flavors. The Wham! Fries are deep-fried sweet potato fries topped with gruyere Umami cheese, marshmallows, spice mix, mozzarella, and sour cream. Also, their Mentaiko Fries feature crispy shoestring fries generously topped with savory mentaiko mayo, offering a divine combination of creamy sauce and crispy texture.
Wrapping up
The restaurant's service is attentive and friendly, with knowledgeable staff willing to offer recommendations based on your preferences. Also, the dining ambiance strikes a perfect balance between casual and trendy, featuring a modern interior and comfortable seating arrangements, making it an inviting spot for a quick lunch or a relaxed dinner.
In conclusion, Tanuki Raw in Singapore has succeeded in carving its name as a must-visit destination for sushi lovers. With its innovative sushi creations, fresh ingredients, and welcoming atmosphere, the restaurant delivers a memorable dining experience. From their delectable rice bowls, Truffle Yakiniku Don to the delightful Mentaiko Fries, each dish on their menu is crafted to perfection. When your sushi cravings strike, treat yourself to Tanuki Raw for a great and chill gastronomic journey.
Verdict:
Must Go! | Actually pretty Good | Worth Trying | Shortlist Optionally | Should Avoid
Tanuki raw Locality Map
Funan Mall
107 North Bridge Rd, #04-01 to 06
Singapore 179105
Opening Hours: 11:30 am- 9:30 pm daily