Flying Pig Golden is an authentic Thai restaurant in the rustic Golden mile complex serving up a variety of authentic Thai favourite street dishes. Let's check them out today with a dine-in.
Dining in little Thailand
Furthermore, dining here at Flying Pig is simple, find a table, place your order and pay at the counter. Only cash and nets payment are accepted. Credit Card payment are not accepted. Also, there is seating large enough for groups of 6, though I would suggest to keep groups small for quicker seating.
Soon after, your food will come flying to your table in a gif. Restaurant seating can be seen spilling out over into the main walkways of Golden mile complex, also known as "Little Thailand". Also, the area does have a considerable buzzing and lively ambience with plenty of patrons in the otherwise rather isolated mall sheltered from mainstream shoppers.
Having said that, the restaurant is located on the main concourse ground floor level of Golden Mile complex. The restaurant itself is not large in size, seating is offered inside the store as well as spill-over space onto the main mall lobby walkway.
Also, the mall has an old feel typical of malls in the 70s and 80s Singapore. The danky long mall lobby is filled with interesting sights and smells, from food to aromatic fruits from the various sundry and provision stores here. It just adds more character to an otherwise pretty unique mall.
Thai quick dining
Moreover, Flying Pig menu offerings revolve of a mix of reasonably-priced quick dry dishes, such as rice and noodle, as well as soupy dishes, like soups and boat noodles great for sharing.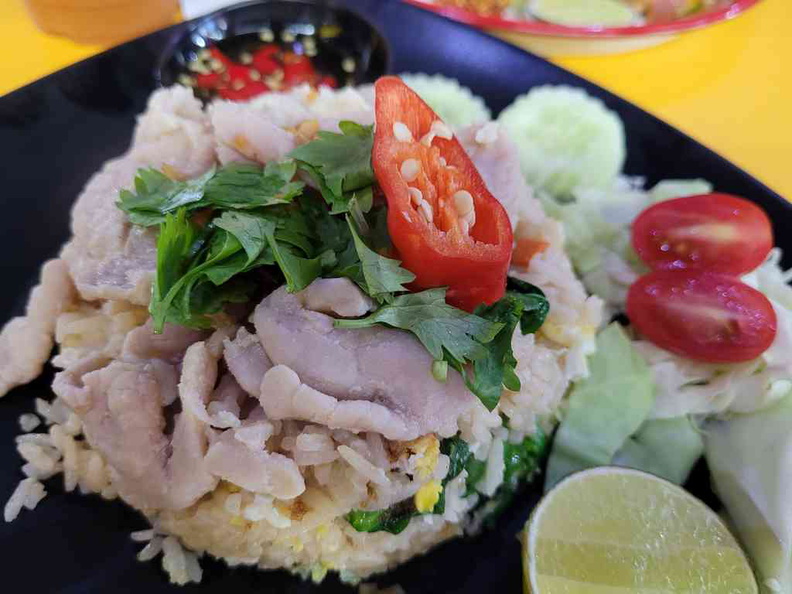 Also, if you are hungry and looking for a filling meal, I recommend their assortment of mixed-rice dishes with a side to share. Rice mains here includes Basel Chicken with rice ($7), Garlic pork with rice ($7) and their Prawn fried rice $8. Their dishes are served with a meat as a main item typically stirred fried and paired with Thai long grain rice.
In addition, your chicken sides are served with thinly chopped long beans stirred fried with chicken cubes. Also, I found their Basil leaf chicken is tad on the spicier side. Hence, I recommend setting the aside the small chili paddy as this small bite-sized chilis are a mouthful of spiciness. But great if you desire an additional oompph into the favour of your meal.
Also, you can't go wrong ordering their Phad Thai ($8.90). It is Phad Thai done right, served with generous servings of large prawns, bean sprouts, side of crushed peanuts and lime for flavour. The thin kuay teow noodles are generous in portions, and are also firm without being soft or overly cooked.
Try their Crab Fried rice
Additionally, their variety of fried rice is one worth mentioning, especially their signature Crab and prawn omelette fried rice ($10). It is a hearty mix topped with generous servings of shredded crab meat and prawns. Also, another favourite Chicken fried rice with a bed of shredded lettuce sides and sliced cucumbers.
Also, I found their fried rice asking price similarly priced to the premium fried rice craze similar offered by King of fried rice or Chef Wang we visited previously.
Wrapping up, their omelette rice is a hearty meal served with toppings of prawns. It is tad like a Thai and more affordable take on Japanese Omu rice. When you are done, their Thai Milk tea is one to go for. It is the real deal, overly sweet and full of flavour.
All in all, Flying Pig is one which makes the mark in offering authentic Thai cuisine at a budget, with highlight dishes being their Pad Thai. One of the few interesting restaurants to check out at the main concourse floor of Golden Mile Complex before they close this year end.
Verdict:
Must Go! | Actually pretty Good | Worth Trying | Shortlist Optionally | Should Avoid
Flying Pig Makan Place Locality Map
Golden Mile Complex
5001 Beach Rd, #01-39,
Singapore 199588
Opening Hours: 12–3:30pm, 4:30–9:30pm (Daily Split shift)